See Nice like a celebrity, at least for a little while, with a 20-minute helicopter tour over the Côte d'Azur. Soar over the city's broad Promenade des Anglais, its grand Belle Epoque architecture and that unforgettable turquoise-colored Mediterranean Sea. The elite arrive in Nice by helicopter, now you can experience those heights, too.
Highlights
20-minute Nice helicopter ride in a Squirrel single-engine helicopter
Follow the lead of celebrities who travel around the French Riviera by helicopter
Soar over the Mediterranean Sea, Promenade des Anglais and Nice Old Town – Vielle Ville
Glide over the famous Hôtel Negresco and admire its Belle Epoque architecture
Enjoy commentary from your friendly pilot as you soar through the skies

What You Can Expect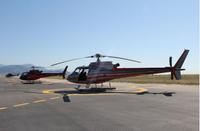 Begin your exciting air tour of Nice at the city's airport, where you'll check in with plenty of time to spare and meet your pilot. Climb aboard a Squirrel single-engine helicopter and prepare to see the grand views over the French Riviera.
Climb into the skies for a bird's-eye view of the azure-colored Mediterranean Sea, the grand Promenade des Anglais running alongside it. Look down from your lofty position over Nice's luxurious hotels, charming squares and people sunning themselves on the beach as your pilot offers commentary on what you're seeing.
Get a unique perspective on Nice's famous Belle Epoque architecture, including one of the best examples of the style – the Hôtel Negresco. You'll fly right overhead, allowing you to see the hotel's distinctive mansard roof and domed tower.
Fly over the Old Town in Nice (Vielle Ville), for an overhead look at the colorful Cours Saleya Flower Market and the intricate warren of narrow streets that make up this part of the historic city.
After a 20-minute aerial tour over Nice, your pilot brings you back to the airport and lands on the helipad. You'll be escorted back out by a host, to return to Nice with a newfound appreciation of the city.
August 2014
A lot of money but well worth it and the pilot was brilliant, took us where we wanted and what we wanted to see. Would definitely use Viator again. A real buzz!!!
June 2014
We highly recommend and thoroughly enjoyed this tour. Viator made us feel very secure with regular communication and reminders of what we needed prior to the day. Heli-Monaco were very professional and went out of their way to ensure we had a streamlined checking in process and our pilot was informative, entertaining pointing out specific areas of interest. We were not rushed at all and have heaps of photos, so If you are going to Nice and want to see the coastline of the entire French Riviera from the air, you MUST do this tour.
September 2015
The tour itself was excellent, the pilot was very knowledgeable and showed us the main sights in the surrounding areas. However, the experience was almost entirely ruined by the miss management of viator during the check in procedure at Nice airport. Upon our arrival I was told that firstly I was at the wrong airpoirt, they said I had booked from Monaco airport, and secondly that I had booked a 7 minute flight and not the 20 minute flight which I had booked and paid for. Thankfully I had the good sense of taking my mobile phone with me which had the booking confirmation. It was clear from the confirmation that the booking was from Nice airport and the flight was for 20 minutes. I showed the lady at the air Monaco desk this, and she said that I was wrong and that they were right. I eventually persuaded her to contact the manager by phone, he was nothing but rude and arrogant. He argued time and time again that they were right despite the fact that I had the confirmation email. Having discussed the matter for some 10 minutes or so, he quite flippantly told me to hand the phone back to his colleague, and we were then told by her that we could go on the flight which we had booked and paid for. This experience was a surprise present for my wife's birthday, and unfortunately due to the incompetence of viator and their agents her surprise was ruined and will be remembered for all the wrong reasons. Thank you very much viator, for disappointing my wife and spoiling what should have been a lovely birthday present.
Advertisement
Advertisement