10 Reviews
Location:

Noosa, Australia

Duration:

11 hours

(approx.)
Explore the beauty of Fraser Island on a full-day tour from Noosa or Rainbow Beach by purpose-built 4WD vehicle. Travel off-road along uninterrupted white-sand beaches and admire the colored sand cliffs; see ancient rainforests and crystal clear lakes; and discover what makes the island a World Heritage-listed site.
Highlights
Full-day tour from Noosa or Rainbow Beach travelling the "Beach Highway" by purpose built 4WD vehicle

See the colored sands of Cooloola National Park

Enjoy a swim in freshwater Lake McKenzie

Explore Historic Central Station and Wangoolooba Creek

Take a self-guided walk through the Pile Valley Rainforest

Recent Photos of This Tour
What You Can Expect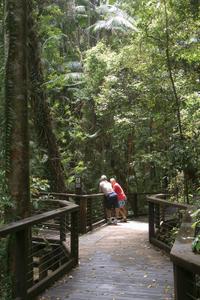 Your Fraser Island adventure begins with pickup from your Sunshine Coast accommodation in locations from Mooloolaba to Noosa. Traveling by 4WD you'll head across the Noosa River towards the Cooloola National Park, a significant Aboriginal site and the gateway to Fraser Island. At 75 miles (120 km) long and 15 miles (24 km) wide, Fraser Island is considered to be the largest sand island in the world. It's home to a diverse range of birds, reptiles and amphibians, including the occasional saltwater crocodile. Stop to collect fellow travelers joining in Rainbow Beach and for morning tea.

Next, cross by ferry on to Fraser Island , and drive through beaches and rainforest before arriving at Seventy-Five Mile Beach. Your purpose-built 4WD Warrior allows great off-road access and has large windows, so you won't miss a thing.

Satisfy the hunger pangs you worked up with a healthy lunch of salads, cold meats and wraps before embarking on a self-guided walk through the Pile Valley Rainforest - home of the Fraser Island Satinay. Then jump back into the Warrior and travel down sandy tracks through towering brushbox trees to a remote beach, where you'll enjoy afternoon tea before returning to Rainbow Beach or the Sunshine Coast.
August 2015
My favourite date of the holiday, Brock did a wonderful job of driving arranging lunch talking us through the history of the place etc. Loved that he stopped for photos at Rainbow Beach near the coloured sands. I'd recommend this trip to everyone!
April 2015
The tour guide was excellent and very informative. The scenery was outstanding and beautiful. Lunch was very adequate and swim in lake Mckenzie stunning. Would highly recommend this tour but be aware it is a full day, we started at 6.15 and arrived home 6pm but well worth it. Brock our driver and guide for the day was awesome. Christine UK
March 2015
Amazing trip! Price value superb. Guide Super funny. And the greatest highway ever!!!
January 2015
It was a big day, but every part was great. The 'Warrior' is comfy, the drive is good. Fraser is something else, sand, rainforest and Lake Mackenzie is unbelievable!!!. The driver was great, friendly and does a great BBQ lunch. Well worth it, you wont regret it
June 2013
Stunning trip. Great set up and knowledgable driver. Really need more time on the island but thats not the fault of the company, just the size of the island.
March 2015
Excellent one day trip to fraser island. Lake Mackenzie and Rainbow beach were particular highlights! slightly rushed in one day.
January 2014
We really enjoyed our day trip to Fraser Island. Lake Mackenzie was a huge highlight and the food they provided was very tasty. Robert was a great guide and very helpful. Be prepared for a long day of bumpy driving but overall a great trip!
March 2015
Fraser Island is beautiful and the tour guide was knowledgeable and interesting. As for the tour itself, it is a LOT of hours sitting in a car -- no other way to do it, obviously, but it's not a factor you can easily ignore.
The food provided in no way resembled that described on viator -- the 'traditional Australian BBQ' and range of salads was actually wraps, a few deli cold cuts and some salad veggies, sauces and grated cheese -- pretty disappointing.
March 2014
It was a good trip but the problem was that our car broke and the entire journey we felt a lot hot because there was air conditioner. The car has no windows to open and everybody was felling bad about it.
December 2013
Staying at Rainbow Beach, we were the last to be picked up and so did not join the tour until 8.00am. Consequently, on the way back we were dropped off first (in a different place to the pick up point) and did not get to see the coloured sands with the rest of the group. This, we realised later, was because the bus travels along the entire beach to Noosa. It would have been nice to have been informed of this and perhaps given the option of travelling part way and making our own way back, especially as the tour includes the coloured sands. Having arrived at Rainbow Beach the evening before the tour, we had not had time to familiarise ourselves with the area and so were unaware that we could walk to the sands.
Once on the Island, we were taken to 75 mile beach where we stopped for about 30 minutes to have a mid morning drink and cake. There were good photo opportunities here. It was then, back on the bus to travel to Lake Mackenzie where the group spent an hour at the lake while the tour guide cooked lunch. The lunch provided was substantial. There were three large bowls of cold dishes: garden salad,potato salad and coleslaw and the hot option of your choice. Bread and a selection of cold drinks were also included. Due to the number of groups visiting the lake, we were on a fairly tight time schedule to eat lunch and move on. Needless to say, the lake was fairly busy too. We then travelled to an area where we had a short walk through the bush (about 15 minutes there and back ) before heading back to the ferry and the mainland.
The journey on the Island was an experience in itself as we were bounced about in the vehicle due to the track conditions. If you suffer from travel sickness you may want to seriously consider this point. It was, however, great fun.
On the whole, this isn't the best tour for anyone departing from Rainbow Beach as your tour is four hours shorter than for those travelling from Noosa but the price is the same. A one day trip will inevitably be rushed.
Advertisement
Advertisement