14 Reviews
Location:

Porto, Portugal

Duration:

10 hours

(approx.)
Discover the pilgrimage site of Fatima and the university city of Coimbra on a day trip from Porto! The full-day tour includes a visit to the Sanctuary of Our Lady of the Rosary in Fatima where several apparitions of the Virgin Mary are said to have taken place. Attend mass inside the sanctuary's basilica, soaking up the serene atmosphere, and then spend the afternoon in Coimbra, seeing the university and Old Cathedral of Coimbra on a walking tour.
Highlights
Day trip to Fatima and Coimbra from Porto with an expert local guide
Explore the Sanctuary of Our Lady of the Rosary in Fatima
Visit the sanctuary's basilica to attend mass
Enjoy a walking tour of Coimbra, Portugal's prestigious university city
Hear the history of the Old Cathedral of Coimbra and admire its Romanesque architecture
What You Can Expect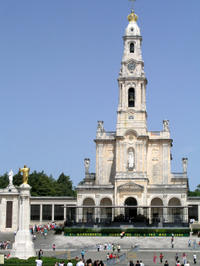 Leave your Porto hotel by air-conditioned coach and travel south to Fatima, a small city in central Portugal that has been a Christian pilgrimage site since medieval days. After traveling for roughly two hours, arrive in the town and then head inside the Sanctuary of Our Lady of the Rosary of Fatima – a complex that's just as large as its name suggests.

A national shrine, the sanctuary is built on the spot where the first of six apparitions of the Virgin Mary were said to be witnessed by three shepherd children: Lúcia, Francisco and Jacinta. Their children's tombs are within the sanctuary walls, as well as a beautiful Neoclassical church that's dedicated to their memory. Head inside the church for mass (lasting roughly 30 minutes) and gaze in awe at the serene yet majestic surroundings while worshiping.

After the service, enjoy some free time to explore the city at leisure and enjoy lunch (own expense). Return to your coach at the pre-arranged time, and then travel to Coimbra – a historical town just less than an hour away. Stretch your legs on a walking tour around the city center, seeing its prestigious university and the Old Cathedral of Coimbra – a glorious example of Romanesque architecture that's said to be the most important Roman Catholic building in Portugal.

Enjoy some free time to explore the city, perhaps visiting the University of Coimbra to see its famous old library. Entrance fees to all Coimbra attractions are at your own expense.

Make your way back to your coach and relax on your journey to Porto. Your tour finishes in the city center in the early evening.
October 2015
learned a lot from my guide...the finer details of fatima and coimbra
October 2015
This small group trip by van to Fatima and Coimbra was very good. This was our second visit to the sanctuary of Our Lady of Fatima - enjoyed it as much, if not more, the second time around. A very spiritual place indeed-very special to pray and light candles at the site where the 3 children saw the apparition of Mary.The Basilica is closed for renovations, so attended the tail end of the mass at the new cathedral in the complex-beautiful altar! Passed thru the town where the 3 little children who saw the vision of Mary lived, but did not stop to visit them. In Coimbra, we had adequate time to visit the river and main street of the old town of Coimbra on our own.The University of Coimbra is well worth the visit -it is still active and has been at this location from the 1500s- the architecture and grounds are wonderful.The black caped university students add to the beauty of this place. Climbed the tower -great views of the city from the top. Unfortunately could not visit the much talked about library of the university as no tickets were available till much later that evening-a real shame as it is meant to be really unique and the highlight of the university! Our guide Elio was very good and considerate- on our way down from the university he stopped for some of us for a quick look at the church of Santa Clara which we had somehow missed it on our walk in Coimbra town earlier that afternoon.
September 2015
Fantastic day with Claudia our tour guide and driver. There were 8 tourists on this tour, 2 Spanish, 3 French, 1 Italian, me an English and Portuguese speaker who understands Spanish and my partner who speaks English and French. Claudia, was able to speak all of these languages but we all agreed that she take the tour in Spanish and French so that she didn't have to translate 3 or 4 times, which could have been like a conference at the United Nations! Claudia also suggested to the group that we visit Coimbra first followed by Fatima, as there would be more choice of places to lunch. Before arriving at Coimbra, Claudia gave us a brief overview of the city and on arrival, we walked the grounds of the University and given a thorough tour of the city. We had an hour and a half for lunch to further explore the city and Claudia also suggested a few cafes and restaurants that we should eat at. After lunch we continued onwards to Fatima and having been there before, it was not the main reason for having taken this tour. However, we were really surprised because before visiting the Sanctuary of Fatima we were taken to the homes of the three children who saw the Apparitions of Fatima. These houses and the countryside around it are a well hidden gem that many tourists who visit Fatima do not always find or go to as they tend to head directly to the Sanctuary. We were then taken to the Sanctuary and our guide told us the story of Fatima and we were given 45 minutes of free time and Claudia suggested which areas of the Sanctuary to visit. On this occasion the Basilica was closed for preparations for the 100th Anniversary of the Apparitions which is in May 2016. I would highly recommend this trip, Claudia was a fantastic guide, she had a great sense of humour, her grasp of languages was hugely impressive and she was great company on the day. Thank you Claudia for a fantastic day!
July 2015
We had a fantastic day out visiting Fatima and Coimbra, and only wished we had more time to explore Coimbra! Our tour guide Paula was knowledgeable and professional and went into great detail about Portugal's history as a nation, as well as the stories behind Fatima and the three shepherd's and Coimbra and its university heritage. We were lucky to have just three people on our tour so it was rather intimate and made the day all the more special. Highly recommended!
June 2015
It was a good trip! I had Paula as my guide and she explained everything very well. She gave tips on food, where to visit, and answered all our questions. It was a comfortable and smooth trip.
June 2015
Great day going to Fatima and seeing Porto
June 2015
Definitely worth going. Our guide Elsa was just amazing!
June 2015
December 2014
The tour was great, more than I was expecting. The great things: pick up up my hotel right on time, a easy and comfortable van, nice and well educated lady, excellent pronunciation and knowledge of the culture and surroundings, great timing and route. She was more than a driver, she was a tour guide very familiar and nice with us and with the kids. I do not have absolutely nothing wrong or bad comment for this; just good, super good and excellent reviews for me. Thanks.
September 2014
This tour was educational and relaxing. There was time to engage and participate in the events on site. Tour guide and training guide were delightful companions, making this tour fantastic. Thank you.
Advertisement
Advertisement