Special Offer
Book and save 10% compared to the local supplier's price for adult rates!
Visit the magnificent, medieval city of Nuremberg, Germany — featuring a trip to the Nazi party rally grounds — on this guided, 4-hour sightseeing tour. Learn about the history of the city, from the days of the Holy Roman Empire to the German Renaissance, Third Reich, Nazi rallies and Nuremberg Trials. See German Renaissance artist Albrecht Dürer's house, the Imperial Castle courtyards, plus Town Hall, gothic St. Lawrence Church, bustling Craftsmen's Courtyard and much more. Public transportation to and from the Nazi party rally grounds is included.
Highlights
4-hour Nuremberg tour including the Old Town and Nazi party rally grounds
Hear about the city's fascinating past from a history-loving local guide
Admire top Nuremberg attractions like St Lawrence Church and Albrecht Dürer House
Explore Nuremberg's Nazi party rally grounds and learn about the city during the Third Reich
Visit the Congress Hall, Great Street and Documentation Center
Learn of the famous Nuremberg trails that took place after World War II
Why Our Insiders Chose This Tour
This is a must-do tour for all history fans – especially those interested in the Third Reich – as it includes sights of the largest Third Reich buildings in the world.
Recent Photos of This Tour
What You Can Expect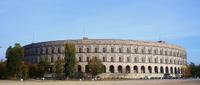 This tour begins in front of Nuremberg Central Station. Meet the guide and the rest of the tour group and roam through the city's Old Town, admiring the beautiful timber-framed houses and cobblestone streets. Marvel at the massive City Walls of Old Town Nuremberg, which still run for approximately four kilometers.
Behind the walls, walk past the Craftsmen's Courtyard, where glass cutters, leather workers, gold and silversmiths, stained-glass painters and other artisans offer their wares for sale. See the gothic St. Lawrence Church, which was rebuilt after World War II; Nürnberger Christkindlesmarkt, Germany's most famous Christmas market; plus Town Hall, German Renaissance artist Albrecht Dürer's house and the Imperial Castle courtyards, to name just some of the attractions.
Along the way, learn about the history of this beautiful and prosperous city — as the center of the Holy Roman Empire, to the days of the German Renaissance, the Temple City of the Third Reich, and the home to both the Nazi rallies and Nuremberg Trials.
See where German Emperors were crowned and where saints are buried. Find where the most famous and talented German artisans in history created their awe-inspiring works and where the colorful and lively markets have taken place for almost 700 years.
Then hop on the city's public transportation (bus or train) to see the Nazi party rally grounds. Discover the Great Street, designed by architect Albert Speer to be the central axis of the rally grounds, and the half-finished Congress Hall of the Nazi Party, a building Hitler planned to use for party meetings. There's also the largest Third Reich buildings, where Hitler inspected members of the SS, and the Documentation Center, a museum with exhibits on vital wartime and post-war events, like the Nuremberg Trials.
Feel free to stay at the Documentation Center for a longer visit, or return to central Nuremberg to conclude the tour.
Ben F United States of ...
April 2016
Great tour. We missed the first half of the old town, but can't wait to go back. Easy to work with and great information.
March 2016
Our guide, Scott was outstanding, very knowledgeable and personal. His insights were very much appreciated.The old town was magnificent.
March 2016
fantastic , the guide was very knowledgeable - would highly recommend !

December 2015
It was a really interesting way to see the old town. We saw lots of places that we wanted to visit on the rest of our trip. I highly recommend it for the first day of your trip to get your bearings and learn things you wouldn't walking around on your own. Our guide was very friendly and knowledgeable.
November 2015
This was a fantastic tour. Our tour guide, Jason, was very informative and passionate about the history of Nuremberg and was willing to answer any questions. I've taken many tours in Europe, and it can be hit or miss if you get a good tour guide or someone just going through the motions, but Jason and the tour ranked right up there with one of the better tours I've been on.
November 2015
Excellent. Does what is says on the can! Either a very good snapshot when your time is short or a great first stop before branching out on your own. The guide who I cannot remember his name very funny and knowledgeable.
October 2015
I thought our guide was very knowledgable and he took his time with us answering our questions.
September 2015
The tour was all we could have hoped for. Very good guide who was clearly well disposed to know all about times around 1st and 2nd World Wars, did his thesis on this at university. Not only that he made the tour very interesting and added humour to keep all interested. Just one word of advice on this tour, it is a long haul, well worth it but wear proper walking shoes/trainers. Very worth going on and thoroughly recommend!
August 2015
What a wonderful city - and so good to do a walking tour in. Recommended.
August 2015
We made our own way from Munich to Nuremberg by train which was great. The tour got off to a late start because our tour guides were also coming from Munich and their train was delayed. We only received a 15 minute lunch break to make up for the lost time. Our guide Sabri, spoke calmly and eloquently, to give us a realistic picture of the past in Nuremberg. There is quite a bit of walking involved, make sure you have a good pair of walking shoes.
Special Offer
$25.73 Save $2.58
Advertisement
Advertisement