Discover the history and heritage of one of Bavaria's most picturesque cities on this 2-hour walking tour of Nuremberg Old Town. Stroll around the medieval city walls, snap photos of the colorful half-timbered buildings and see the Hauptmarkt, where Nuremberg's famous Christkindlesmarkt is held. Learn about Nuremberg's Roman roots and links with the Third Reich from your guide, as you walk along the River Pegnitz and visit landmarks like the Albrecht Dürer House, St Lawrence Church and Nuremberg Castle.
Highlights
Learn about the different eras in Nuremberg's history like the Holy Roman Empire and Third Reich
Explore the delightful Old Town streets, admiring its pretty half-timbered houses
Stop for photos by the medieval city walls and St Lawrence Church
Soak up the hustle and bustle of Nuremberg Hauptmarkt, the site of the town's annual Christkindlesmarkt
Why Our Insiders Chose This Tour
The best way to discover Nuremberg's Old Town is on a walking tour. A must-see sight is the Christmas Market in December – one of a kind! Keep an eye out for the famous little figurines made from dried plums as they are signature souvenirs from the Nuremberg Christmas Market.
What You Can Expect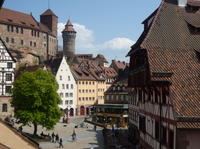 Meet your guide in front of the Nuremberg Station, and then set off on your stroll around the city's Old Town. The walled city straddles the River Pegnitz and its pretty streetscape – with tall, timber-framed houses and cobblestone streets – makes for a scenic amble.

While walking around Nuremberg Castle hear about the city's past, learning about key events that took place on its streets. See sites where emperors were crowned and saints were buried, and then see where awe-inspiring works were painted at Albert Dürer House. Learn of the city's dark Nazi legacy and hear tales of the chilling rallies that the city hosted during the days of the Third Reich.

Nuremberg's architecture beckons to its layered history, too, and many examples of the city's different architectural styles are covered on your tour. Admire St Lawrence Church – rebuilt after World War II – and then stop for photos in front of Schöner Brunnen, a replica of a 14th-century water feature that that aptly translates as the 'beautiful fountain.' Walk around the medieval city walls and stroll through Nuremberg Castle's Imperial courtyards.

Your tour finishes in Hauptmarkt, the bustling central square that's home to the annual Christkindlesmarkt. Hear of the world-famous Christmas market, which is held during the month of December, and then say your goodbyes to your guide.
December 2015
The guide was very knowledgeable and interesting in the time period of the area. He could answer any questions and explain in wonderful detail. It was fabulous. Thank you. Peg of California
July 2015
This tour was very informative and enjoyable. Our guide made it very interesting. I would not hesitate to recommend this tour.
Robert W Australia
May 2014
Our guide, Jason, was knowledgeable and informative. A fairly small group, so a lot more personal than some of the huge groups we saw. Excellent value. We would recommend this tour to anyone visiting Nurnberg.
March 2016
Tour guide was very helpful and informative. Catered for everyone in the group. Guide provided very interesting facts and history throughout the tour.
February 2016
April 2016
We were expecting a tour guide, but were given headsets, so didn't have any opportunity to ask questions/ask for things to be repeated etc.
December 2013
We arrived 10 minutes early, as requested. Our guide however arrived over 15 minutes late. After he arrived, there was another 10 minute bathroom break....Once the tour began I learned some fascinating information about Nuremberg and later found out some of it was not true...One such statement was that "Sandra Bullock was born in Nuremberg". We walked by many building that I am sure had a fascinating history, but was told little or nothing at all about them. I can only guess that the lack of information and the rush of the tour was due to the lack of time because the tour started late and a large number of people in the group had to continue on to another tour afterwards. That being said, it was a little disappointing and unprofessional.
April 2015
I am unhappy to rank this tour so badly, but honestly I expected much more. The tour was supposed to take 2 hours, well.. It started sligthly late due to a strike of DB, ok.. Our tour guide was not as informative as I expected from a professional since I am a guide too, I am quite aware of what to expect.. Just for example standing next to a busy road instead of making 20 steps further from it to make sure that everyone could hear me, cmon, just use your common sense!.. He was not able to answer some questions which I did not find so difficult. I counted time we spent on tour 11:25am - 1pm when we were leaving a nice view at the castle and which was more or less the end of the tour - 2 hours, seriously?.. I agreed on with some other tourists that this tour was not worth spending money on, I prefer free walking tours in other big cities where you can just leave if you do not like it without paying, since this does not evaluate the quality of a guide.. I am highly disappointed and next time I would prefer doing it on my own using a guidebook..
Advertisement
Advertisement