Explore Oahu's skies and see the island in a whole new way on a spectucular seaplane adventure. This 1-hour tour offers ariel views of everything from the North Shore's legendary Sunset Beach to the Pearl Harbor's USS Arizona Memorial. Glide over Honolulu Harbor, view the breaking waves of the Banzai Pipeline from above, and soar along Diamond Head Crater. Window seats are guaranteed.
Highlights
1-hour seaplane tour over Oahu
Capture fantastic aerial views of Oahu's most spectacular beaches.

See Chinaman's Hat - a lava rock outcropping that's a favorite tourist site!
Check out the surf along Oahu's famous North Shore!
Pay your respects as you soar over the Arizona Memorial at Pearl Harbor.
Discover unobstructed views of Oahu onboard our Dehavilland Beaver Seaplanes, where all passengers are guaranteed a window seat.
Hotel pickup and drop-off included
Recent Photos of This Tour
1-Hour Seaplane Adventure from Honolulu
What You Can Expect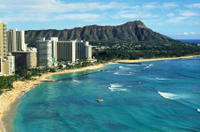 Let us pick you up from your Waikiki hotel for your scenic seaplane flight over Oahu! Upon arrival at our floating office, you will be welcomed & briefed by our professional, friendly staff before boarding our 6-passenger DeHavilland Beaver.
Take off from the waters of Honolulu and soar past the Aloha Tower & Waikiki Beach. Fly over the world famous Diamond Head Crater before heading to Koko Head Crater, Hanauma Bay & Sea Life Park.
Continue over sparkling Kaneohe Bay and along the Windward Coast of Oahu to Chinaman's Hat and filming sites of the movies Jurassic Park & Godzilla.
Catch amazing aerial views of the Polynesian Cultural Center, the Mormon Temple, BYU Hawaii Campus, the old Kahuku Sugar Mill, the Windmill Farm & the Turtle Bay Hilton Hotel. Watch for the famous Banzai Pipeline on Oahu's North Shore!
At the northern tip of Oahu, turn south over pineapple fields and the remains of old sugar cane fields, Schofield Barracks, Wheeler Army Air Field & Pearl Harbor, where the USS Arizona rests, before an exciting water landing at the Keehi Lagoon.

February 2016
The con first: the interior of the seaplane is a bit worn like a working plane. Also the pre-flight explanation though a good overview of your flight is done on a faded map with faded photos.
I was surprised how smooth the take off and landing was, and how the jerks and vibratinos seemed less intimidating with this plane. Ventilation was adequate via flightly open front windows. and the view from the middle of the plane was very good but I can't say about the back row as the windows seemed smaller. Views were occasisonally obstructed by parts of the wing struts?.
I've done more than 10 copter tours over various islands including O'ahu, but this seaplane tour was as fun and I saw and photogdraphed what I had hoped to. I must say that what there is to see is most interesting on Kauai as there are parts of O'ahu or even Maui that are not very interesting. This tour, counter-clockwise as the tours seems to be, is fun from the moment that plane starts its take-off run and viewing the airport and the habor as we climb.
The altititudes were 1500 to 2000 as we were able to listen to ATC clearances around the island. The view of Honolulu and Waikiki are quite breath-taking as you see the density of the area. Diamond Head and beyond reveal residential areas and beautiful coast lines. The tour becomes a little drab as we turned south before Haleiwa.... although the pilot had pointed our military places of interest along the windward side, a flyby of Haleiwa might have been interesting and some explanation. The central valley is a bit of a drag.
The flyby of Pearl Harbor was spectacular. One of my photos has been shared by over 600 people on the Pacific Historic Parks - Arizona Memorial Facebook page. This part of the trip was superior to my two copter tours.
I appreciated the pilot pointed out places of inerest and was accurate not feeling the need to entertain us. I recommend this tour and big thanks to John our pilot.
November 2015
Everything we hoped for. The trip was great and well worth it. Great information and it helped us to direct our visit. Pick us up at our Waikiki hotel and returned us hone done. Very convenient. Very nice people.
November 2014
The seaplane tour was wonderful! We would definitely do this one again.
August 2014
Fantastic would recommend thankyou
January 2013
Absolutely a must do while in Hawaii. The tour operators are fantastic and the whole tour was a highlight of our trip.
Advertisement
Advertisement