Explore the Big Island on this full-day tour from Oahu. Fly from Oahu and touch down on the Big Island to discover its highlights, like rainforests, black sand beaches, coffee plantations and Volcanoes National Park. Round-trip airfare, transportation between activities and all entrance fees are included. Pickup and drop-off at Oahu hotels is available.
Highlights
Full-day tour of the Big Island of Hawaii from Oahu

Round-trip airfare from Honolulu to the Big Island included
Visit Volcanoes National Park (admission included)
See steam bluffs, Kilauea Iki crater and the Thurston Lava Tube
Admire the greenery of the tropical rainforest
Pickup and drop-off at your Waikiki hotel is included
Why Our Insiders Chose This Tour
If you're staying on Oahu but want to hit all the highlights of Hawaii's largest island, this is the tour for you. See lava flows, rainforests, waterfalls and coffee plantations all in one very photogenic day.
Recent Photos of This Tour
What You Can Expect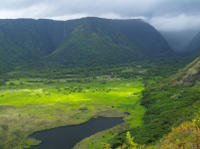 After optional pickup from your hotel on Oahu, take the 45-minute interisland flight to Kona. Spend the day exploring the highlights of the Big Island, including its rainforests, beaches and volcanoes. Bring a light sweater or jacket and sturdy shoes for your visit to Volcanoes National Park. A local guide will meet your flight at the airport and show you to your luxury minibus. Head out along the south coast to start your circumnavigation of the island, which includes the following stops:
Volcanoes National Park:
This stunning national park is the result of 70 million years of volcanic activity, migration and evolution. See the steam bluffs, the Thurston Lava Tube and the Kilauea Iki crater.


Kealakekua Bay:
See beautiful views of the coast and hear legends of Captain Cook from your guide.

Big Island Candy Company:
Tour this macadamia-nut candy and cookie company, founded in 1977, and try some samples of candy and the famous Kona coffee.

Jaggar Museum:
Watch films of past volcanic eruptions and current volcano activity on the island at this free, hands-on museum.

At the conclusion of your day exploring the Big Island, return to the Kona airport to catch your flight back to Oahu.
December 2013
excellent trip wish we could stay longer
July 2013
Tour guide was extremely knowledgeable and highly entertaining. This tour does have a very early start from Oahu (3 am pickup) so expect to be completely wiped out by the time your plane returns. We had the 8 pm flight as was totally sleeping in the airport by the end. Another gotcha.. 2 pina colado drinks at the big island airport will run you $30 so beware.
June 2013
Excellent tour. Wonderful sights, high recommendable!!!!
April 2013
Very enjoyable day. Excellent tour guides.Well organised. Visited so many interresting places, like the black sands with sun bathing turtles,well worth the money.
February 2012
Everything was so organized to the letter!!! Drivers were prompt, friendly and very knowlegeable about their state. It was very enjoyable, at times we wished for more time but on the flip side we did need to catch our flight back so time limit was understood. Had a blast and looking forward to a return visit.
Jennifer M USA
January 2012
This is a very long, but very worthwhile trip from Honolulu. Not only is the scenery spectacular, but the tour is designed to show the variety of the scenery, from barren lava flows, to active volcanoes, lush forest, waterfalls and lava tubes. We also saw turtles coming ashore at the black sand beach. The trip also gave insights into the economy with stops at a Kona coffee plantation and later at a Macadamia nut cooperative, as well as insights into the importance of cattle ranching The guide was extremely informative about the history,
geology and agriculture of the island.
Stephen J L Australia
December 2015
We totally enjoyed the trip. Be prepared for a very early start but it was great to be picked up from our condo at Waikiki Banyan at 4.30am and taken to the airport, where we met a another guide to received our flight details. We had time for a quick breakfast after going through security so don't forget passports and/or Id. At the Big Island we met our guide and driver for the day. Tommy gave us great information flavoured with humor and some local community information to make our day enjoyable. Tommy described what we would see at each stop and made sure everyone knew how to appreciate and understand the enviroment, or the production process and history to produce the products we were about to sample. The number of stops were ok but I personally would have liked one on local art/crafts but really we were interested in the volcanic park so we both felt the tour met our main objective for the trip. It was a big day for us and all was going well untill we arrived at Honolulu Airport. Well when we met the transfer resentative she was confussed about our arrival time and indicated we were very late but in fact we came straight from the plane to meet her. The transfer driver was unimpressed that he would have to go out of his way to drop us off at our condo and instead dropped us off at a nearby corner. This was not appreciated but we really had no choice but to leave the shuttle, this was disappointing and discourteous after being up from 3.30am and very tired after a 17.5 hour day. One has to ask who would have taken responsibility if we had had an accident whilst walking from the corner to our accommodation. Perhaps the company used needs to make sure their staff are well informed and follow procedure in a courteous and considerate way.
November 2015
Very good tour. Interesting and informative. Shame about the weather. Only negative was the long wait at the airport until our flight back to Honolulu.
October 2014
Despite the early start this is an amazing tour, well organised, although it would have been appreciated if fellow travelers had been a little more considerate and arrived back at the coach on time. You see many different types of terrain, walking through a lava tube, how often will you get the chance to do that! Sightseeing interspersed with a lunch stop as well as visits to both sweet and macadamia nut factories, delicious!
March 2014
Although the day is a long one (3:30am pick up in Oahu to the airport) it was fun to visit the Big Island! We got to see most of the island, including volcanos (no lava) -- and we were kept well informed on the history by our tour bus driver, Sal. We were a little bummed because we got to the airport to fly back to Oahu only about 12 minutes before the plane took off - and this was after being driven for what seemed like hours at night time to drop off folks staying on the island at their hotels. A good tour though and glad we did it!
Advertisement
Advertisement