Stroll the black sand beaches in Hilo and feel the cool spray of Rainbow Falls on this full-day trip to the Big Island from Oahu. See an orchid valued at $20,000 USD at Akatsuka Gardens, and visit the UNESCO-listed Hawaii Volcanoes National Park, where you'll hike along the rim of a crater and step inside a lava tube. Admire the embers of the active Kilauea Volcano, then learn how macadamias are roasted at the Mauna Loa Macadamia Nut Factory. Round-trip airfare and all on-island ground transportation are included.
Highlights
Full-day guided trip to see the top sights of the Big Island of Hawaii, from Oahu
Explore Hawaii Volcanoes National Park, a UNESCO site, and see Jaggar Museum, Kilauea Volcano, steam vents and more

Visit Hilo Bay Beachfront Park, hike to Rainbow Falls and tour Mauna Loa Macadamia Nut Factory
See the Japanese-style beauty of Liliuokalani Gardens and exotic blooms at Akatsuka Orchid Gardens
Learn about the history and geology of the sights you visit from an informative guide
Round-trip coach-class air travel to the Big Island included

Upgrade to add pickup and drop-off from Waikiki hotels
Recent Photos of This Tour
Big Island Day Trip: Volcanoes National Park from Oahu
What You Can Expect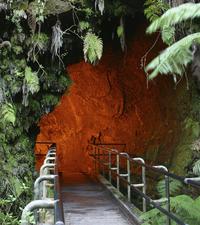 Following pickup in the early morning from your Waikiki hotel (if option selected), head to the Honolulu airport to catch your flight bound for the Big Island. Spend the day learning about the geology and history of the island from your local guide while visiting attractions like Hawaii Volcanoes National Park, the Mauna Loa Macadamia Nut Factory, Akatsuka Gardens and Kilauea Volcano. See Itinerary section below for a detailed list of activities.
Itinerary
Start off in Hilo at Liliuokalani Gardens, named after Hawaii's last reigning monarch, Queen Liliuokalani. Follow your guide into the sprawling 30 acres (12 hectares) of a Japanese-style garden, dedicated in 1917 to the Japanese immigrants who worked on the island's sugar cane fields. Meander through rock gardens and over red bridges, noting the stone lanterns, a tea house and ponds along the way. Your guide takes you to ideal spots where you can admire views of Hilo Bay and Moku Ola (Coconut Island).

Your next stop takes you to Hilo Bay Beachfront Park, stretching nearly 3,000 feet (914 meters) along the coastline. As you walk the beach popular for picnics, surfing and canoeing, learn about the sand's formation from lava.

Next, drive through the coastal town of Hilo and the tree-lined street of Banyan Drive. As you pass classic old buildings and wooden storefronts, learn about the history of the Big Island's largest settlement.

Arrive at Wailuku River State Park and follow your guide into a tropical forest. Reach Rainbow Falls, an 80-foot-tall (24-meter) cascade over a lava cave. Hear about local legends and watch for rainbows misting over the waterfall.

Then, drive through the orchards of Mauna Loa Macadamia Nut Factory and disembark for a tour of the factory. Learn how these nuts are harvested and roasted, and discover dozens of ways to prepare and consume them. In the gift shop, pick up scrumptious samples and purchase boxes of the goodies to take home. 


Travel into the mountains and stop at the greenhouse enclave of Akatsuka Orchid Gardens, boasting more than 1,000 exotic orchids and tropical plants. Take a look at an orchid valued at a whopping $20,000, due to its symmetry and singular characteristics.

Finally, enjoy ample time in the island's star attraction, Hawaii Volcanoes National Park, a UNESCO World Heritage Site. After seeing the exhibits of Jaggar Museum, marvel at the Kilauea Iki caldera, a massive collapsed crater.

Click away with your camera to capture volcanic steam vents and hike along the crater rim to watch for recent volcanic activity. Drive along the Chain of Craters Road to view other volcanic formations. The timing of your afternoon visit to the park allows you to witness the red glow of lava at the active Halemaumau crater at dusk.

You'll also walk through a fern tree jungle and reach Thurston Lava Tube, a 600-foot-long (183-meter) tube formed centuries ago by molten lava. Follow your guide into the spacious, illuminated tube.

After a full day of sightseeing, fly back to Oahu and enjoy drop-off at your Waikiki hotel (if option selected) at night.

Amy G United States of ...
June 2016
My husband and I were staying on Oahu for 10 days. We booked this day trip to Hilo to tour the volcanoes and I am so glad we did. I really think this was the highlight of our trip. You really have no idea until you see the National Park the magnitude of the volcanoes. It's amazing. Captain Rob was our guide and he was terrific. He was so knowledgeable and funny. Be prepared for a very long day from the time you are picked up at your hotel, until the time you are dropped back off but you will not be disappointed. The waterfall we saw was picture perfect, the black sandy beach we stopped at was quaint, and everything else in between. We really appreciated the fact that if you didn't want to do a lot of walking you didn't have to. The shuttle bus took you everywhere and really I think there was only one point that an older person in our group was not able to participate in. and it was not something that he was deprived of, believe me Captain Rob even made sure to lock the bus when we were off exploring, so you never had to worry about your stuff. The lunch stop was great too! You ordered your food once you are on the bus so that the restaurant was prepared for us. Very well organized. We had the bacon cheeseburger and it was awesome! I was even amazed at the airport in Hilo. The departure lounge was nothing like I have ever seen in an airport before. Definitely Hawaiian. Very laid back and comfortable! I highly recommend this tour! If you are thinking about a day trip... just do it! You will not regret it!

June 2016
We loved this day trip. We loved black sand beach and hardened lava flows.
June 2016
The Big Island Trip was fantastic. A very long day but worth the sites. Sites I will probably never see again. The driver/guide was great and everything was wonderful.
May 2016
This was a great day. Our drive Jane was great at pointing out all the interesting sights. The only problem was the weather which was out of everyone's control.
May 2016
All travel connections went as scheduled and the tour guide was excellent. We learned a lot, saw a lot, and had a lot of fun.
April 2016
Excellent experience. Learn a lot about the island, it's history, horticulture and volcanos. Our guide John was very knowledgeable and had a lot of great stories. He kept the tour moving along quite smoothly and got us to the airport on time.
April 2016
Auntie Sharon was fabulous, humorous and knowledgeable at the same time.
March 2016
February 2016
Captain Rob was fantastic! He was very informative and personable. He was extremely entertaining. Kept everyone's attention.
February 2016
A very long day but well worth it. Our driver /guide was Jane, she was very informative,entertaining and a pleasure to spend the day with.We feel we have covered most of the Big Island in one day,especially loved staying to twilight to watch the crater change colour.
Advertisement
Advertisement