Climb Hawaii's most famous volcano on this 3-hour Diamond Head tour. A local guide will lead you through Diamond Head State Park and up to the summit, providing commentary about the crater's history and geology. Prepare for spectacular views at the top, with a panorama of Waikiki and the turquoise waters stretched out below. At the end of your tour, you'll be given an 'I Climbed Diamond Head' certificate from your guide.
Highlights
3 hour walk to Diamond Head Crater
Guided walk to the summit of Diamond Head Crater
Personalized "I Climbed Diamond Head" certificate
All hiking gear provided on Oahu crater tours
Led by a nature and hiking expert
Pickup and drop-off at Waikiki hotels
Recent Photos of This Tour
Diamond Head Crater Adventure
What You Can Expect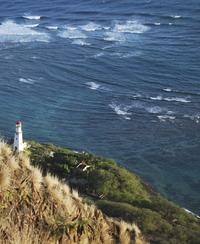 Your tour will begin with hotel pickup from your guide in the Waikiki area. Upon arriving at Diamond Head State Park, begin the exciting ascent to the top of the 760-foot (228-meter) summit of Diamond Head Crater. As you go, your guide will discuss the crater's history, flora, fauna and geology, and will point out the diverse plant and bird species found in the area.

Then, experience stunning 360-degree views at the top! Take photos and soak up the scenery of Waikiki and the turquoise Pacific Ocean.

All equipment will be provided and, to celebrate your success at the end, you'll be given a personalized 'I Climbed Diamond Head' certificate.

May 2016
Absolutely amazing. Great tour guide who was very knowledgeable about the local history and the route we were hiking.
May 2016
Great tour led by a knowledgeable tour guide. Excellent!
May 2016
Wonderful guide
Great views and a good way to get some exercise as well
Need your water bottles as you can definitely build up a swear
Climb/hike is not as difficult as I thought it might be
Well worth a visit
May 2016
Our tour guide, Mandy, was very knowledgeable on the history of Diamond Head. Also, she would stop the group for a break and made sure that everyone was good to go on, which was very helpful for my friend with COPD! The hike was great and so worth the climb for the beautiful view. Thank you for a great adventure and will contact you for our next trip.
April 2016
Our tour guide was knowledgeable and accommodating. I went with my mom who had some difficulty hiking up because she's not used to doing strenuous activities. Our tour guide took into account everyone's limits and was very thoughtful because he would stop the group every now and then to take a break so that my mom could rest and take a breather.

April 2016
I loved this tour! Our tour guide, Bethany, was wonderful! I suggest comfortable shoes and a bottle of water for the hike?
March 2016
Nice, slightly challenging hike that ended with very awesome views of the Waikiki shoreline. Our guide was very knowledgeable about Hawaiian history and, although his jokes mostly sucked he'll admit that, the narratives on the ride to crater were entertaining. Moderately intense hike but not a long distance. No pressure to go quickly or push past a comfort zone.
March 2016
Awesome guide, very informative after our pickup, made sure everyone was doing ok, gave us plenty of time at the top and great giving us details on sites on our return. This hike could be done on your own but having a guide made it much easier and more informative! Would definitely use them again.
March 2016
This was a great way to start the day. We hiked up the crater in the morning, before the crowd started to build up and it was not too hot at this time of the day, because it does get hot at the top. We had an amazing view on the way up and from the top. Our guide was very knowledgeable, and pointed out landmarks from the top, and gave us some local history. Our guide took photos of everyone on the way up and at the top from our own cameras, which was great. You need to use the bathroom at the bottom of the crater and take water and wear good footwear, as the ground is uneven, and there are no facilities at the top. It took us around 1 hour from start to finish.

February 2016
AMAZING!! Greg, our guide was fantastic, knowledgeable and very friendly. This was my favourite thing I did while in Hawaii. The view was amazing. Well worth it!
Advertisement
Advertisement