This epic Oahu mountain biking adventure takes place in Kaaawa Valley, where you'll tackle the rugged ridges and trails of Oahu's Koolau Mountains. Follow your guide on a ride through the country, where you'll cycle past spots that were used in filming Jurassic Park and Godzilla. With mildly challenging trail conditions and sweeping views of the valley, this ride is the perfect introduction to the beauty of mountain biking Oahu. A deli-style lunch is also included with the ride, as are beverages and round-trip transportation from your Waikiki hotel.
Highlights
Enjoy a thrilling Oahu mountain-biking adventure
Ride through the lush Kaaawa Valley and visit a local village and WWII bunkers
Visit filming locations from Jurassic Park, Godzilla, Lost and more
Enjoy a deli-style lunch and refreshments
Hotel pickup and drop-off from Waikiki included
What You Can Expect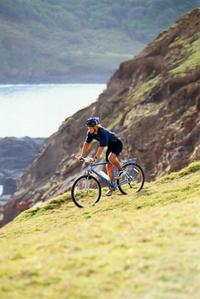 This Oahu mountain bike tour begins at your hotel when you meet your professional guide, who will drive you out towards the famous Kaaawa Valley. Sometimes referred to as Kualoa Valley, this lush section of Oahu's shoreline is backed by the Koolau Mountains, and has been used to film movies and television shows from 50 First Dates to Lost.

Kaaawa Valley has both single-track and double-track that are used in off-road triathlons, including the Hawaii Mountain Tour Pro/Am and other professional races. That said, you don't have to be a pro to hit these trails. Rides can be catered to ability levels from beginners to experienced bikers.

In addition to the off-road and downhill areas, you'll ride through rolling countryside that's tucked between the mountains, passing everything from ancient village sites to bunkers from World War II. In winter, it's even possible to spot whales spouting in the turquoise waters offshore—perhaps while enjoying your deli lunch that's served in the middle of the trip.

When the Oahu mountain biking tour has finished, transportation is provided back to your Waikiki hotel, where you can reflect on the scenes from the past couple of hours before rinsing off all the dirt.



May 2016
Great tour, excellent guide. The whole day was a blast!
June 2013
A-MA-ZING!!! It was totally what I expected and much more. Beautiful landscapes! Jeremy, our tour guide was excellent. He gave us lots of interesting and funny facts during the tour was aware of us the whole time and gave us precise instructions about the paths and the bike. Lunch was pretty good and transportation at the hotel was on time. I would totally recommend it. Wonderful experience and totally worth it.
March 2012
The Kualoa Ranch was beautiful! There was an option to do single track riding with the guide which was good fun and a great adrenaline kick.
December 2011
Wonderful! We had 9 people for our group mountain bike ride, I had my doubts it would be fun , but Jeramy (our fearless guide) made it awsome! You could go off road, or you could stay on the trail. It had been raining so the trails were VERY muddy but that just added to the challenge and the fun! This is a must do for any bike enthusiast!!
Ro A USA
May 2010
A "mildly" challenging bike ride to experience the beauty that is Oahu! Our guides were friendly, informative, and knowledgeable. Be prepared to get dirty!
June 2014
Although I had never mountain biked before, I still found this tour enjoyable and something that I would do again should I visit again. The valley we rode through was beautiful and we also had the chance to check out some movie locations such as Jurassic Park and Lost. Would recommend this to anyone who enjoys being outdoors and loves a challenge.
September 2012
A great day mountain biking with plenty of commentary. The guide was excellent and looked after all participants interests and levels.
David S USA
May 2010
The mountain biking trip catered to a variety of skill levels and Jeremy, I thought, did a great job for the Kuaolua Ranch. I booked through viator.com and found out that the wrong date had been booked by viator which was easily changed by John at the Ranch when I called to confirm. It was a very relaxing day for my wife and I and we got some great pictures and learned trivia on what movies had had footage filmed there along with historical info on the valley.
June 2012
Might have been a better tour if the provider hadn't sent along one of their employees who obviously wasn't fit enough to do the ride. We ended up waiting 30 minutes for the guide to return her to the base. The guide also spent too much stopping when what we wanted was more riding.
Advertisement
Advertisement