Special Offer
Buy any 3, 4, 5 or 7 day card and receive FREE entry to your choice of Germaine's Luau, Polynesian Cultural Center - HA Breath of Life, Kualoa Experience and Buffet Lunch, Dollar Rent a Car (Jeep Wranger Special!) or Dolphin Encounter by Sea Life Park

The Go Oahu Card gives you over 30 top attractions on one card, at one low price! No other attraction Oahu pass offers you the value of FREE admission to over 30 attractions, tours and beach activities with the flexibility to use it over 2 weeks. Whether you are a first time visitor or a seasoned Hawaii traveler, the Go Oahu Card offers a whole new way to discover Oahu. Enjoy direct entry to attractions. Simply print your pass and go – no voucher redemption required!
Highlights
Go Oahu Card valid for 14 consecutive days
Free admission to over 30 Oahu attractions
Discounts and offers to restaurants and shops
Free full-color pocket guidebook
Choice of one, two, three, four, five and seven day passes
Great value for money

Enjoy direct entry to attractions with your printed pass – no voucher redemption required!
Recent Photos of This Tour
What You Can Expect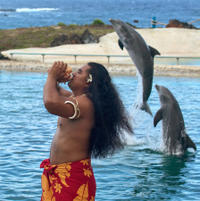 The Go Oahu Card leaves you in control, allowing you to have the best, customized experience possible. The Honolulu pass is available for one, two, three, four, five or seven days. You may visit as many attractions as you like in one day, but you are limited to visiting each attraction only once per day.
The Go Oahu Card also offers a wide variety of free gifts and discounts at some of Oahu's best retailers and restaurants. Full details are available in your guidebook.
See 'Itinerary' below for full list of included attractions.
Itinerary
With Go Oahu" Card you get Free Admission to:
TOURS AND EXCURSIONS
All of Oahu in One Day Tour

Diamond Head Crater Hike

Dole Plantation Pineapple Express Train Ride and Garden Tour

Hanauma Bay Snorkel Adventure
Honolulu City and Shopping Tour

Makani Catamaran Afternoon Sail

Makapuu Lighthouse Hike

Movie Sites and Ranch Tour at Kualoa Ranch
Secret Beach Tour
Ocean Voyaging Tour (1-hour catamaran sail)
Jungle Tour

Pearl Harbor Historical-City Tour

MUSEUMS
Battleship Missouri Memorial

Bishop Museum

Honolulu Museum of Art
Lyon Arboretum

Pacific Aviation Museum
CULTURAL AND HISTORICAL ATTRACTIONS
Byodo-In Temple
Dole Plantation: The Maze
Iolani Palace
Polynesian Cultural Center
Queen Emma Summer Palace
USS Arizona Memorial - Audio Tour
USS Bowfin Submarine Museum & Park
Waimea Valley

MISCELLANEOUS
Hawaiian Oceans Waikiki – Surfboard Rental

Hawaiian Style Rentals: 4-hour Moped (once per life of card) or 24-hour Bike Rental
Oahu Kayaking with Hawaii Beach Time
Podium Raceway

Stand Up Paddle Boarding at Ala Moana Beach
Sea Life Park

Snorkel the North Shore
Waikiki Ocean Club

Wet 'n Wild Hawaii
Choice of one Hawaiian Ocean's Waikiki Beach Gear Rental:
Boogie Board (3 hours)
Fins (3 hours)
Umbrella (3 hours)
Chaise Lounge (3 hours)
Surfboard rental (1.5 hours)
BONUS!
Your choice of Dolphin Encounter by Sea Life Park OR Germaine's Luau OR Polynesian Cultural Center–HA Breath of Life OR Alli Kai Dinner Cruise OR Dollar Rent A Car* (JEEP Wrangler Special) with the purchase of a 3, 4, 5 or 7 day Card! The choice is yours!

*Taxes, surcharges, and additional fees not included
Go Oahu Cards are activated upon first usage and are valid over a 14-day period.

September 2015
The Go Oahu Card is worth every penny. We spent a week in Oahu crammed full of things to do with our card and it saved us a considerable amount of money over purchasing direct from the attractions. We were only able to do about half the things the card would let us do because we didn't have time to do it all! If you figured what we paid for the card compared to the regular charges for what we did, we saved a few hundred dollars.
June 2015
It was fantastic, I used it to go to the Polynesian Cultural Centre, but remember its an all day tour so plan to get back till after 10.30pm, I also did the all day around Oahu on a bus tour and our driver from Robert's his name was Ted was awesome and lastly I did the half day tour of Pearl Harbour which was fantastic and I was there for Memorial weekend so was extra special. I can thoroughly recommend getting one of these cards and will go back and do it again for sure.
June 2015
We purchased the 3 day Go Oahu Card that came with an additional perk. We did the Germaine's Luau. We definitely maximized our use of the card. You can easily lose track of time and not get your money's worth but you have to be smart about your planning and really research your options on the card. The All in One Day Oahu tour is a must in my opinion. The same day we did Kayaking in the North Shore we went over to hike in Waimea Valley and check out the waterfall and then stopped by Dole Plantation for the maze and train ride and that same night we did the luau. Second day we did the All in one day Oahu tour and the 3rd day we did Kauloa Ranch and the Polynesian center. The hikes offered are the card in my opinion arent worth it or Hanauma Bay because you're basically just paying for transportation and you are wasting alot of time when you could be benefiting from a more better tour. I would definitely do this again.
April 2015
April 2015
Anonymous
December 2014
I am so glad we got the Go Oahu Card. We found so many things we wanted to do that we weren't aware was included on this card. We had no problem just going to the different areas and just presenting our card and we went right on thru. No delays or anything. Very convenient. Must have to explore the island. A must see is the Waimea Falls. Getting to the falls you pass by all these huge trees. And when you get to the waterfalls be sure to have your water shoes bc you can actually swim right below the waterfall.
December 2014
This was very useful. I do suggest getting the 3 day pass so you get the full use of the attractions. Going to the Byodo-In Temple was so peaceful. The Polynesian Culture Center is a must see. I really enjoyed getting this pass and will definitely recommend this to my family when they go next month. It is super easy to use. Once you exchange for your card and booklet it gives you all the info you need to get around.
November 2014
We got a lot of value out of this card. Having a 3 day card meant we had time to do: Wet and Wild, Pearl Harbour (incl. Battleship Missouri and Bowfin Submarine), Polynesian Cultural Centre, Hanauma Bay snorkeling and Sea Life Park.
We used the bonus for the Jeep rental which helped get us out to a lot of the attractions (many are quite far from the Waikiki/Honolulu area). Be aware that the Jeep bonus only covers the rental fee, we ended up paying a lot extra for good insurance cover and a GPS unit.
Using the card takes a bit of planning but is well worth it.
February 2014
The Go Oahu card worked out very well for us. Takes a little planning, but was easy to use and saved us alot of money. Would definitely use again.
February 2014
This card was great value for money. I purchased a 3 day card for myself as well as my husband and 2 sons (26 and 23). With this card you received a free activity so in a way you got 4 days for the price of 3. We used the card to hire a car for the day and drove around the whole island - very interesting and good fun; went on a tour of the Polynesian Cultural Centre-HA Breath of Life - very good afternoon/evening; tour of Pearl Harbour - great exhibition/memorial; tour of Dole Plantation; hiked Diamond Head Crater; and Iolani Palace, but there are so many other choices of activities. We were there for 7 days but felt the 3 day card gave us time to do other things, like shopping and relaxing.
Advertisement
Advertisement