16 Reviews
Location:

Honolulu, Oahu

Duration:

2 - 3 hours
Visit some of the most haunted places on Oahu, if not on all of the Hawaiian Islands, on the Honolulu City Ghosts Haunts Walking Tour! Your guide is an experienced expert on all these spooky places and will entertain (and scare!) you with stories of the supernatural. All sites are real and all the stories you'll hear are true, based on historical and ancestral information, along with eye-witness accounts.
Highlights
Walking tour of Honolulu's haunted locations
Visit Iolani Palace, the State Capital Building, Chinatown and downtown Honolulu
Hear true stories from your knowledgeable guide
Complimentary pickup and drop off from most Honolulu hotels
Recent Photos of This Tour
Honolulu City Ghost Haunts Walking Tour
What You Can Expect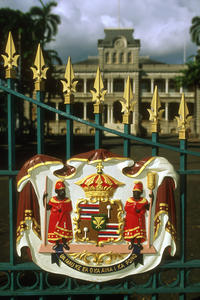 The Honolulu City Ghost Haunts Walking Tour takes you to several known haunted hotspots in Honolulu. They include Iolani Palace, the State Capital Building, and areas in both Chinatown and downtown Honolulu. Some places do not allow entry, so the group will gather outside the location to hear its spooky tales. You'll also see several locations where supernatural events are still happening today. From visiting the former residence of Hawaii's monarchy to the location of a terrible modern-day murder, close encounters are always possible!
This is an easy walking tour suitable for all fitness levels. The approximate distance covered is 1.2 miles (2km), with regular stops.
April 2015
Love, love, love this tour. We had so much fun and it was a wonderful introduction. Uncle Joe is wonderful. The history was great and just spooky enough but not too much. It inspired us to take the Orbs tour the next night. I appreciate the fact that they were very up front with what to expect and didn't make it scary. Great team!
June 2015
I thouroughly enjoyed the walking Ghost Tour, however, I was disappointed that it didnot include Chinatown haunts as advertised in the description of the tour.
The start of the tour was late due to a delay in the hotel pick up and our party did not get a call telling us that they would be late getting to the starting place @ Iolani Palace...we thought we might have missed the tour. Thank goodness Viator Amanda gave us the local number in case we needed to contact the guide.
Uncle Joe was entertaining, engaging with everyone and very knowledgable about the history of the places we visited and the people involved. You were free to take all the pictures you wanted and Uncle Joe gave you tips on how to take pictures and what to look for when viewing them we saw some unusual pictures but could not make our any ghosts on my own. I would take another tour with Uncle Joe.
It was a nice evening walk and got to see a lot of the Honolulu City Sights in the cool of the night instead of the heat of the day.
October 2013
This was a fun activity for my wife and I. We have been on other ghost tours in such places as Key West, Seattle, Portland, etc. and found the stories to be quite interesting. The next trip to Oahu we are planning to go on the tour with Uncle Joe.
July 2013
It was a good trip. My youngest was convinced that a young ghost was very attentive to her given the comments from the "Ghost Radar".
February 2012
This was an interesting tour with a lot of Hawaiian history and a passionate guide. Luckily there were no scary incidents that have apparently happened on other tours.
May 2010
Don't know if I believe in the spirits & seeing orbs but the history & stories are worth the walk. Our guide was most informative & at no time did we feel unsafe. Nice to see the palace all lit up at night rather than in the daylight.
May 2010
Very interesting .Guide friendly and gave an insight into Hawaiian culturebelief system.Really interesting tour
October 2008
It was good historical information for those who don't know Hawaii. It was a lot of walking and still hot, so uncomfortable. I didn't see any "orbs" although I did smell cigar smoke by Queen Liliuokalani's statue.
June 2013
We encountered no paranormal activity during this tour and we don't believe it goes anyplace (other than the exterior of the Iolani Palace) where activity has been reported, so if you are a seasoned investigator that travels around doing the tours, you should expect that. However the tour itself and the guide Uncle Joe were quite entertaining and worth the small amount of money for the tour. Basically, it was fun to watch. You also get to see where the original Hawaii Five-O was filmed and right across from the palace is where the current Five-O is being filmed and once you know where they are you can go back on your own in daylight. A caution: 1.) no restrooms within walking distance and it is long tour, if you feel the call of nature you have to tell them and the van driver will take you a distance away to a public 24 hr facility, but you will miss part of the tour in doing so. 2.) no trashcans for legally disposing of dead batteries, etc. that we could find. 3.) Hotel pickup advertised, but it may not be your hotel. We had to walk to another hotel and were not sure that we were at the right place as the van driver was a half hour late do to a function in Waikiki and the area traffic. We called the number only to get a recording as they were closed. However, I left my cell phone number and an operator called back almost immediately, so apparently the number transfers to a private residence and is monitored. She gave my cell phone number to the van driver and then all was explained and OK. It can take a good half hour or more to pick everyone up and get to the Iolani palace where the tour starts, so count that in to your bathroom time.
June 2013
Our tour guide knew a lot about the history and culture of Hawaii. If you like learning and experiencing those things (he performed a chant at the beginning and sang in Hawaiian at the end), then this is for you. I enjoyed seeing some historical sights, but the stories were not very scary.
Advertisement
Advertisement