Walk through some of Hawaii's most haunted locations on this 2- to 3-hour Honolulu ghost tour. Hear legends and spooky tales of the supernatural from an expert guide while you travel past famous sites like the Iolani Palace. All of the tales passed along are from eye-witness accounts and historical information. This tour also includes pickup and drop-off.
Highlights
Walking tour of Honolulu's haunted locations
Visit Iolani Palace, the State Capital Building, Chinatown and downtown Honolulu
Hear true stories from your knowledgeable guide
Complimentary pickup and drop off from most Honolulu hotels
What You Can Expect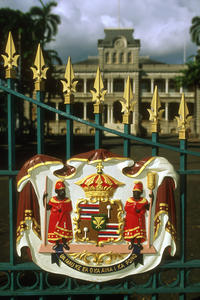 Your ghost tour will begin with pickup at your hotel. From there, a local guide will take you through Honolulu's paranormal hotspots, like the State Capitol Building and the Iolani Palace, once the residence of Hawaii's royal family.

Pass through Chinatown and downtown Honolulu, learning the spooky tales associated with each landmark from your guide. Some of the locations are not open to the public, in which case you'll huddle outside and hear its history. You'll also see sites that still report paranormal activity to this day.

This walking tour covers a little more than a mile (2km) and is suitable for all fitness levels. When your ghostly experience concludes, you'll be driven back to your hotel.

May 2016
A great way to learn about the history of Hawaii and maybe even see a ghost!
April 2016
Great tour and guide. We actually saw orbs on our camera pics. Well worth it!
November 2015
I always enjoy a ghost tour. I learn many fascinating things about history, stories and legends. The stories about Hawaii were wonderful concerning the queen and especially the one about taking anything off the island, having bad luck and people sending back things they had taken off the island as souvenirs. The whole tour was great and our guide was very knowledgeable and had some great stories to tell.
April 2015
Love, love, love this tour. We had so much fun and it was a wonderful introduction. Uncle Joe is wonderful. The history was great and just spooky enough but not too much. It inspired us to take the Orbs tour the next night. I appreciate the fact that they were very up front with what to expect and didn't make it scary. Great team!
September 2015

September 2015
An informative guide with expert knowledge on Hawaiian Royal Family, Fire Department and the buried bodies of Small Pox victims. There is a new office building where they keep a wet floor sign for a deceased royal child. People have seen small wet footprints near the entrance.
mommadonna1756 United States of ...
September 2015
We have been on a ghost tour before in Gettysburg, Pa. We did get valuable information on the history of Oahu and although did not see any orbs, we did get some needed excersize. Thank you, Donna
September 2015
This was an exceptional tour, walking the streets after dark and looking for ghost or other objects. The tour guide was very attentive and provided a world of information dealing with all the spiritual ghost sightings and possible events related to them. I'm not a big believer in this type of stuff but really enjoyed the tour. All the background information was impressive and gave a good understanding of the development of Hawaii and it's history and culture.
June 2015
I thouroughly enjoyed the walking Ghost Tour, however, I was disappointed that it didnot include Chinatown haunts as advertised in the description of the tour.
The start of the tour was late due to a delay in the hotel pick up and our party did not get a call telling us that they would be late getting to the starting place @ Iolani Palace...we thought we might have missed the tour. Thank goodness Viator Amanda gave us the local number in case we needed to contact the guide.
Uncle Joe was entertaining, engaging with everyone and very knowledgable about the history of the places we visited and the people involved. You were free to take all the pictures you wanted and Uncle Joe gave you tips on how to take pictures and what to look for when viewing them we saw some unusual pictures but could not make our any ghosts on my own. I would take another tour with Uncle Joe.
It was a nice evening walk and got to see a lot of the Honolulu City Sights in the cool of the night instead of the heat of the day.
October 2013
This was a fun activity for my wife and I. We have been on other ghost tours in such places as Key West, Seattle, Portland, etc. and found the stories to be quite interesting. The next trip to Oahu we are planning to go on the tour with Uncle Joe.
Advertisement
Advertisement