Explore the pristine island of Molokai, including its infamous former leper colony on the Kalaupapa peninsula, during this full-day tour from Oahu. Fly from Oahu to Molokai on a private plane, then explore the stunning island's topography by land. On the return flight, enjoy flights of the world's highest sea cliffs and untouched lush valleys. Box lunch and round-trip transportation from Waikiki hotels is included.
Highlights
Air tour from Oahu to the island of Molokai

Enjoy stunning views of this Hawaiian island from the air

See Molokai's spectacular sea cliffs, the highest in the world

Tour the Kalaupapa peninsula and learn the history of this former leprosy colony

Hotel pickup and drop-off from Waikiki and lunch included

Why Our Insiders Chose This Tour
Get off the beaten path by visiting the relatively untouched island of Molokai. The flights offer stunning views of the towering sea cliffs and unspoiled valleys.
What You Can Expect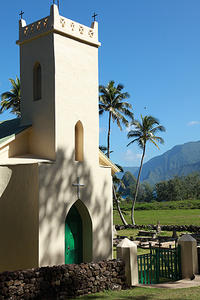 Following pickup at your Waikiki hotel, transfer to the airport to board your private plane bound for Molokai.
Board your flight to Molokai, one of Hawaii's most unspoiled islands, enjoying unparalleled views of the island's verdant valleys and towering mountains. Molokai is also home to the highest sea cliffs in the world, best visible from the window of your flights in and out of Molokai.
Upon landing on the island, meet your local guide and embark on a land-based tour of the island. Head for the infamous former leper colony on the Kalapaupa peninsula. Learn about the Belgian missionary named Father Damien de Veuster, who devoted his life to helping those suffering from leprosy.
A boxed lunch and bottled water are provided on this tour; snacks and souvenirs are available for purchase.
After your tour, head back to the airport and re-board your private plane. On the flight out, enjoy the same stunning aerial views of Molokai's scenery.
Back on Oahu, enjoy transportation back to your Waikiki hotel for drop-off.
Please note: You must be 16 years old to enter Kalaupapa.
February 2016
My sister and I booked this day trip having read Moloka'i by Alan Brennert, and falling in love with the island of Molokai and its history. After a beautiful flight from Oahu be prepared for a tiny airplane, we arrived at the Kalaupapa Airport. While there is some downtime waiting for other tour members, we just enjoyed the idyllic setting of the island and the true peace and quiet that can only come from a place like Molokai. Our tour guide, Norman, was the most authentic human being I've ever met. The tour was a little slow off the start, and I was anxious to get to more of the history and story of the island, but that came eventually. If you haven't read the aforementioned book before booking this tour, do so. You will have a greater appreciation for all that you are seeing and experiencing. I re-read the book immediately afterward and fell in love with the history all over again and especially loved having true scenery to connect to what I'd read. A very special experience!

September 2015
The flight to and from Mololai was a great experience, providing the three of us with some great views of Honolulu and of Molokai. A bonus benefit was meeting at the Kalaupapa airfield an old friend of mine whom I had not seen for forty years, plus a couple of other folks from our home state of Michigan . We were joined on the bus tour by the hikers and the mule riders who made the trip up and down the trail instead of flying in and who joined us for the bus tour. The gentleman tour guide and driver of the 1992 school bus was very informative, insightful, and inspiring. All in all, I consider this day trip the highlight of my entire ten days in Hawaii.
June 2015
Very well done. Could tighten up on time spent at airports waiting for other groups to join our tour.
April 2014
Very informative and interesting. So glad we went!
July 2013
A great way to spend a day not far from Oahu. The historical aspects of the old leper colony and Father Damien was outstanding. The only complaint is the waiting time for the scheduled aircraft to take us back to Honolulu. There could be "filler" activity to allow tourists to enjoy Kalaupapa's beauty. As an example a donkey ride up the trail to a vantage point that overlooks the National Park.
February 2013
A very interesting and enjoyable trip, start to finish. You will learn a lot about the history of Molokai on this venture! Scenery is beautiful as well.
Joyce F USA
December 2012
It was everything I could have hoped for - and more. The flight over was smooth, the pilot gracious, and the tour operator at Kalapaupapa very knowledgeable and engaging. I would certainly recommend this trip to others.
May 2012
Unique experience that put a visual picture to what I have read about the history. Wonderful guide and nice plane ride with locals added to my understanding of life there and the park service.
October 2011
The trip was outstanding in every way. From the plane trip to Molokai and back to Oahu will always be treasured memories that I will cherish for years to come. Our guide was simply great making the day educational, enjoyable, and a privilege. Well worth the cost and time.
Michael G USA
September 2011
Great trip and compassionate tour guide. The flights with Garrett from Makani Kai were exceptional and provided additional overview of Honolulu and Molokai.
Advertisement
Advertisement