Explore the beautiful Ka'a'awa Valley by ATV! Ride through the picturesque Kualoa Ranch and discover the valley and mountains featured in famous Hollywood films including 'Jurassic Park' and 'Pearl Harbor.' Choose from a 1- or 2-hour tour and venture up mountainsides and down into lush green valleys.
Highlights
Enjoy a Kualoa Ranch ATV adventure on Oahu!
Take a 1- or 2-hour ATV tour
Visit sites where famous movies were filmed, such as Jurassic Park, Windtalkers and Pearl Harbor
Take in panoramic views of Kualoa Ranch
What You Can Expect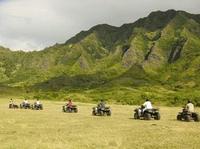 Explore one of Oahu's oldest working cattle ranches, Kualoa Ranch. Resting on 4,000 acres (1,618 hectares), this ranch is located less than an hour's drive from Honolulu on Oahu's northeast side.
Kualoa is known as one of the most historically significant sites on the island. Centuries ago, it was one of the most sacred places on Oahu. Discover the area's stunning beauty and interesting history as you explore on your own ATV.
One-Hour Tour:
Kualoa Ranch guides will take you along trails up the mountainside and past historical bunkers from World War II. Venture down into a lush green valley surrounded by the striking Kualoa Mountains.
Two-Hour Tour:
Maximize your time and explore the beautiful Kualoa Ranch's north and south side. Discover the valley and mountains that served as the backdrop for famous Hollywood movies like Jurassic Park and Pearl Harbor.
Only on this 2-hour ATV tour will you be able to explore the south side of Kualoa Ranch. Ride along Hakipu'u Valley and discover all that Kualoa has to offer!
August 2015
This was an awesome way to see the ranch. Our guide was fantastic and fun
August 2015
Best adventure on Oahu, great customer service!
July 2015
We did the 2 hour ATV tour and it was so much fun. Our guide was so nice and very helpful throughout the tour. The scenery us to die for and you will never see a place so beautiful! Highly recommend!
June 2015
June 2015
This tour is a must for anyone who visits Oahu... No need for any previous experience on a quad the tour guides are amazing... we will definately be doing it again on our next trip !!!
May 2015
The tour was amazing. Definitely do the 2 hour tour, you get to see so much and great scenic views . The staff is great ! This is a must do
April 2015
This was the first activity on our first morning on Oahu. It was a beautiful day and our guide was amazing. The Kualoa Ranch is gorgeous and it is quite an experience to see it from an ATV. It was the perfect way to start our vacation. Saw the sights from LOST and JURASSIC PARK and several other movies, took many scenic pictures, and became familiar with the history of the ranch. Even ended up taking a coconut back with us and sharing it as a snack after the tour. Safety was top priority for new riders. Definitely a great adventure.
March 2015
This was our first time together and the trip was awesome!!! Amazing!! The guide was informative and very helpful. She took pictures, took her time, let us choose areas, and very friendly.
October 2014
October 2014
Great tour, I was scared at first but the guides were great and the scenery was incredible
Advertisement
Advertisement