Visit the famous Kualoa Ranch for 1- or 2-hour ATV ride on this excursion on Oahu. This 4,000-acre (1,618-hectare) working cattle ranch on the windward coast of Oahu is a popular filming location for film and television due to its rugged beauty. Ride up volcanic mountainsides and shoot down in to verdant tropical foliage of the Ka'a'awa Valley with the leadership of an expert adventure guide.
Highlights
Enjoy a Kualoa Ranch ATV adventure on Oahu!
Take a 1- or 2-hour ATV tour
Visit sites where famous movies were filmed, such as Jurassic Park, Windtalkers and Pearl Harbor
Take in panoramic views of Kualoa Ranch
Recent Photos of This Tour
Kualoa Ranch ATV Adventure
What You Can Expect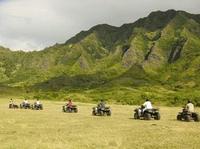 Make your way to Kualoa Ranch, one of Oahu's oldest working cattle ranches, on the northeast side of the island. Just an hour's drive from Honolulu, this 4,000-acre (1,618-hectare) ranch is located on one of the most historically significant pieces of land on the island. As you explore the property on your ATV, listen to your guide talk about why this land was sacred to the ancient Hawaiians.
Choose from one of the following tours:
2-Hour Tour:
Explore the beautiful Kualoa Ranch's north and south side. Discover the valley and mountains that served as the backdrop for famous Hollywood movies like Jurassic Park and Pearl Harbor. On the south s
ide, ride through the stunning Hakipu'u Valley.
1-Hour Tour:
Follow Kualoa Ranch guides along trails up the mountainside and past historical bunkers from World War II. Venture down into a lush green valley surrounded by the striking Kualoa Mountains.
Doug W USA
April 2016
December 2015
We chose the 2-hour ATV tour, and it was a great experience. 4 of the 6 of us on this tour group had never driven an ATV, but Sarah, our guide, was very patient and informative, and after a short training session during which we became familiar with the feel and workings of the vehicles, we were on our way to a terrific adventure in a gorgeous location. Sarah was very knowledgeable about the history of the area, the history and workings of the ranch, and all the added information about the uses of the ranch now, as well as being the locations for many movies, including one that is currently being shot there. She had a great sense of humor and was very easy and interesting to talk to. The ranch itself is a busy place at the hub, but once you are out and away from the starting area, it is gorgeous and you are not crowded in the least. They offer many activities: water/beach/boating adventures, ziplining, horseback riding, and jeep-type tours in addition to the ATV tours. It is a great place to spend the day, and there is something for everyone at all levels and all ages. They do have busses which pick folks up at hotels in Waikiki/Honolulu, but we chose to drive ourselves. It is a gorgeous place!
November 2015
Our guide was really fun! Even in the rain this tour is SO worth it. I think this was the highlight of our week there in Oahu.
November 2015
Kualoa is a magical and breathtaking place! Our tour guide was amazing taking us off the beaten path to harvest fresh macadamias and mango guavas. Having already done the movie tour earlier that morning our tour guide was happy to make any crossing over experiences unique. Hurtling through the jungle on an ATV is not something i will soon forget. Do it!
November 2015
Our Tour Guide Amy was great. She was knowledgeable of the ranch. She was also patient with the first timers on a ATV. I would recommend taking this tour. You will have a lot of Kodiak moments. Thanks You Amy!!
Thanks
Ernie/Kristy
TEXAS
October 2015
This was a fantastic tour.
The scenery is stunning and to get to see it all while riding an ATV was spectacular.
Definitely would recommend the two hour tour - we saw much more of the island on this tour.
August 2015
This was an awesome way to see the ranch. Our guide was fantastic and fun
August 2015
Best adventure on Oahu, great customer service!

July 2015
We did the 2 hour ATV tour and it was so much fun. Our guide was so nice and very helpful throughout the tour. The scenery us to die for and you will never see a place so beautiful! Highly recommend!
June 2015
Advertisement
Advertisement