11 Reviews
Location:

Waikiki, Oahu

Duration:

Varies
Explore the exciting activities available at gorgeous Kualoa Ranch with a package that includes lunch and your choice of three tours. Located on the northeastern side of Oahu, Kualoa Ranch features a variety of terrain and activites such as an off-road jungle expedition, a movie site tour, an ocean cruise or a beach visit. Expert guides share the history of Hawaii and the ranch as you discover its lush rain forest, green valleys and white-sand beaches.
Highlights
Kualoa Ranch pass with four tours and buffet lunch
Explore the jungle in a 6-wheel-drive Swiss Pinzgauer all-terrain vehicle (if option chosen)
Visit filming sites for movies and TV shows such as Jurassic Park, Pearl Harbor, Hawaii Five-O and Lost (if option chosen)
Relax on a gorgeous white-sand beach with great views of Mokoli'i Island and Kane'ohe Bay (if option chosen)
Tour a fragrant botanical garden, tropical fruit orchard and ancient Hawaiian fishpond (if option chosen)
Enjoy a scenic ocean cruise in a catamaran (if option chosen)

Choose from a variety of activities that are suitable for all ages
What You Can Expect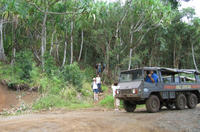 Established in 1850, Kualoa is a 4,000-acre (1,619-hectare) working cattle ranch that extends from the rugged mountains down to the ocean. The terrain includes dense rain forest, open valleys and white-sand beaches. Many areas of this natural paradise can be reached only on foot, horseback or all-terrain vehicle.

You may even recognize the scenery as Kualoa Ranch has served as a set for Hollywood movies such as Jurassic Park, Pearl Harbor and Godzilla, and TV shows like Hawaii Five-O, Magnum P.I. and Lost.

Your pass includes a delicious buffet lunch that may have dishes such as barbecue pork ribs, Kualoa chili, baked chicken, vegetable stir-fry and fresh pineapple.

Choose three tours from any of the options listed in the Itinerary section.
Itinerary
Movie Sites and Ranch Tour
Hop aboard a vintage school bus and travel into the Kaʻaʻawa Valley to see where many Hollywood blockbuster movies and TV shows are filmed. Look at the setting for Jurassic Park, find Godzilla's footprints, see the battleground that featured in the World War II film Windtalkers and visit other locations seen onscreen in 50 First Dates and Lost. You might even see a film shoot in progress. Your guide shares entertaining stories about the ranch and movies shot on-site throughout the tour.

Jungle Expedition Tour
Hop on board an adventurous jungle tour in beautiful Hakipu'u Valley in an open-sided Swiss Pinzgauer, a 6-wheel-drive vehicle originally designed for military use. Hang on tight as your expert driver-guide rumbles along jungle trails, maneuvers through stream beds and powers up steep hills to remote spots with incredible views over the eastern coast of Oahu. Expect a bumpy ride over rough terrain as you access wilderness areas on the ranch during this fun off-road tour. (Not suitable for children under three, pregnant women or people with back problems). Kualoa means 'long back' in Hawaiian, named after the region's striking mountain range. Kualoa was historically used for Hawaiian royalty and Hawaiian legends refer to it as a sacred place. Find out more about Kualoa's rich traditions on a storytelling tour that travels from the foothills of the ranch to the wahi pana (sacred place) of Paliku, located at the base of the majestic mountains. Your tour includes an informative video, terrific photo ops and live narration by your friendly guide.

Ocean Voyage Tour
Cruise along Oahu's coast aboard a private catamaran that seats 49. Take in gorgeous Kaneʻohe Bay with fantastic views of Kualoa and Koʻolau mountains, Mokoli'i Island (aka Chinaman's Hat) and Hokule'a Beach—ceremonial home to the first modern replica of an ancient Polynesian sailing canoe. Listen to informative commentary about the history of the area provided by your expert captain throughout your tour. (Not available on Sundays and federal holidays). Take an easy walk to one of Hawaii's best preserved ancient fishponds, hand-built more than 800 years ago to supply fish to local villages. Learn about ancient Hawaiian aquaculture and agricultural, and how Captain Cook's arrival in 1778 influenced the cultural practices. Afterward, stroll through fragrant fruit tree orchards and tropical gardens bursting with flowers including heliconias, ti plants and gingers.

Secret Island Beach
Relax on a gorgeous secluded beach that features white sands and calm water, plus amazing views and lots of water toys. Feel free to use the provided kayaks, stand-up paddleboards, canoes, glass-bottom boat, snorkel gear, volleyball and more. Or simply relax in a hammock or stake your spot on the beach. Bring your swim suit, sunscreen and towel; changing stalls, showers and restrooms are available on-site.
August 2015
great tour! Kualoa Ranch is beautiful. The tours are very organized and on time. The best part was the last tour of the Jurassic Park filming location. I wish we had more time on this tour and there were more stops along the way because it was quite beautiful. The tour guides were all really friendly especially Ricky Bobby was hilarious! I would take this tour again.
June 2015
This was a really good day out, we would thoroughly recommend it to anybody visiting Oahu. Our guide was very informative and plucked fresh fruit from the trees for us to sample. Lunch was good, the 3 different tours we did were great.
April 2015
August 2015
We did the movie tour which was good, although most of the time is was driving past the scenes. Got out at Jurassic park which was the key place.
The jungle tour was excellent and our guide was well informed. Also got to see the settings from Jurassic world which was excellent.
August 2015
For our Kualoa Ranch Experience, we selected the Jungle Expedition and Secret Island. At the time of booking, we weren't aware that the Secret Island counted as two activities since it's three hours, and were expecting the choice of a third activity. I don't remember this being clearly stated in the Viator information, but it wasn't a big deal.
The Jungle Expedition was fantastic, as was our driver, Ricky Bobby. His jovial personality added to everyone's enjoyment of the trip, and he was very well-versed in the history of the area and the island. Plus who doesn't want to go barreling through the jungle with a guy named Ricky Bobby behind the wheel?
While going up and down the hills was a thrill ride in itself, we also got to see a reconstructed ancient temple and the containment area set from the new Jurassic World movie. The tour concluded with a perfect photo opp at an overlook point high up on the mountain, surrounded by green jungle and looking down on the sea.
The Secret Island was enjoyable, but not as essential as the Jungle Expedition. After a short boat ride to the Secret Island, which one of the staff mentioned was actually neither secret, nor an island, we got three hours to enjoy water activities or just relax on the beach. A big plus was there were plenty of kayaks and paddle boards to go around. There could have been more hammocks on the beach, and it was a little annoying that some guests made a beeline for the hammocks, throwing their stuff down and not letting anyone else use them, even when they got up and left the hammocks unattended. Oh well.
At three hours, the Secret Island trip actually felt a little long. My wife and I agreed that we would have been fine with one less hour. Plus if you're staying in Waikiki, you'll already have access to a beautiful beach that's a little more groomed than the sometimes rocky shoreline of the Secret Island cut my toe on a rock.
Buffet lunch was solid too. Overall a great day at Kualoa Ranch.
April 2015
The tour guides were very informative!
December 2014
This is a pot luck offering of the many tours available at the ranch.
Our morning was mostly rained out. They did the tours as best they could with wind and downpour. Afternoon was great! My favorite was the jouncy bouncy j
Jungle tour and the Movie tour. Legacy was a waist of my precious time there, and the sea was too rough to enjoy boat trip I selected. Kind of wish I had the nerve to select the ATV's.
June 2013
The people at Kualoa Ranch were great, informative and made the tour well worth while. They even called after I reserved to find out what time we would arrive so they could help plan our day. Dinner was not as good as I expected but the price was right and the entertainment was great.
December 2013
the catamaran was really good
June 2013
They seem to take priority with allowing the half day visitors on the different adventures you can participate in, and try to force the all day expierence people into the secret island, which is no more than being at the beach at your hotel, and you are STUCK there for three hours.................then in the afternoon you only have time for two adventures, and lunch, even though the advertisement tells you four. The jungle tour drivers drive way too fast on the very unsafe roads, and the only jungle animals you see are COWS........the Luai was very nice, food was excellent. Tofer and Ricky Bobby were excellent guides.
Advertisement
Advertisement