Catch tribute bands of your favorite artists at the Legends in Concert 'Rock-a-Hula's show in Waikiki. Sing along to songs from Celine Dion, Michael Jackson and more at Oahu's Royal Hawaiian Center, accompanied by a live band and dancers. Upgrade your ticket to include a buffet dinner, premier seating, hotel pickup and drop-off or an exclusive VIP experience with a 4-course meal and stage-side seats.
Highlights
Legends in Concert 'Rock-a-Hula' show in Waikiki
Choose from several options such as the show plus a cocktail, buffet dinner, 4-course meal or VIP backstage access
See tribute bands artists like Elvis, Celine Dion and Michael Jackson.

Enjoy a live band, skilled dancers and imagery of actual concerts
Comfortable seating in the 750-seat Royal Hawaiian Theater
Hotel pickup and drop-off included (if option selected)
Recent Photos of This Tour
Rock-A-Hula, Luau Dinner Show
What You Can Expect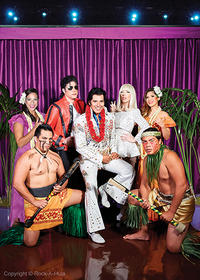 Enjoy a taste of Las Vegas on the islands with tickets to Waikiki's Legends in Concert. The 'Rock-a-Hula' show turns the stage of the Royal Hawaiian Center into an incredible tribute to your favorite singers, with songs from Elton John, Elvis, Eric Clapton and more.

Take the family for the show only or upgrade your ticket to include a buffet dinner, hotel transportation or a special VIP experience. See the Itinerary section below for complete details on all of the options offered as well as sample menus.

Itinerary
Rock-A-Hula Show:
Don't miss this amazing new Hawaiian show with fire-knife dancing. After the performance, enjoy an exciting meet-and-greet with the artists.


Rock-A-Hula Premier Cocktail Show:
Relax at this pre-show reception and enjoy a complimentary cocktail as you gear up for the Rock-A-Hula show.
Terrace Luau Buffet and Show:
Enjoy a buffet dinner on the terrace before viewing the Rock-A-Hula show from your premier seats. During dinner, sip on a complimentary cocktail while listening to live music and watching hula dancing. Buffet includes luau pig carving station, roast beef, lomi-lomi salmon, huli-huli chicken and dessert.
4-Course Dinner and VIP Stage-Side Show Seating:
Start your evening with two VIP complimentary premium drinks. Following the drinks, make your way to your 4-course dinner, where you'll dine at a private stage-side table in the theater. Dinner includes Maine lobster, steak and salmon (vegan and vegetarian options available with a minimum 24-hour notice). After the show, enjoy a meet and greet reception with the stars of the show where you can take photos and get autographs.

Ultimate 4-Course Dinner, VIP Stage-Side Show Seating and Backstage Pass:
Add backstage passes to your VIP experience for an ultimate Legends in Concert Waikiki experience. Start your evening off with a backstage tour of the theater and a souvenir photo with one of the stars of the show! Sit stage-side for dinner and dine on Maine lobster or steak and salmon (vegan and vegetarian options available with a minimum 24-hour notice). After the show, enjoy a reception with the cast in the Green Room.

Terrace Luau Buffet
Hot Station
Roasted Luau Pig Carving Station and Herb Crusted Roast Beef

Selection of Gourmet Hawaiian Sea Salts

Huli-huli Chicken

Lomilomi Salmon with Greens Medley

Pacific White Fish with Coconut Curry Sauce
Duo of Sweet Potatoes

Steamed White Rice with Rainbow Furikake

Cold Station
Hawaiian Greens Medley
Passion Fruit and Papaya-seed Dressings

Island-Style Macaroni Salad

Lomi-lomi Salmon

Tofu Poke

Long Rice Salad

Taro Rolls with Sweet Butter

Dessert Station
Cakes: Chocolate Coconut and Guava Chiffon

Sorbet and Ice Cream: Mango and Macadamia Nut

Cookies and Candies: Macadamia Nut Chocolate Cookies, Pineapple and Mango Candies

Freshly Brewed Coffee and Tea

4-COURSE DINNER
VIP Welcome

Trio of Hawaiian Potato Chips

Pineapple Prosciutto Skewers, Fresh Fruit

Hawaii's Favorite Macadamia Nuts

Dinner in the Stage-side VIP Area
Maine Lobster, Tenderloin Steak, and Salmon

Local Baby Greens, Hearts of Palm

Yellow Beets, Kamuela Tomatoes and Cucumbers with Passion Fruit Champagne Dressing
Grilled Tenderloin Steak and Atlantic Salmon

Sautéed Fresh Market Vegetables and Black Truffle Mashed Potato
Dessert
Lava Flow Dessert

Warm Molten Chocolate Cake with Macadamia Nut Ice Cream and Raspberry Sauce
Dinner Roll with Sweet Butter

Freshly Brewed Coffee and Tea


April 2016
The night I went, Michael Jackson, Celine Dion and Elvis were featured and they were absolutely wonderful. Along with them were locals doing their dances and it was great to see and added so much colour to the performance. I didn't go for the supper but those that did said it was a very good meal and of course there is free beverage for everyone. All in all a great time was had by all!!

April 2016
We had so much fun and enjoyed the dinner. This is well worth going to see.

March 2016
It was a great show enjoyed myself! Definitely worth seeing
January 2016
A good night out. An excellent dinner and the show was first class. Lady Gaga was spectacular as was Elvis Presley. A toe tapping experience and the costuming was amazing.
October 2015
we felt very welcomed from the pick up driver to all the stuff, the performances where enjoyable
October 2015
This show and the VIP dinner including the service was amazing and top notch! TOTALLY worth the price we paid! This was one if not the one show we attended that we enjoyed the most!
Would definitely do this again!
October 2015
We loved the show.The vip package included pick up near our hotel and an escort to the show.We also had a private lounge were we were greeted and had drinks and food.We were seated at a table close the stage.The food was lobster and steak dinner,delicious.The show was fantastic .Great singing and dancing Elvis,Lady gaga and Michael Jackson impersonators were excellent .Hawaiian dancing and fire dancing was also a big bonus.We definitely will go again.The staff were helpful,courteous,friendly ,the best.
August 2015
The Show was Fun and Entertaining. All the impersonators did an Excellent job. The Fire guy was fantastic. All the Hula dances male/female had a lot of energy and smiles.
August 2015
A great night out. Very comfortable theatre. Elvis was terrific, star of the show, along with all the dancers.
August 2015
The show was great. The characters were fantastic. Wonderful impersonators.
They were all really friendly after the show and posed for photos with everyone.
Defineitly recommend
Advertisement
Advertisement