12 Reviews
Location:

Waikiki, Oahu

Duration:

14 hours

(approx.)
Fly to Maui for the day from Oahu on a Hana Adventure tour! You'll explore the lush tropical beauty and constantly changing vistas of the world-famous Hana Coast on this memorable Maui day trip.
Highlights
Full-day trip to Maui's Hana region from Oahu
Scenic drives along Hana's world-famous scenic coast
Visit Hana Town and the Hasegawa General Store
Swim at Ohe'o Stream and Pools
Drive around Maui's east coast to Paia town
Kaumahina, Puaa Kaa and Waianapanapa State Parks
Professionally narrated tour
Roundtrip flight from Oahu
Why Our Insiders Chose This Tour
On this full-day excursion to a well-known and popular region of Maui, you can let your expert guide handle the twisty roads as you focus on admiring the gorgeous coastline and waterfalls. It's an amazing drive!
What You Can Expect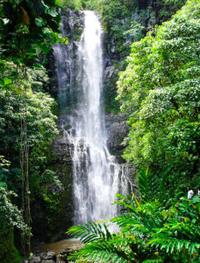 The beauty of this region is famous for its coastal views, waterfalls, pools and legendary beaches.

The best way to experience the beauty of this region is in the company of a knowledgeable driver/guide, allowing you to focus on the breathtaking scenery of this incomparably picturesque area.

A delightful no-host luncheon stop is provided on the Hawaiian Airline option only. Bring a swimsuit and towel and take a swim in the famous Ohe'o Stream and Pools, if the weather permits.

Your day trip to Maui includes a drive around Maui's east coast to Paia town, Kaumahina State Park, Keanae Valley Lookout, Puaa Kaa and Waianapanapa State Parks, a visit to Hana Town and the Hasegawa General Store, Wailua Falls Lookout and scenic views of the island's famous windsurfing beaches

Take a Hana Adventure tour today!
July 2015
Loved Maui. I would stay here next time in Hawaii rather than Oahu.
March 2015
My gosh.
This was really an awesome trip!
Early start but so very worth it and the scenery was spectacular.
Definitely recommend as must do when going for Maui.
March 2015
Very long day but definitely worth it!
April 2014
It's a long day - we had to be at Honolulu airport at 5 am and got back around 7 pm - but it was worth it. We had Mika as a driver/guide. What a terrific guy! He knows every pothole, turnout and vista point on the road and has a wealth of knowledge about Hawaii, Maui, and the Hana area. He also provided unlimited bottled water and soft drinks. Most of the group opted for the buffet lunch (about $30 extra), but we chose the box lunch ($10) and were delighted with it. Choice of sandwiches, packed in an insulated lunch bag with chips, fruit and a bottle of water. Mika would tell us what photo ops were coming up, stop when he could for them, or drive very slowly so we could snap them. The side windows were nice and clean for that purpose. There were also a number of planned stops ranging from 5-45 minutes. Scattered showers that day, but they didn't bother us, and we had a marvelous time. I've always wanted to see the area, but didn't want to drive the road. This is definitely the way to do it!
The tour company has easily identifiable company reps met us at Honolulu Airport to get us checked in for our flight and at Maui airport to get us onto the bus (holds 25 passengers). They made sure we knew where we would check in for the flight back to Honolulu. They also provided a continental breakfast with plenty of coffee and juices. A wonderful organization. We highly recommend them and are delighted Viator booked us with them.
July 2013
The rainforest was beautiful, our driver was friendly and very informative on history, nature, and resident of the area.
May 2012
I must repeat what I said about our trip to Pearl Harbour. Very professinal guide and great trip. We were very sutisfied and I can Viator recommend to my friends. Pavla Macurova
January 2014
The trip was excellent and well coordinated. Started out with a pick-up at our hotel to the airport and flying into Maui. A coordinator was waiting for us at the Honolulu airport and briefed us on what is going to happen through the day. As soon as we landed in Maui Airport another coordinator was waiting for us and guided us to the tour shuttle. The tour guide was quite knowledgeable about the region. We also took another tour (longer than this) and compared to that guide this guide paled and boring. It could be her personality and probably cannot hold against her, but it was sleepy at times.
Overall, the trip was good and enjoyable.
John F Australia
July 2010
For those interested in rainforest scenery, waterfalls and beautiful mountains then this is the place.
December 2014
It was good weather not so good I thought we did the whole island I obviously didn't read very well I would have liked to see the resort side of the island
July 2015
If you are the kind of people that loves to view great landscapes through the window, do it. This is a bus tour, we only stopped for a 5-10 minutes at each view. Big stops were only for lunch at the restaurant and for an 1 hour swim at the sacred pools To get to the swimming area takes you about 10 mins each way. Overall, from 8 to 5 inside the bus with quick stops. To me it doesn't worth the effort of getting up at 4 to get picked up at the hotel at 5 to head to the airport, wait for you flight to arrive to Maui and then be on the bus for so many hours just watching and then get back to the airport and be back at your Waikiki hotel at 10 PM. May be if you are staying at Maui so you can go back to whatever you liked the most of the highlights.
Advertisement
Advertisement