Celebrate a memorable New Year's Eve in Oahu with the Legends in Concert Waikiki® 'Rockin' Eve' show at the Royal Hawaiian Center. This special show features tributes to acts such as Michael Jackson, Lady Gaga and Elton John. Choose to upgrade your experience with stage-side seating, a delicious gourmet dinner, a cocktail reception or the 'King's Upgrade' for VIP seating and a bottle of bubbly.
Highlights
New Year's Eve Legends in Concert 'Rockin' Eve' Show

Watch entertaining tribute artists like Elvis, Elton John, Michael Jackson and Lady Gaga
Enjoy comfortable seating in the 750-seat Royal Hawaiian Theater
Choose from several options including a cocktail reception, gourmet dinner, stage-side seating and hotel transportation
What You Can Expect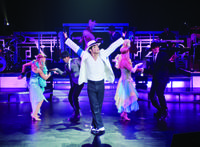 Celebrate New Year's Eve with a phenomenal musical performance: New Year's Eve 'Rockin' Eve'. Enjoy party favors like festive hats and noisemakers to ring in the new year while listening to artists pay tribute to legendary acts like Michael Jackson, Lady Gaga and Elton John. Choose from the packages below; please see the
Itinerary
section for full menus. Some options also include round-trip transportation from select Waikiki hotels; see
Tour Options
for more details.
VIP Experience:
Start your evening with a VIP welcome reception, including a glass of sparkling wine and a premium cocktail. Be seated at your private stage-side table for your 4-course dinner that includes Maine lobster, steak, and salmon and more (vegan and vegetarian options available). After the show, enjoy a meet-and-greet with the stars and that includes a complimentary photo op with one of them.

VIP Experience with King's Upgrade:
Enjoy everything included in the VIP Experience, plus premium center stage-side seating and a complimentary bottle of sparkling wine (per 2 people).

Terrace Buffet Dinner and Show:
Eat a buffet dinner on the terrace including a glass of sparkling wine, huli-huli chicken,
lomi-lomi salmon,
roast beef and dessert. Listen to live music and enjoy hula dancing during dinner, then make your way to your premium seats for the show.
Cocktail Reception and Show:
Enjoy a glass of sparkling wine and New Year's-themed party favors at this pre-show reception.

Itinerary
Terrace Buffet
Hot Station
Roast Beef Carving Station

Selection of Gourmet Hawaiian Sea Salts

Huli-huli Chicken

Kalua Pork with Cabbage

Pacific White Fish with Coconut Curry Sauce

Duo of Sweet Potatoes

Steamed White Rice with Rainbow Furikake

Cold Station
Hawaiian Greens Medley
Passion Fruit and Papaya-seed Dressings

Island-Style Macaroni Salad

Lomi-lomi Salmon

Tofu Poke

Long Rice Salad

Taro Rolls with Sweet Butter

Dessert Station
Cakes: Chocolate Coconut and Guava Chiffon

Sorbet and Ice Cream: Mango and Macadamia Nut

Cookies and Candies: Macadamia Nut Chocolate Cookies, Pineapple and Mango Candies

Freshly Brewed Coffee and Tea

4-COURSE DINNER
VIP Welcome Reception
Trio of Hawaiian Potato Chips

Pineapple Prosciutto Skewers, Fresh Fruit

Hawaii's Favorite Macadamia Nuts

Dinner in the Stage-side VIP Area
Maine Lobster Rainbow Salad

Local Baby Greens, Hearts of Palm

Yellow Beets, Kamuela Tomatoes and Cucumbers with Passion Fruit Champagne Dressing
Grilled Tenderloin Steak and Atlantic Salmon

Sautéed Fresh Market Vegetables and Black Truffle Mashed Potato
Dessert
Lava Flow Dessert

Warm Molten Chocolate Cake with Macadamia Nut Ice Cream and Raspberry Sauce
Dinner Roll with Sweet Butter

Freshly Brewed Coffee and Tea

January 2016
The booking form said the show as at 8.30 we arrived at the required time to be told the show as at 11am. Another family had the same experienced and the manager managed to get us into the 8.30 show so we did not miss the NY fireworks I wouldn't have minded the later show but didn't want to miss the fireworks
January 2015
I had purchased the V.I.P. Dinner and Show package for my husband and myself on New Year's Eve. The Legends in Concert show was fantastic, but we were very disappointed with our dinner. The lobster appetizer was fine, but the entree of steak and mashed potatoes were cold. The package also included a bottle of champagne, which was not offered to us, but we did get it only after we asked for it. Conclusion is that the package was way over priced for what you got.
Annette M
Advertisement
Advertisement