If you're a certified scuba diver, explore what lies beneath Oahu's turquoise waters on this diving adventure! Enjoy the scenic ride on the dive boat before you head underwater. Visit a sunken fighter plane, a sunken barge, a sea cave, Turtle Canyons, Koko Crater and coral reefs. Use of all diving equipment, including two tanks of air, is included on this 4.5-hour Hawaiian excursion.

Note: This tour is for certified divers only.
Highlights
Oahu scuba diving tour

See exotic fish and other marine life
Visit a sunken Corsair fighter plane from WWII
Explore a sunken barge
Check out Turtle Canyons, Koko Crater and other diving sites
Experienced, certified instructors and crew
Free Waikiki hotel pickup/drop-off and use of diving equipment (two tanks) included
Freshwater showers and bottled water included
What You Can Expect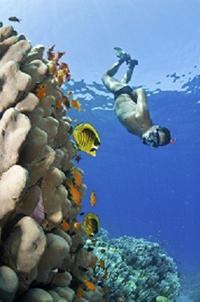 Head underwater to explore what lies beneath the sparkling Pacific Ocean off Oahu's coast. It's a sensational smorgasbord of dive sites! You adventure starts as you cruise comfortably on the dive boat to the first dive location (approximately 20 minutes).

Note: You must be a certified scuba diver. Your credentials will be inspected before you dive.

Dive sites:
• Koko Crater: These ledges of volcanic craters are home to many species of tropical fish, eels and octopi. Dive depth is about 40 feet (12 meters).
• Sea Cave: Visit this large cave, a great place to observe many rare and beautiful fish and some amazing coral gardens.
• Kahala Barge: This small barge was sunk in just the right spot for a dive. Just below the barge is a cave. Dive depth is about 65-85 feet (20-26 meters).
• Corsair Fighter Plane: In 1946, this WWII fighter plane ran out fuel on a training mission and was ditched in the ocean!
• Other sites: Turtle Canyons, Palea Point, Fantasy Reef and more.

Water temperature typically ranges between 70 to 75 degrees F (21 to 24 C) from November to April and 75 to 80 degrees F (24 to 27 C) from May to October.

Shipwrecks option:
If you're a shipwrecks buff or just want another option for diving, choose the Shipwrecks option to spend approximately 30-45 minutes exploring the YO-257, a Navy yard oiler built in the 1940s. Then, climb back aboard the dive boat to cruise to the next shipwreck location, the Sea Tiger (a 20-minute trip). You'll have another 30-45 minutes exploring the Sea Tiger at approximately 100 feet (30 meters) below the surface. Sunk in 1999 as an artificial reef, the Sea Tiger is home to the early stages of marine life growth.

Divers must be in good physical health: Please be aware that you are required to fill out the medical waiver form (located on the view additional information button at the bottom of this description) and submit it to the local operator prior to your arrival. All medical questions on the waiver must be answered with a no if you wish to dive. If you have answered yes to any of the medical questions on the waiver, you will be required to provide a doctors release prior to diving.
November 2014
Two really great dives with a great dive team
July 2013
I had a great time. The staff was amazing. They were helpful and made sure we had the best experience possible. I would recommend Aqua Zone to anyone!
October 2013
I have done over 2,000 dives and was looking forward to doing something special. The operator advertised a plane dive and wreck dives. When I asked about doing the plane, I was told that it was a deep dive. I advised them that not only was I a Dive Master but I was also A Dive Rescue Specialist and have done lots of wreck dives also. I was told that they would get back to me before the dive, about three days out. Not only did they not contact me, but when I contacted them back, I was told that they were not going to do the airplane. As for wanting to do a wreck dive, I was not given the option.
I do not smoke and my regulator tasted like an ashtray as well as was hard to breath off until I got down. I was told that the regulator had just been serviced and that there was nothing wrong with it.
The dive instructor was nice and saw to it that those of us with more experience were given more time down, after the new divers had to surface. I appreciated this. The diving was good with turtles and lots of coral to see.
When I got back to the shop, I enquired about the wreck dives and the airplane dive. I was given more excuses why they couldn't do the more experienced dives and went away feeling like they advertised as hype with no intention of doing the type of dives that they advertised! Great for beginners but I wouldn't recommend them to someone who wants more ou8t of a dive. Ross H.
Advertisement
Advertisement