On this exciting Oahu combo tour, start the day with a downhill bike ride with epic views of the coastline, before boarding a comfortable catamaran for a two-hour snorkeling adventure. On this Oahu biking and sailing tour, all the necessary equipment is provided along with professional guides, as is round trip transportation and a deli-style lunch.
Highlights
Bike, Sail and snorkel combination package on Oahu
Coast 5 miles downhill on your bike over paved mountain roads with scenic views above Waikiki, Honolulu and Manoa Valley
Listen to the songs of birds, the wind through the trees and learn about the culture, plants and geology of the Hawaiian Islands.
Stop for a deli-style lunch halfway through your descent
Kick back and relax aboard a 38.6-foot catamaran
See spinner dolphins and humpback whales (depending on the season)
Hotel pickup and drop-off included
What You Can Expect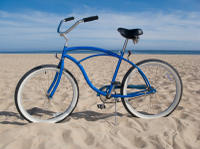 Your exciting Oahu adventure combo begins at your hotel lobby, when your local guide meets you at the door in a 15-passenger van. From there you'll drive past Punchbowl Crater (Puowaina) up the slopes of Tantalus Mountain (Pu'u 'Ohia), and be fit with your Kona mountain bike, helmet, and gear for biking.
On the 5-mile (8-km) cruise down Pu'u Ohia, you'll occasionally stop to photograph viewpoints of Oahu's southern shoreline, where the scenery stretches all the way from Diamond Head (Le'ahi Crater) to the Wai'anae Mountains in the west. You'll also get unforgettable views of the Honolulu skyline, before stopping for a filling, deli-style lunch at the scenic Manoa Lookout.
Throughout the ride, your guide provides you with expert narration on the area's history and culture, and when you reach the grassy park at the bottom, it's a short drive to Kewalo Basin for your 2-hour catamaran sail.
Find a seat on the comfortable deck as the crew casts off the bowlines, and enjoy the views of Diamond Head as seen from out on the water. As long as the wind and weather permits, you'll have the chance to jump in the water and snorkel with colorful reef fish, or you can simply lie out and tan on the deck with the wind blowing gently through your hair.
At the end of the Oahu snorkeling sail, you'll be transported back to your Waikiki hotel in a comfortable, air-conditioned van, and since all equipment is included on this tour. Just remember your bathing suit!
When you book, please include the following info in the fields provided: shoe size, height, cell phone number or hotel name and your preferred sandwich (turkey, vegetarian, ham or roast beef).
Russ United States of ...
June 2016
Terry and his crew did a great job. We had a fantastic time!
halli Australia
June 2016
We really enjoyed this trip, even though it rained for the bike section - it just added to the fun. It was a good group size, the staff were attentive and focused on safety and shared plenty of information about the trip highlights. The snorkeling was great - loved swimming with the turtles.
April 2016
Such a fabulous time biking down a hill with a fun group, then sailing and snorkeling with at least 10 sea turtles! The crew is amazing - Terri sp?, Captain Krash, Milan, Sushi.. everyone! Highly recommend this trip.
O Lam Australia
March 2016
Terii was a very friendly and informative guide. The bike ride down the mountain was super easy almost too easy and very safe as the whole group rode together as a pack with the van as a safety car at the back watching out for traffic. Helmets and bikes provided were in optimal condition and the lunch was tasty and provided a good view for photos. Captain Krash and Glen were awesome and the whilst we were snorkling we were lucky enough to see whale fins, 3 turtles up close, the beautiful reef and heaps of fish. Snacks were provided on board.
November 2015
great tour friendly helpful guides had a great time
July 2015
Biking down though the forests in Oahu were great.... Then over to the sailboat for a trip to the reef to see some sea turtles and several schools of fish. Family had a good time.
July 2015
This bike, sail, and snorkel excursion was fantastic! I highly recommend anyone traveling to Oahu to do this. Matt was our tour guide, and he was very knowledgeable and fun. He also gave us great tips on other things to do in Waikiki. The bike ride down the hill was very pleasurable, and the place he stopped us for lunch overlooked the city. It was beautiful! During the snorkel part, we saw several sea turtles. WE LOVED IT!

June 2015
Great way to see the island and get away from the city. Heaps of fun. Very well organised. Great tour guides.
May 2015
Terii was so charismatic, very knowledgeable about the local facts, such as the state bird (the construction crane), plant life and local famous celebrities! The snorkeling was great, and Terii was very aware of where each member of his group was at all times. Matise was also an excellent guide!
May 2015
Awesome tour. Started with a bike ride down Mt. Tantalus, which included a lot of scenery and some time for picture taking. The bike ride was down hill and did not require a lot of physical exertion. The two guides were great at explaining some of the history of Hawai'i and provided us and other travelers with some tips for enhancing our stay in Hawai'i. After the bike ride, we were dropped off onto the catamaran and guided by two different tour guides, making a trip off Waikiki beach to a spot where the turtles commonly go. We saw 5 turtles moving about the coral reefs during snorkeling, not to mention additional wildlife that commonly is associated with the reefs. Overall, all tour guides were great, all the services exceptional, and met or exceeded expectations. Last note, the lunch is a fairly simple sandwich provided by a local store with some chips and Aloha juice. It tasted pretty good.
Advertisement
Advertisement