Circle the entire island of Oahu by coach, enjoying stunning ocean views, rugged mountains and fascinating history, during this 8.5-hour day trip. Immerse yourself in the island's legendary scenery as you check out Diamond Head, Hanauma Bay, Nu'uanu Pali, the Halona Blowhole and Oahu's beautiful North Shore. Then get a sense of the history and culture of Hawaii as you stop by the Dole Plantation (and sample some fresh pineapple) and visit the serene Japanenese-style Byodo-In Temple. This Oahu circle island tour also includes entrance fees at the temple, narration by your driver and guide and round-trip hotel transport.
Highlights
Full-day guided circle island tour of Oahu from Waikiki
Stop at Diamond Head, Halona blowhole, Hanauma Bay and Nuʻuanu Pali for photo ops of gorgeous scenery

Drive to the base of the Ko'olau Mountains to visit the exquisite Byodo-In Temple, a replica of an ancient Japanese temple
See beaches on Oahu's North Shore, including Waimea Bay, famous for big-wave surfing since the 1960s
Stroll through the lush gardens at the Dole Plantation and sample farm-fresh pineapple

Learn all about Oahu's landmarks from your local guide

Includes all transportation and hotel pickup and drop off

Recent Photos of This Tour
Oahu Grand Circle Island Day Tour with Dole Plantation
What You Can Expect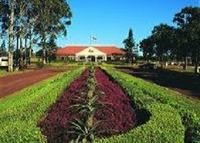 Get a sense for the incredible diversity of sights on Oahu during this 8.5-hour circle tour by coach, exploring a variety of the island's natural and cultural attractions. If you're looking for an opportunity to get an overview of all this Hawaiian Island has to offer, or want to cover a lot of ground in a short period of time, this excursion is a great option.
Start your trip with pickup from your Waikiki hotel in the morning, continuing via the upscale Kahala neighborhood as you head for Diamond Head. This 350-acre (142-hectare) crater was left behind by a now-extinct volcano many millions of years ago. Stop at the Amelia Earhart Lookout to take in some great views of the surfers down on the beach below. The lookout is named for the iconic female aviator who completed the first successful solo flight from Honolulu to California in 1935.
Continue down the road to Hanauma Bay, a marine nature reserve known for great snorkeling and for crystal-clear waters. From there you'll proceed to the Halona Blowhole, a rock formation on the coast that forces ocean swells through a narrow opening, creating impressive explosion-like sprays of water.
Drive next into the hills of Oahu heading to Nu'uanu Pali, an overlook offering panoramic vistas of both Kanehoe and Kailua Bay. Your next stop is at Byodo-In Temple, a re-creation of 950-year-old Buddhist Temple found in Uji, Japan. Wander among the complex's intricate temple buildings and glistening nine-foot (tree meter) tall gold Buddha statue, all set among the beautiful foothills of the Ko'olau Mountains.
Proceed next toward Oahu's North Shore, admiring scenic views of Mokoli'l Island (Chinaman's Hat) and Kahana Bay as you drive. You'll soon arrive at some of the top beaches of the North Shore, including Sunset Beach and Waimea Bay, known worldwide since the 1960s as the epicenter of big-wave surfing culture. The beach is sure to be chock-full of big-wave riders during the winter months, when strong swells hit this stretch of coast.
Turn away from the coast back to Oahu's interior, heading to the Dole Plantation that lies at its center. Make a short stop to check out the plantation's brilliant-green gardens and browse its gift shop.
During the course of your day-long trip you'll have one hour to take a break at a sit-down restaurant for lunch (at your own expense) and finish the day with a drop-off back at your hotel.
May 2016
Highly recommend this tour. Great way to see the island and nearly all of the highlights! Stopped at nearly all the highlights and gave plenty of photo opportunities. Our driver Ernie was one of the best we have ever had! The ranch, Mac farm and pineapple farm aren't that interesting but the rest is absolutely amazing!
April 2016
What a fantastic day we had - from nuts to pineapples and the North Shore as well - couldn't fault it - a great way to see where you might like to go back to.
April 2016
Brilliant day. Leo C was great wealth of knowledge and a lot of fun.
Places we saw just great. thank you
April 2016
I already posted a review on this trip but am advised this cannot go through. So, I am unable to submit anything. The driver/guide was awful, talking unnecessarily all the time. The bus was frigid and he did nothing to improve conditions throughout the day, until some 300-pounders up front also complained at the end of the tour. Bus was over 1 hour late in picking up - - we were told pick up time was 8.15am and showed up at 9:30 am ... of course, there were traffic problems, so this should be taken into consideration.
April 2016
March 2016
Wonderful day tour! Our tour guide was named Coco. He was funny, very informational, interesting, and a great story-teller. Highly recommend this tour for first-timers on Oahu! Well-worth the money paid for this tour!!! Super fun day!
March 2016
This is one of the best ways to see the Island of Oahu. I traveled with my 83 yo Mother and we were looked after by Ben from beginning to end. He made sure that none of us missed out on any of the sights and was informative along the way. I highly recommend this day tour.
PJ Hill

March 2016
We saw all of the sights you are supposed to see, and our tour guide was a hoot! A lot of fun. We did not see the huge waves that were there only days before, but what can you do about the weather?

March 2016
Our tour guide was wonderful. He had excellent knowledge of the island and his stories were entertaining and and informative.
March 2016
Outstanding tour experience. driver/tour guide was highly knowledgeable.
Advertisement
Advertisement