Discover Honolulu and surrounding Oahu attractions in an exhilarating way – on a scooter! With this scooter rental, you can set your own itinerary and visit iconic Hawaiian landmarks like Pearl Harbor and Diamond Head at your own pace. Drive down the coastal roads and soak up the picturesque scenery. An adventurous alternative to traditional tours, a scooter allows you to get off the beaten road and explore Oahu with the warm breeze against your cheeks.
Highlights
Scooter rental on Oahu

Set your own itinerary and visit the sights at your own pace

Easy way to get to Oahu's beautiful beaches and see Honolulu's landmarks
Enjoy the fresh air and sunshine while you drive!
Choice of half-day or full-day rental
Why Our Insiders Chose This Tour
The friendly staff at the rental place will help you get set up for your scooter adventure so you can travel the island with confidence. A wonderful way to enjoy the Hawaii weather and see the sights at your leisure.
What You Can Expect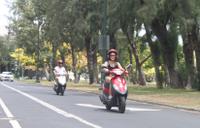 A scooter rental is the perfect choice if you're looking for an easy and fun way to see Honolulu sights and other Oahu attractions. No experience is necessary and you will receive training on how to operate the scooter and how to enjoy a safe and smooth ride before you head out from the rental facility.

Choose from several suggested itineraries, such as Lanikai and Kailua beaches, Hanauma Bay, Diamond Head, Manoa Falls, Tantalus or Pearl Harbor (tour map included with rental), or spend the day however you wish!.

On the Lanikai Beach and Kailua Beach route, drive along the southeastern coast for some of Oahu's most breathtaking scenery. Along the way, stop at Diamond Head, Hawaii's famous volcanic landmark. Hike up to the summit for spectacular panoramic views of Oahu.

Then cruise along the coast and pass by Hanauma Bay Nature Preserve, a beautiful bay of turquoise water set in a volcanic ring. Continue your drive until you reach Lanikai Beach, an exclusive beach with a picture-perfect stretch of white sand. Drive a little further and you'll see Kailua Beach Park, a broad beach with more of that glorious Hawaiian turquoise water.

On the Pearl Harbor route, visit the USS Arizona Memorial and learn about the Japanese attack against the United States. See the submarines used in World War II at the USS Bowfin Submarine Museum and then make your way to downtown Honolulu. Stop at the historic Aloha Tower – a major landmark of Hawaii and a beacon that welcomes ships into Honolulu. Weave through historic Bishop Street, zoom into lively Chinatown and drive down to Washington Place, the home to Hawaii's governor. Get a glimpse into the lives of Hawaii's former kings and queens at the Iolani Palace, the only royal palace in the United States.

There is plenty more you can see as you make your own unforgettable Hawaiian adventure by scooter!
August 2015
We had the most amazing day with the scooter rental. We were able to drive up to Dole Plantation and go up to North Shore and come all around the coast back to Waikiki Beach all in a day.
February 2015
This was so much fun and a great way to get around the island. Evan was easy to work with and was an easy experience working with him. After a quick video we were set with helmets and mopeds and we were off.
December 2014
WE LOVED LOVED LOVED this experience, and I highly recommend it to anyone coming to the island. We drove everywhere just checking things out..........getting lost, and having fun! It's a beautiful city, and the guys running this scooter rental store were very very nice to us, and explained everything in full detail for us. If you are going to be here and want to see this city, this is one great way to do it!!!!!!
January 2014
It was great fun-we loved it! Until youngest daughter crashed-she is not seriously hurt thank goodness. Moped rental co. was great and all you promised. We would definetly use them again.
January 2013
Fun and definitely worth doing.
August 2015
Motorbike in good condition. Easy paperwork. Friendly staff. No hidden details.
April 2015
These scooters were in great shape, but it does require a motorcycle license for anything that goes over 35 mph. At that speed going up the coast can get a little scary with all the traffic behind you. Also would suggest taking your gps or phone navigation. The map provided does not give much detail. But the guys at the shop were great. Would definitely do it again.
June 2014
It was fun, but there were several fees that were not disclosed on the website. It ended up costing us double. Need to be clear on what is included and not.
February 2013
It was rainning when we picked up the scooters and RAINNED all day what a waist! They didn't offer to change dates....we where stuck...merry christmas!
Advertisement
Advertisement