52 Reviews
Location:

Waikiki, Oahu

Duration:

7 hours

(approx.)
Experience the remote and breathtaking beauty of an Oahu kayak adventure along the scenic windward coast of Kualoa, one of the most historically significant places on Oahu. This Oahu kayaking, hiking and snorkeling excursion combines the scenic backdrop of the lush Hakipuu Valley and the majestic volcanic Koolau Mountain ridge with the tranquil cobalt and turquoise ocean waters of Kaneohe Bay.
Highlights
Kayak, hike and snorkel combo adventure to Kualoa on Oahu

Breathtaking views of Kualoa
Scenic hike to Hakipuu Valley

Great snorkeling on Kaneohe Bay
Kayak trip past Mokoli'i Island
Picnic lunch at secluded beach on Secret Island

Snorkel with tropical fish
Hotel pickup and dropoff
Recent Photos of This Tour
Oahu Kayak, Hike and Snorkel Adventure
What You Can Expect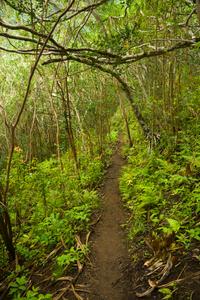 Your Oahu hiking adventure begins with a short hike to a scenic overlook at the entrance to Hakipuu Valley. Here you will have the chance to capture an aerial perspective of the breathtakingly beautiful landscape, from its forested valleys to its inviting ocean reef waters. From this point on, your day will continue to unfold with one unforgettable highlight after another.

Once completing your instruction for your Oahu kayak adventure, you'll paddle along the tranquil and glassy waters of Kaneohe Bay. Due to the protected reef surrounding the area, this is one of the safest places for kayaking on Oahu.

Your journey by kayak along Kualoa, listed on the National Register of Historical Places, takes you past Mokoli'i Island to the 800-year old Molii fishpond (one of the last ancient Hawaiian fishponds). This rock-walled enclosure was hand-built by ancient Hawaiians to maintain a ready supply of live ocean fish. As part of the privately- owned Kualoa Ranch, you will have the rare opportunity to experience an ancient Hawaiian treasure that most visitors to Oahu never get to see.

As your kayak glides along the tranquil coast line of Kaneoohe Bay, your adventure includes an exclusive visit to Oahu's hidden gem known as "Secret Island". This secluded beach in the country becomes your playground for relaxation, enjoyment and a picnic lunch. Whether you want to relax in a hammock, take a stroll around the island, or return to the ocean for a quick canoe ride, you're certain not to want to leave.
June 2015
We loved this adventure! It may have been our favorite day on our trip, but it is so hard to pick favorites when you are in Hawaii!
Matias was a friendly, knowledgable, and relaxed tour guide. His knowledge of the island, surfing, weather, and all things Hawaii was incredibly helpful. We used his recommendations for the rest of our trip. He was very happy to answer every question our small group threw at him. From the moment he pulled up to our Waikiki hotel for pick-up he made us feel welcomed, excited, and ready for the day!
The photos we took and Matias took for us are the best photos we have from our trip to Oahu. The hike is more of a short walk, but the views were amazing. The kayaking is doable for all levels. The snorkeling was fun, but do not reserve this as your only snorkeling trip while on Oahu. We saw many fish, but we didn't see what we expected to see while snorkeling in Hawaii. We were very happy that we drove over to Hanauma Bay another morning to see all of the colorful fish you imagine you'd see in Hawaii.
Overall, this trip is worth every penny. If you are looking for a relaxed, memorable adventure, reserve this one. If you are looking for something more intense, it seems this company also provides extreme biking and hiking tours!
May 2015
This tour was awesome! Jeremy did such a great job! So many memories made!
March 2015
It's a bit pricey, but our guide did an awesome job and I had a great day!!!
March 2015
The tour was great, got to see a remote part of the island. Our guide Terri was awesome and he was a wealth of information. I would definitely book another tour with this company!
November 2014
Had a fantastic time. The short hike to a small plateau with breathtaking view was amazing as well as the kayaking to the little island. It is simply mind blowing looking back to the island. I also wanted to thank Matthias for the outstanding guideance throughout the day. Whenever we come back, we will definitely take you up on the mountain bike trip :-).
September 2014
The hike is only about 5 minutes each way to a beautiful view. You don't need shoes for this hike (sandals are fine). The kayak trip is about 20-30 minutes to a small island where you get lunch and time to snorkel. It was nice that there were tandem kayaks because I got to ride with my husband. We got to see fish along with other sea life, such as sea cucumbers, starfish and crabs. Our tour guide was awesome. He told us all about the island if we had any questions during the car ride. He also pointed out other good tour spots, which was helpful since we were planning to rent a car the next couple days. He also snorkeled with us and found different sea creatures like the sea cucumber and starfish mentioned earlier. The views are BEAUTIFUL so bring a camera.
The only thing I wish was different would be that the hike was a little longer.
April 2014
This was more of a kayaking tour! But omg it was so fun!!! I loved it! The hike was only like 20 mins round trip! Not that bad. It was just to see a nice top view not too high. The snorkeling was kinda ehhhhhh
March 2014
This trip was informative and fun. We had a great tour guide, Jeremy, who knew the history of the island. On our drive to and from the location he gave us a lot of information and facts about Oahu and the islands. The hike, kayaking, and snorkeling were a lot of fun. Recommended for those who like physical exertion on a vacation trip. My husband and I are in our late 50s and had no trouble keeping up. The young adults in our group loved the activities and folklore.
March 2014
Love the motel pick up. Views from the ranch were awesome and the guide was great and he loved to take photos for everyone. He took some great shots from both the mountain and the island. Even knew how to use panorama on all the different cameras. Kayak was fun, easy and enjoyable. walked around the island and saw some great views, it was a little windy for snorkeling but didn't matter we enjoyed all the other stuff just as much. Guide had a lot of fun facts to tell and pointed out some different things. Even gave use great advice of where to go for dinner.
February 2014
We had a lovely time on this tour. Matteus was a great host, full of lots of information, courteous and fun. The tour wasn't too strenuous for us but was definitely interesting and relaxing. Lunch was tasty and more than adequate. I would highly recommend this tour not only for the great time on the water but to see more of the Island than your usual tourist stuff. Thanks for the great beach tip, Matteus. It was as good as you said!
Advertisement
Advertisement