On this Oahu rainforest hiking adventure, explore exclusive, private terrain located deep in Manoa Valley, where ancient lo'i (taro fields) and lush vegetation make up the terrain. Trek to a 200-foot (60-meter) waterfall that thunders its way down the valley, and listen as your local, knowledgeable guides explain its sacred past. This section of rainforest is only open to hikers who choose this tour, and, after 1.5-hours of exploring the valley and weaving amidst its streams, you'll feel like you've journeyed back in time to the days of 'old Hawaii.'
Highlights
Hiking adventure on Oahu
Scenic trails through the volcanic rainforest
Waterfalls, streams, pools and ancient rock terraces
Volcanic mountain ranges
Light snacks and bottled water
Hotel pickup and dropoff
What You Can Expect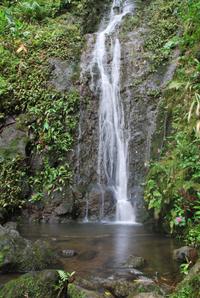 The island of Oahu is a hiker's paradise — even with all the development — as the lush valleys of the Ko'olau Mountains are riddled with backcountry trails. The temperature here, even in winter, is right around 80°F (26°C), though the gentle trade winds help cool you off as you work up a sweat on the trail.
Given the perfect hiking conditions, many of Oahu's public trails can be packed with groups of hikers. On this Oahu hiking tour, however, you'll experience a part of Manoa Valley that's only used by this tour, and trek across 75 acres (30 hectares) of rainforest full of waterfalls, streams, and pools. Hear forest birds chirping in the waving green treetops as you walk past ancient rock walls, and listen as your guide explains this valley's cultural, and sacred past.
Expect to hike on a dirt trail for a total of 1.5 hours, and be sure to have your camera ready when you emerge at the thundering falls.
April 2016
A small goup tour with an outstending guide with a lot of knowlegde of Hawaii and its nature. He took a lot of stops on the way up to the waterfall to show us and learn us about the nature and that made the climb up easy for everybody. There was no water in the waterfall but we cant blame the tour for that. Rekommend this tour to everyone that wants to see some more and learn of the Hawaii nature
December 2015
Tour was awesome and our guide, Matias, was very professional and knowledgeable our the area and history of where we hiked. I would recommend this tour to others.
August 2014
Such a great tour! Our guide, I forgot his name but he had short blonde hair and i think was born in Sweden, was fantastic and kept me motivated during the rains, humidity, mosquitoes, mud sliding and water crossings! Very knowledgable and kudos for all the trail work they do. Best tour I went on!
August 2014
I am very out of shape so this hike kicked my butt! Great hike but expect to be tired.
March 2014
Well hosted with a very knowledgeable guide. Great way to get in to the heart of nature on the island. Slow paced with plenty of water stops so that even the slower among the group were able to easily keep up. Good fun!
February 2013
If you're looking for something to do other than lay on the beaches of Hawaii, this is it! Mattias was a fabulous guide and taught us so much about the rainforest! You will most likely be pretty wet when you're all done, but it is so worth it to get to the waterfall at the end! Beautiful place!
August 2012
Excellent tour! I would recommend it! The Tour guide was informative and he had everyone walking at a reasonable pace. The scenary is spectacular!
LORI H USA
August 2012
This was a hike on a trail, but not a big one. It is not an easy walk with lots of rocks and jumps and dodging of tree branches. We hiked into a nice waterfall and then back through a bamboo forest. The guide (Cory) was great! He was extremely knowledgeable about the trail, the plants and the environment. We (my wife and I) had the fortune of having a solo tour with Cory and it was great. Bring hiking boots or something other than sandals or use their conveniently supplied rain boots cause you are going to get a little muddy.
July 2011
Mattao was awesome and really knew what he was talking about. We had a wonderful time and really enjoyed the fresh trails that covered muddy and rocky terrain. It was refreshing and informative. Loved it. Would definitely recommend it to others.
March 2011
Our guide was very knowledgeable and informative. We will take more tours offered because of his personality and enthusiasm.
Advertisement
Advertisement