19 Reviews
Location:

Waikiki, Oahu

Duration:

3 hours 30 minutes

(approx.)
Discover the hidden hiking treasures of Oahu's lush volcanic rainforest. This moderate 2-mile (3.2km) round-trip guided hike is a rare opportunity to explore 75-acres (300,000 square meters) of sacred land that is exclusive only to the guests of our company. Experience the majestic beauty of our towering 200-foot (60 meters) private waterfall, cross through tranquil streams, picturesque pools and view ancient lo'i (rock terraces) and lush tropical vegetation of Hawaii's paradise.
Highlights
Hiking adventure on Oahu
Scenic trails through the volcanic rainforest
Waterfalls, streams, pools and ancient rock terraces
Volcanic mountain ranges
Light snacks and bottled water
Hotel pickup and dropoff
What You Can Expect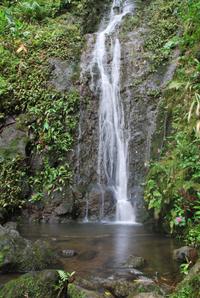 With average year-round temperatures of 80 degrees fahrenheit (26 degrees celcius), refreshing trade winds and two volcanic mountain ranges on this Hawaiian island, Oahu is a hiker's paradise. Given the popularity of hiking, and since most all other hiking companies feature public trails and multiple groups, the secluded personality of the rainforest is often compromised. This exclusive rainforest adventure is more than a hike; it is a journey through the past and present in a remote 75-acres (300,000 square meters) of private Manoa Valley rainforest.
This is a mild to moderate hike over dirt trail. Hiking time is approximately 1.5 hours.
December 2015
Tour was awesome and our guide, Matias, was very professional and knowledgeable our the area and history of where we hiked. I would recommend this tour to others.
August 2014
Such a great tour! Our guide, I forgot his name but he had short blonde hair and i think was born in Sweden, was fantastic and kept me motivated during the rains, humidity, mosquitoes, mud sliding and water crossings! Very knowledgable and kudos for all the trail work they do. Best tour I went on!
August 2014
I am very out of shape so this hike kicked my butt! Great hike but expect to be tired.
March 2014
Well hosted with a very knowledgeable guide. Great way to get in to the heart of nature on the island. Slow paced with plenty of water stops so that even the slower among the group were able to easily keep up. Good fun!
February 2013
If you're looking for something to do other than lay on the beaches of Hawaii, this is it! Mattias was a fabulous guide and taught us so much about the rainforest! You will most likely be pretty wet when you're all done, but it is so worth it to get to the waterfall at the end! Beautiful place!
August 2012
Excellent tour! I would recommend it! The Tour guide was informative and he had everyone walking at a reasonable pace. The scenary is spectacular!
LORI H USA
August 2012
This was a hike on a trail, but not a big one. It is not an easy walk with lots of rocks and jumps and dodging of tree branches. We hiked into a nice waterfall and then back through a bamboo forest. The guide (Cory) was great! He was extremely knowledgeable about the trail, the plants and the environment. We (my wife and I) had the fortune of having a solo tour with Cory and it was great. Bring hiking boots or something other than sandals or use their conveniently supplied rain boots cause you are going to get a little muddy.
July 2011
Mattao was awesome and really knew what he was talking about. We had a wonderful time and really enjoyed the fresh trails that covered muddy and rocky terrain. It was refreshing and informative. Loved it. Would definitely recommend it to others.
March 2011
Our guide was very knowledgeable and informative. We will take more tours offered because of his personality and enthusiasm.
Anonymous
February 2010
Our guide was very informative, just was so what disappointed with the waterfall, but did see beautiful flowers and not sure about the trash & cars dumped out the end of the hike, a bit different on that one, but we did enjoy our hike!
Advertisement
Advertisement