There are few things more iconic to the Oahu experience than catching and riding a wave, and with this surfing lesson at Ala Moana Beach, you can learn to 'hang 10' with a professional instructor while paddling out in the sun. This beach is just minutes from Waikiki, and options range from private lessons to those in a very small group, with lessons available in morning or midday — whatever works best with your schedule.
Highlights
1- or 2-hour surfing lesson at Ala Moana Beach, from Waikiki
Learn to surf while visiting Hawaii, where the sport originated
Practice paddling and popping up on the beach before entering the ocean
Surf some waves while your instructor coaches you in the water
Soak up fantastic views down the coast to Diamond Head more than 20 miles away
Choose to take a small-group lesson limited to four people per instructor or a private one-on-one lesson
Includes round-trip transport from Waikiki
Recent Photos of This Tour
Oahu Surf Lessons: Class and Equipment at Ala Moana Beach with Round-Trip Transport
What You Can Expect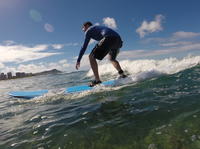 The Oahu surf lesson begins when you're picked up from your Waikiki hotel, and are driven over to Ala Moana Beach just minutes from Waikiki. This is where you'll meet your surfing instructor, who will get you fitted with the proper size board and gear you might need for your lesson. Since this tour is limited to only four people, you're ensured a small-group, personalized experience. You can also upgrade to a private lesson, if you wish.
The surfing portion begins on the sand, where you'll learn the proper spot to lay on the board and how to efficiently paddle, as well as the basic etiquette of surfing and how to duck under the waves. You'll practice beginner techniques on land, and also learn how the history of surfing has roots right here on Oahu. Having run through the basics up on the sand, grab your board, strap on your leash, and begin paddling out towards waves that gently roll towards the shore. Your instructor will be there right by your side helping push you into the waves, and will offer tips for how to stand up, how to fall down and how to steer on the wave.
When your Oahu surfing lesson is finished, you're transported back to your Waikiki hotel to rest your weary arms, and reflect on what you could do better next time — since you'll definitely want to go again.

August 2015
Customer service was excellent. My friend and I both had our own personal instructors, who were super friendly. I would definitely recommend to those interested.
June 2015
I was nervous for the lessons but this was a very organized and safe setup. The instructors were great and made it even more fun. Definitely a must do!
March 2015
This was a very nice experience. Instructor and helper were awesome. Patient, friendly service. Great views. Comfortable location. Would certainly recommend to others.
Karly Australia
May 2014
This was fantastic. There were three of us and we had two guides to help us and they were great. The water was perfectly calm so it made it easier to balance once up. They were very cruisy so we could take our time and stop and swim if we wanted to. Highly recommended.
December 2013
Girls Who Surf is a great company to go surfing with for the first time! I and one other person were in the semi-private class, meaning there was plenty of attention for both of us from our instructor. He chose a good spot for us to start with enough waves to actually surf on but not so much that we'd get swamped on our first attempts.
We spent several hours out on the water getting a feel for what we were doing, how to paddle and balance and plenty of other nuances. Our instructor was very friendly and easy-going and was very encouraging. He happily answered any questions we had and kept up conversation while we were hanging out waiting for waves.
Pick-up and drop-off were both timely and very convenient. The equipment we used was in great condition and sized well for us.
All in all, a great company for first-time surfers!

December 2013
Great leason by Isabell:)
August 2013
Awesome instructors. Really fun. An experience we can't get on other vacations and was worth every penny. Myself and my 11 year old son did this and he said it was the best part of the trip.
August 2013
It was a great experience. There was just the three of us and the surf instructor. We had plenty of time to surf after the basic instruction. We would definitely recommend this. We had so much fun!!
Jennifer B Canada
August 2013
Excellent, pick up was on time, friendly and helpful. The time spent was excellent. Would do it again in a second.
June 2013
The boys had a great time with Girls Who Surf! The team were very accommodating, and wonderful to deal with. Highly recommended!
Advertisement
Advertisement