626 Reviews
Location:

Waikiki, Oahu

Duration:

5 hours 30 minutes

(approx.)
Don't miss a sunset luau at Paradise Cove Luau - it's one of the largest and most respected luau shows in Hawaii. If there is one experience you must have during your visit to Oahu, it is a night of Hawaiian culture and hospitality at a traditional Honolulu luau!
Highlights
5.5-hour sunset dinner and show at Paradise Cove Luau
Three Oahu luau packages to suit all tastes and budgets
Welcome Mai Tai followed by Polynesian activities
Extensive menu blending Hawaiian and continental cuisine
Luau Paradise Cove Extravaganza
Songs and dances from across Polynesia
Pickup and drop off from selected Waikiki hotels
Recent Photos of This Tour
What You Can Expect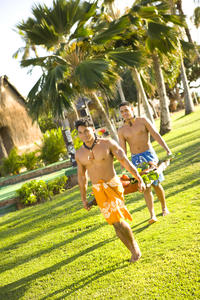 This tour is likely to Sell-out! Paradise Cove Luau regularly sells out weeks in advance, so book ahead to avoid disappointment!
The Waikiki luau at Paradise Cove Luau begins with a tropical Mai Tai greeting, while live Hawaiian music sets the festive mood of the evening. Take a stroll through the Hawaiian Village to learn the arts and crafts of the islands, or test your skills at the Hawaiian Games.
After the delightful Shower of Flowers, participate in the Hukilau on the beach and learn the net fishing techniques of old Hawaii. Following the pageantry of the Royal Court Procession and imu (earth oven) ceremony, your evening continues with a sumptuous feast.
Make sure you bring along your appetite to fully enjoy Paradise Cove's extensive menu, blending the best traditional Hawaiian dishes, local favorites and continental cuisine.
Then, after dinner, with a spectacular Hawaiian sunset as a backdrop, award-winning performers will entertain and amaze with an unforgettable display of songs and dances from across Polynesia at the Paradise Cove Extravaganza.
Paradise Cove boasts brilliant sunset views from its oceanfront setting and offers three dining packages, perfect for all tastes and budgets. If you are staying in Waikiki, you have the option to include hotel pickup and drop off to ensure a hassle free night of Hawaiian fun. See tour and pricing options below for full details.
Itinerary
Activities at Paradise Cove include:

Arts and Crafts:
The arts and crafts of old Hawaii are as beautiful as they are intricate and complex. During your visit to Paradise Cove, be sure to visit the Hawaiian Village and take part in arts and crafts demonstrations. Learn how to make a traditional Hawaiian lei or leave with a slightly more permanent memory, temporary Polynesian tattoos.

Hawaiian Games:
In ancient Hawaii, games were created as a form of entertainment, but also to develop the skills of the warriors. At Paradise Cove you can take part in some of the more popular traditional Hawaiian games. To test your skills try 'O'o ihe (Spear throwing), 'Ulu maika (Rolling stone disks) and Moa pahe'e (Dart sliding).

Shower of Flowers:
Imagine standing on a beautiful white sand beach gently showered by fragrant island flowers. Witness skilled tree-climbers ascend the highest of palm trees and spread the aloha of the islands with a floral cascade, making this dream-like scene into an experience you will remember forever.

Hukilau on the Beach:
Paradise Cove keeps the traditions of old Hawaii alive with a nightly Hukilau on the beach. You are invited to participate in the ceremonial pulling of the fish nets to the rhythms of the conch shell and Hawaiian chant

Imu Ceremony:
At Hawaii's only Imu Amphitheater, take a seat to view the elaborate process of traditional cooking in the Hawaiian underground oven. In a ceremony following the practices and rituals of ancient times, you will see exactly how your delicious Hawaiian meal is prepared.

Paradise Cove Extravaganza:
With the most spectacular Hawaiian sunset as a backdrop, the Paradise Cove Main Stage explodes with the beauty and excitement of the traditional songs and dances of Hawaii and Polynesia. Award-winning dancers will entertain and amaze you with a performance that is as unforgettable as the perfect setting of Paradise Cove itself.
August 2015
Paradise cove was an amazing luau experience. We had pickup service at our hotel and the bus ride and our guide was very nice and informative. The scenery upon entering the grounds was beautiful and photo ops endless. Buffet style food that was very good and the crowd moving was great seeing that the night we attended there were over 1,000 people. The show was very good and it truly was an enjoyable event and I would recommend to anyone looking for luau experience.
August 2015
Returned last evening from the cove and what a beautiful location. It is picture postcard scenery and I would spend a day there, given the choice. We arrived on a tour which meant most of the activities were well under way and queues for most arts and crafts made the kids and adults a little impatient. So, if you can, get there early and take your swimming gear as the cove is lovely and you can go canoeing. Food was perfectly fine and plenty if you wanted it. The show itself was first rate and the dancers certainly captivating, for both sexes - in my opinion it was definitely worth the money.
August 2015
Great food, the dancing looked professional and they had the best fire dancer I've seen. The night just flowed really nicely. Also, thanks to our bus guide cousin Kai, he made the bus trip back home really fun.
August 2015
Beautiful facility, nicest employees! Show was fun and certainly a great night of Aloha spirit! Our family enjoyed everything!
August 2015
I thoroughly enjoyed my night and it seemed to fly in. The activities before were good and the food was great and plenty of it. The entertainment was brilliant and I could have watched it for another hour. The guide who took us on the bus was very helpful and entertaining.
August 2015
A really fantastic place to go..had a great evening lots to do not just a show. There was other things to participate in games kayaking lea making good for all the family.The staff were friendly and very helpful.Good all round highly recommended thankyou
August 2015
Great night full of activities and entertainment
July 2015
Very entertaining evening with excellent food and hosts
July 2015
I went to this luau for my 40th b-day. It was a lot of fun from the bus ride there and back with Cousin Tasi who made it very enjoyable. Me and family could not stop smiling and laughing. The luau itself was fantastic from the activities, views, and food. I got the extras and was glad to be right by the stage and had the catered service. I would highly recommend this luau. I had a great birthday.
July 2015
Awesome entertainment and food, recommend this tour to others..
Reliable transport to and from Paradise Cove..
You can drive there, but if you intend to drink and enjoy yourself its better to take the bus..
It leaves from Waikiki Beach..
Advertisement
Advertisement