265 Reviews
Location:

Laie, Oahu

Duration:

Flexible
Immerse yourself in the rich heritage of the South Pacific with a visit to the Polynesian Cultural Center in Oahu. Join in activities such as ukulele lessons and canoe rides and learn traditional customs from villagers spanning Samoa, Fiji, Tahiti, Tonga, Hawaii and more. Upgrade to include a luau dinner, hotel transportation and premium seating to a thrilling Polynesian show.
Highlights
Oahu Polynesian Cultural Center tickets

Visit eight villages showcasing Polynesian culture
Canoe ride, tattoos, spear throwing, ukulele lessons and fishing
Options to upgrade to include Ha Polynesian show, dinner and extras
Option to include transport from Waikiki hotels
Recent Photos of This Tour
Polynesian Cultural Center Tickets
What You Can Expect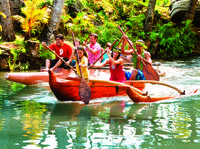 Experience the customs of Hawaii, New Zealand, Samoa, the Marquesas, Tonga, Fiji, and Tahiti at the Polynesian Culture Center in Oahu. Hear village traditions from across Polynesia and participate in a wide array of activities that pay homage to this vibrant side of the world. Practice fishing and spear throwing, paddle an outrigger canoe and try your hand at preparing an authentic Samoan meal.

Upgrade your admission ticket to enjoy the evening performance of 'Ha: Breath of Life,' incorporating passed down tales from generation to generation. You'll also see thrilling acts from flaming-knife dancers and firewalkers. To make the most out of your evening, upgrade to also include a luau dinner and hotel pickup and drop-off from your hotel.

Itinerary
Some of the attractions at The Polynesian Cultural Center include:

Hawaii Village:
Five times each afternoon the Hawaiians present in-depth demonstrations on their ancient culture. Learn not only some basic hula, but also learn of the deeper commitment hula students make to their art, the intricacies of the motions, and the heritage of the hula implements and instruments. Gain insights into the ancient kapu or taboo system that meant men and women ate in separate houses. Learn how taro is harvested, cooked, and turned into the staple food, poi. Of course, you are also welcome to sample some. Observe how women craft leaves and flowers into beautiful Hawaiian lei and other useful items; and then try your hand at ulu maika - Hawaiian bowling, or konane - Hawaiian checkers.

Samoa Village:
Six times each afternoon the Samoans present one of the Center's most popular cultural demonstrations. Learn how to make fire by literally rubbing two sticks together, how to easily crack open a coconut, the difference between coconut juice and "milk," and how the men do all the major cooking. The young men will also show their strength and agility by climbing 40-foot coconut trees. The demonstrations take place on the malae or grassy area surrounded by outstanding examples of Samoan fale (houses), which are among the most unique in all of tropical Polynesia.

Aotearoa (New Zealand Village):
Five times each afternoon the Maori put on a demonstration that explains the symbolic significance of their beautiful meeting house, unique carvings, facial tattoos, the ancient origins and meanings of sticking out their tongues and twirling poi balls, and other aspects of one of Polynesia's most unusual group of people. You won't want to miss the stirring haka dance; kids will enjoy learning to play tititorea, a Maori stick game designed to develop hand-eye coordination, and kids of all ages seem to enjoy the ta moko area where they can get a temporary tattoo.

Fiji Village:
Five times each afternoon the Fijians present in-depth demonstrations on their ancient culture. Learn the significance of the lali or log drum, how important the coconut is in cooking, and other aspects of Polynesian island life. Review the wide array of historical weapons and implements involved in waging war upon neighboring islands and villages; that the cowry shells on the ridge mark a house as belonging to a chief, and that only the chief could enter that house through his door. Everyone will also enjoy making Fijian music with derua, a bamboo percussion instrument; or try a game of cibi (pronounced "thim-bee").

Tahiti Village:
Three times each afternoon the Tahitians present in-depth demonstrations on their ancient culture. Learn both the women's and men's movements in their exciting dances, or just try to stop your toes from tapping to the beat of the wooden to'ere drums. Learn why the Tahitians make both fragrant flower and beautiful shell lei, sample Tahitian coconut bread, tour the garden, even let your kids try some fishing, and more.

Tonga Village:
Five times each afternoon the Tongans present their very popular Tongan ta nafa or drumming presentation that actually starts by learning the simple yet graceful motions of a mauluulu sitting dance. For example, you'll learn the difference between clapping with a pasi or a fu sound. You can also try your hand at Tongan lafo, a type of shuffleboard game, or even your accuracy with tolo spear throwing.

Marquesas Village:
Five times each afternoon the Marquesan's present fascinating insights into their ancient culture. The Marquesas will enchant you with their ancient style of dancing: You can definitely see the sounds and motions of nature in their choreography, and you won't want to miss the pig hunt dance. Temporary tattoos are one of the most popular things to acquire there; and along with demonstrations of weaving and other crafts, the Marquesan's also share samples of breadfruit in season. Discover what it tastes like.

Ha: Breath of Life:
An ancient, yet universal tale about a boy born in a distant paradise. Enjoy the spectacle of over 100 performers, drums, dance, special effects, a fire spewing volcano and world renowned fire knife performance.
Rainbows of Paradise:
Rainbows of Paradise is performed daily from 2:30-3:00pm in two locations: the lagoon between the Islands of Samoa and the Hawaii Mission Settlement; and on the wide section of lagoon between the Islands of Fiji, Tahiti and Hawaii. (Because the two showings occur simultaneously, the order of appearance may be different than described). Rainbows starts with a young Polynesian woman in an outrigger canoe throwing flowers into the lagoon, a tradition reminiscent of days gone by when great steamships transported visitors to these magical islands. It was said in those days that each blossom became a memory of visits to Hawaii; and if the blossoms returned to shore, then so would the visitors.
January 2016
Our van driver picked us up on time at our hotel. Pete was a lot of fun and told us lots of stories on the way to the Cultural Centre. This was our 4th time to the Polynesian Cultural Centre and it was awesome as usual. Highly recommend it to everyone visiting Oahu
Wayne United States of ...
January 2016
Great experience for us Hawaii first timers. This was a great way to start our Hawaii vacation. It gave us a lot of history and culture about Polynesia. I have to say this greatly increased my appreciation for Hawaii and changed my Hawaiian experience. My wife and I were only able to see the shows at each Island since the timing between each Island is defined on a strict schedule. Anything to change would be to have the Cultural Center open before 12 noon. And because of that reason, we did not have enough time to enjoy everything at the PCC. We also enjoyed the Luau followed by their show Ha which is also equally enjoyable. I do wish though there was some kind of program notes because I am not fluent in their language, so I had my own idea of the story. I would go here again to enjoy everything else they have to offer. Our driver was Speedy Pete. Great driver, knowledgeable and professional, stopped for a short break on the way for a picture opportunity at China Man's Hat. He didn't have to, but it was a nice little addition.
December 2015
Must see attraction!! Everything about it was Great!
December 2015
Excellent Tour! Learned a ton about the culture of the Polynesian Islands and thoroughly entertained. It was beautiful and although a very long day, it flew by. Highly recommend doing the entire day as well as the Luau dinner. Our tour guide was excellent and native to the culture. Her name was Elizabeth!
December 2015
Great tour and tour guide from Mongolia.
December 2015
The only thing is when we signed up for this tour it said we could do it on Thanksgiving day. The Polynesian cultural center call right away and did re-book us for the next day. The only thing is to have your website show correctly for holidays.
Stephen J L Australia
December 2015
This was a great tour, pickup instructions were clear, our guide gave us local information along the way. We were handed over to another guide at the Polynesian Cultural Center who was a delightful young man, he looked after us during the day to ensure we were informed about each village we visited. In each village we were entertained and appreciated the cultural information and experiences we were given. The day was a lot of fun. Some time to buy lunch etc. would have been appreciated but maybe it would be best to pack lunch so you can eat it along the way, unfortunately no break was allocated to visit the lunch outlets which meant most were ravenous by 5.30pm for the Luau. The Luau show during dinner was wonderful and the meal provided was very nice. The Show after dinner was spectacular, the dancing, singing and stage production was fantastic. We had excellent seating on the end of the fifth row but the seating from any position would have been excellent as it is like an amphitheatre. It was a bit of a rush getting out to our driver who had advised us to use the amenities at intermission, however I am sure most would have appreciated a little time at extra time at the end of the show.
December 2015
We enjoyed the Polynesian Cultural Center very much. There was much to do and see, and not nearly enough time to have a comprehensive visit. We viewed all the cultures shows, the canoe pageant and had the luau and show after. We would actually recommend skipping the show, as most of the presentation dances were seen on the canoes and at each site during the day, although in an abbreviated version. The luau was very tasty and well run. The performers and guides along the way were mostly students at the BYU and were very friendly and pleasant, answering questions about their islands and cultures.

November 2015
If you want to truly experience the south seas culture visit the center. You will enjoy learning the history and differences of all the islands.
November 2015
Fantastic, worth the money.
Advertisement
Advertisement