Experience the thrill of scuba diving during your stay in Hawaii with a beginner scuba diving class! No diving experience is necessary, and an expert instructor will teach you all you need to know in a safe environment. Learn the basics and practice in shallow water before heading out on a real dive to explore the beautiful Hawaiian marine life!
Highlights
Beginner scuba diving class in Oahu

Scuba diving course is perfect for novices - no experience required
Sail along the Leeward Coast on your way to the dive site

See Hawaii's colorful marine life, including tropical fish and sea turtles

Professional, certified PADI guide

Use of all equipment is included

What You Can Expect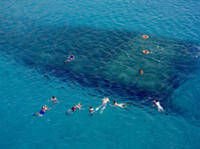 This beginner scuba diving class is great for first-time divers, as well as anyone who may have had a lesson or two but hasn't completed a diving course. Use of all equipment is included.

Begin your adventure cruising along the scenic Leeward Coast. Your instructor will provide a scuba overview, teaching you the basics of the equipment and breathing techniques. Practice the scuba diving techniques in shallow water under the close watch of your instructor before heading into deeper water to enjoy a thrilling 30-minute dive, still under the supervision of a PADI (Professional Association of Diving Instructors) professional.

The waters off the Leeward Coast teem with some of the oldest coral reefs in the area. Discover Oahu's colorful and vibrant sea life, including moray eels, eagle rays, green sea turtles and a variety of tropical fish.

Your vessel for the day is manned with a crew brimming with Aloha spirit. They will offer you unsurpassed customer service, and complimentary light snacks and refreshments will be served onboard.
April 2014
Great day! The staff on the boat were wonderful! Wish we could have stayed underwater longer!!!

January 2014
My family's favorite activity during our stay on Oahu. The experience was exhilarating and I am likely to pursue certification now. Capt Lonnie seemed a little intense in the morning, but was having fun with us all by the second half of the trip. Melanie was an excellent instructor and I felt completely at ease with my family under her expert guidance.
February 2013
good people who have skills,i smoke not for me at this time.mad at my self!
September 2012
This tour was my second favorite thing I did while in Hawaii. I was terrified to scuba as I am not a very strong swimmer. This was such a rewarding experience and I will definitely try to scuba again in the future. My instructor was Mark and I could not have asked for a better person to lead a discovery dive. He makes sure that you are comfortable throughout the dive and doesn't take any chances with your safety. This is a must try!!! There are so much cool stuff happening on the ocean floor. Definitely worth checking out!
July 2012
it's my first dive. my wife do not know how to swim and she try diving for the first time... pretty brave woman and thats why i love her.
you probably wont see the sea turtle in the pictures.... i didn;t get to see that many different fish, but still pretty cool as it is my first time. the crew members are super nice
Keith B USA
July 2010
This was the highlight of our vacation. The crew was wonderful. They made us feel comfortable not only in the water, but also on board. Their equipment is excellent, their snacks were great, and their hospitality was even better. They took us to two dive sites. The first one was at a submerged ship. The second one was at an area with a nice coral formation. We saw lots of marine life and thoroughly enjoyed ourselves. As this was our second discover dive, we were encouraged and have decided to complete our certification with them. We will be back near this time next year to complete the class. We couldn't have asked for a better time than with this wonderful crew. I highly recommend it to anyone!
June 2015
Very beautiful, instructor was amazing and I even got to see two turtles!!!!
February 2013
Overall, it was an excellent experience. The instructors were really nice and accommodating.
Advertisement
Advertisement