Stay relaxed until the very end of your trip with a shared transfer to the Honolulu International Airport from your hotel in Waikiki, Kahala, Turtle Bay or Ko'olina or the Honolulu Cruise Terminal. An air-conditioned shuttle will arrive at your accommodations and a driver will take you to the airport in plenty of time to catch your flight. This service is available daily, for travel plans at any hour. Please note that you must choose a hotel that coincides with the area in the Itinerary section listed below.
Highlights
Shared departure transfer from your hotel or the cruise terminal to the Honolulu airport
Enjoy comfortable and efficient transportation in an air-conditioned Mercedes shuttle
A convenient, hassle-free way to end your vacation!
Service available 24 hours a day, seven days a week
12-person vehicle ensures minimal stops
What You Can Expect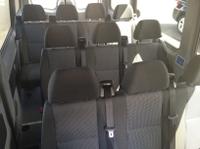 Make your departure from Honolulu airport as convenient as possible with a shared transfer from the Honolulu Cruise Terminal or your hotel in Waikiki, Turtle Bay, Ko'olina or Kahala to your flight. A shuttle will arrive at your accommodations and bring you comfortably to the airport. This service is available 24 hours a day, seven days a week and is limited to 12 people to ensure minimal stops along the way.

You will be asked to provide your hotel and flight information at time of checkout. Please note that you must choose a hotel that coincides with the areas listed in the Itinerary section below, otherwise your booking will be cancelled.

Itinerary
Waikiki hotels:
Ala Moana Hotel
Allure Waikiki
Aloha Towers
Ambassador Hotel of Waikiki
Aqua Aloha Surf and Spa
Aqua Bamboo and Spa
Aqua Ilikai Hotel and Suites
Aqua Ocean Tower
Aqua Palms and Spa
Aqua Queen Kapiolani Hotel
Aqua Waikiki Joy
Aqua Waikiki Pearl
Aqua Waikiki Wave
Aston at the Executive Centre Hotel
Aston at the Waikiki Banyan
Aston Pacific Monarch
Aston Waikiki Beach Hotel
Aston Waikiki Beach Tower
Aston Waikiki Beachside Hotel
Aston Waikiki Circle Hotel
Aston Waikiki Joy
Aston Waikiki Sunset
Backpackers Hostel
Best Western Coconut Waikiki
Best Western The Plaza Hotel
Big Surf
Breakers Hotel
Canal House
Chateau Waikiki
Colony Surf
Comfort Inn on the Park
Courtyard By Marriott Waikiki Beach
Diamond Head Hotel
Discovery Bay
Doubletree Alana Waikiki
Downtown Business District
Embassy Suites Waikiki
Equus
Ewa Hotel Waikiki
Fairfield Hawaii
Fairway Villa
Four Paddle
Hale Koa Hotel (Military)
Halekulani
Harbor Shores Apartment Hotel
Hawaii Prince
Hawaii Prince Hotel Waikiki
Hawaiian Hotel-A Marc Classic
Hawaiian King Condominium Hotel
Hawaiian Monarch Hotel
Hilton Grand Waikikian
Hilton Hawaiian Village
Hilton Kalia Tower
Hilton Waikiki Beach Hotel
Hokele Suites
Hokondo Hostel
Hokulani Waikiki Resort
Holiday Surf
Honolulu Airport Hotel
Honolulu Cruise Ship Terminal
Honolulu Prince
Hostelling International Waikiki
Hotel Renew by Aston
Hyatt Place Waikiki
Hyatt Regency Waikiki
Ilikai Apartments
Ilikai Marina Condos
Ilima Hotel
Imperial of Waikiki
Inn On The Park
Island Colony
Kai Aloha Apartment Hotel
Kuhio Banyan Club
Kuhio Village
Leisure Resorts
Lotus Honolulu
Maile Sky Court
Marc Suites Waikiki
Marina Tower Waikiki
Marine Surf Waikiki Hotel
Miramar at Waikiki
NCL Pier
New Otani
Ohana Coral Seas
Ohana Islander Waikiki
Ohana Royal Islander
Ohana Surf Hotel
Ohana Waikiki Beachcomber Hotel
Ohana Waikiki East Hotel
Ohana Waikiki Hobron
Ohana Waikiki Malia
Ohana Waikiki West
Ohia Student Suites
Outrigger Luana Waikiki
Outrigger Reef Hotel
Outrigger Regency on Beach Walk
Outrigger Waikiki on the Beach
Outrigger Waikiki Shore
Outrigger Waikiki Shore
Pacific Beach Hotel
Pacific Marina Inn
Pagoda Hotel
Park Shore Waikiki
Polynesian Hostel
Polynesian Plaza
Queen's Surf Vacation Rentals
Ramada Plaza Waikiki
Royal Garden At Waikiki
Royal Grove Hotel
Royal Kuhio
Royal Kuhio - Stairway to Heaven
Seaside Hostel
Sheraton Princess Kaiulani
Sheraton Royal Hawaiian
Sheraton Waikiki
Shoreline Hotel Waikiki.
Stay Hotel
The Cabana at Waikiki
The Modern Honolulu (Aqua)
The Waikiki Landmark
Tradewinds
Trump International Hotel
VIVE Hotel
Waikiki
Waikiki Beach Condo
Waikiki Beach Marriott
Waikiki Beach Resort
Waikiki Gateway Hotel Honolulu
Waikiki Grand Hotel
Waikiki Marina Resort
Waikiki Parc Hotel
Waikiki Park Heights
Waikiki Resort Hotel
Waikiki Sand Villa Hotel
Waikiki Skytower
Westin Moana Surfrider
White Sands Hotel
Wyndham Waikiki Beachwalk

Kahala hotels:
Kahala Hotel and Resort

Ko'Olina hotels:
Disney Aulani Hotel
JW Marriott Ihilani Resort & Spa
Ko Olina Beach Villas
Marriott Ko'olina Beach Club

Turtle Bay hotels:
Turtle Bay Resort
June 2016
may.winstanley Australia
May 2016
Friendly driver, on time.

May 2016
Driver was on time and very friendly!
May 2016
Very professional, on-time service. I would definitely use them again.
May 2016
Easy to find vendor holding sign. Vendor had good equipment and employees were very professional and courteous.. Would want to use them again, and will highly recommend to a friend.
March 2016
Triss USA
January 2016
Driver was punctual and got us to the airport with safe driving.
December 2015
Timely pickup, comfortable, clean vehicle, courteous driver, and he drove sensibly
October 2015
courteous and on time, great service

October 2015
problems with pick up time but very happy with driver as not his fault.
Advertisement
Advertisement