Watch the sun set over an Oahu beach on a 1.5-hour Segway tour of Honolulu's scenic harbor, beaches and parks. Learn to steer your Segway, follow your guide through the quiet streets and take in stunning views of Diamond Head and Waikiki. Cruise past Ala Wai Yacht Harbor to a coastal canal, then watch surfers ride the breakers as you explore Ala Moana Beach Park. Glide past banyan trees and coconut palms while the stars appear above the ocean, and experience a perfect Hawaiian sunset.
Highlights
Sunset Segway Tour in Honolulu
Cruise past the beautiful yachts lined up along the Ala Wai Yacht Harbor

Glide down Duke Kahanumoku Beach and Ala Moana Beach Park
Receive expert instruction on how to use a Segway
Exhilarating and exciting way to enjoy Honolulu's scenic vistas

Enjoy the glorious sun setting behind the turquoise-blue water
Explore Kaka'ako Park Hill, Echo Stone and Ehime Maru Memorial

Why Our Insiders Chose This Tour
I think this tour takes place at an ideal time -- after a day of swimming and sunbathing but before dinner. It's pretty stellar zooming down the beach with the wind in your hair as the sun sets on another day in paradise.
Recent Photos of This Tour
What You Can Expect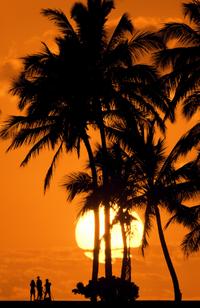 Imagine gliding along Duke Kahanumoku Beach and Lagoon, with Diamond Head and Waikiki in the background, stopping to soak in the beautiful scenery and Oahu sunset. It sounds like an evening in Hawaiian paradise, and you can have it on the Sunset on the Beach Segway Tour. Before your tour starts, you'll receive expert instruction on how to safely operate your Segway. Riding a Segway is similar to getting on an escalator at a department store - it's slightly wobbly the first time you step onboard, but you can easily learn to navigate the Segway!

As the sun begins its descent into the Pacific, you'll pass by the magnificent yachts lined up along the Ala Wai Yacht Harbor. Glide across the Ala Wai Canal and enter Ala Moana Beach Park and Magic Island. Enjoy Ala Moana Beach Park with local Honolulu residents, and see stunning views of Diamond Head and surfers showing off their skills in the turquoise water.

Wind around the periphery of Ala Moana Beach Park and enjoy the beautiful coastline while the glorious orange-red sun sets in the background. Zip past the amazing banyan trees that fill the park, and glide over to Kaka'ako Park where you'll enjoy the rolling landscaped mounds and picturesque ocean views. Go past Echo Stone and Ehime Maru Memorial before you head back to your starting point. This is one sunset experience you won't forget!

The Segway allows you to see so much more than you would on a walking tour, but still enjoy the fresh air and sunshine as you travel, unlike you would on a bus. It's the perfect way to sightsee!
August 2015
We had Danny...so knowledgeable and super friendly. took us up diamond head...giving us amply opportunities to take photos and soak up the view. the pre tour instructions were easy to follow. HIGHLY recommend this tour. we saw so much more than if we were on a bus or even walking. Do it!!!
mlocascio United States of ...
June 2015
We met with Michael at the Segway of Hawaii shop for our sunset tour. We were lucky that my wife and I were the only ones on this particular tour. Being experienced segway riders 5th time, we were tested and on our way in no time.
Let me say, we've ridden segways in fun and exciting places Old San Juan, Chicago by the Lake, NOLA, Nassau, but no ride has been as beautiful as the ride up towards Diamond Head! Michael was a fantastic tour guide. He gave us receivers so we could hear his narration. He knows so much about the island and the locals. We love eating local foods and he gave us several great recommendations, our favorite being the Cafe Kaila no too far from Waikiki.
The trip lasted over 2 hours and we stopped several times for some great photos. The grand finale was the perfect timing on the beach for the sunset photos.
There were no Cons to this trip, only Pros: newer segway units, great riding locations, interesting narration and sites including the MTV Real World house among others. Ask Michael nicely and he'll tell you the best places for snorkeling and spear fishing away from the crowds! Also ask him about his time with an Iron Chef!!
For those who have never ridden a segway and are wondering if you can do it, let me tell you, you can! My wife and I are both almost 60 and we love it. We try to do it on every cruise we are on. As long as you are within the weight limits check with the place you are using, each one has different requirements based on the their segway model and can stand upright for a couple hours, with breaks, you'll do fine. You don't have to have great balance, because the segway does that for you. I encourage everyone, at least try it once.
Segway of Hawaii has other great tours besides ours. There's no question we'd ride again with them. Their shop is easy to get to and you start riding just outside.
December 2013
We thoroughly enjoyed our Sunset Beach Segway Tour. We were put with another 4 tourist who were not picking up the segways as well as we did so they split us up and took us on our own so we could get the most of our tour.
Great service, great equipment and definitely worth doing. Would do it again without a doubt.

February 2012
What a buzz. Felt like a mini - celebrity zooming by all the people on Waikiki Beach. People asking where we got the Segways and how they can do it too. What fun!
October 2011
Our guide was Ryan he was great! We had never been on a segway before. It was a ton of fun. Ryan was full of information! We loved the tour!!!
May 2012
Although it was overcast and we didn't get to see the sunset we had a great time. Our tour guides were patient with us while we tried to master the segways, and they were very informative as we traveled along. I would definately take this trip again. John M, Chicago
Advertisement
Advertisement