Embrace the island spirit as soon as you arrive in Oahu with a fresh flower lei greeting at Honolulu Airport. Soak up the sweet scent of the local symbol of love and friendship, made from island orchids. Enjoy your choice of single- or triple-strand leis, or upgrade to the deluxe package for honeymooners.

Highlights
Fresh flower lei greeting at the Honolulu Airport

Professional meet and greet assistance upon arrival at Honolulu Airport
Enjoy the symbol of love and friendship and true Hawaiian welcoming
Multiple lei options available!

Recent Photos of This Tour
What You Can Expect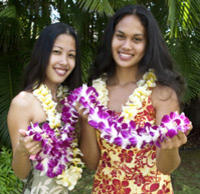 The history of the lei dates back to the ancient Hawaiians, who wore native flowers, braided leaves, shells, feathers, stones and bones to beautify themselves. They often offered these garlands to each other and to their gods as a symbol of love and friendship.

Look for your lei greeter once you stroll past security at Honolulu Airport. Enjoy a warm, Aloha welcome while a fresh strand of orchids is placed around your neck. Inhale the sweet fragrance and make the immediate switch into relaxation mode for the beginning of your trip.

For honeymooners, upgrade to the deluxe package to include two, ornate orchid leis.

June 2016
Order the Deluxe, well worth the additional money.
This was my wife and #39;s first time to Hawaii, I took her for our 11th anniversary. The deluxe lei greeting made our arrival a special experience.
July 2015
Great way to start your holiday.
June 2015
Very nice to be greeted by a gentle soul. I completely forgot his name i am so sorry. Appreciated info and recommendations on where to go and get good food and shop! Thank you!
April 2015
Very personable young lady,

April 2015
First time booking this service. They were waiting for us when we got off the plane and had our name on a sign--very easy to spot--also very welcoming!
March 2015
January 2015
Friendly and a great way to start a trip in Hawaii.
October 2014
Super high quality lei; friendly greeting
September 2014
Flowers fresh, friendly staff
Well worth the money
August 2014
It's been fifteen years since I went to Oahu. My husband and I went with another couple, our friends and first time travelers to Oahu. My husband was told Oahu no longer provides flowered leis at the airports. Thanks to Viator we were greeted with a wonderful host who supplied the most beautiful flower leis. She had our names waiting for us at the gate and led us to the baggage claims. Our vacation started with a wonderful tone and Oahu was still beautiful as ever.
Advertisement
Advertisement