Take a moving trip to the Pearl Harbor Museum and naval base in Hawaii, enjoying skip-the-line access for a guided tour of the USS Missouri, a visit to the USS Arizona Memorial and a sightseeing tour of Honolulu on this 7-hour excursion. Check out Pearl Harbor's Visitor Center before touring the USS Missouri and paying your respects at the USS Arizona Memorial. Then continue by air-conditioned coach to the National Memorial Cemetery of the Pacific (Punchbowl Cemetery) and see downtown Honolulu. Entrance fees and round-trip hotel transportation are included.
Highlights
Full-day Pearl Harbor tour combining visits to the USS Arizona Memorial and USS Missouri
Skip the line on a guided tour of the USS Missouri, the last battleship built by the US Navy
See historic artifacts at the Pearl Harbor Visitor Center
Ride a Navy launch to view the USS Arizona Memorial with a knowledgeable guide
Tour downtown Honolulu, including Kawaiahao Church, King Kamehameha statue and the Mission Houses Museum
Drive through Punchbowl Cemetery (the National Memorial Cemetery of the Pacific)
Pickup and drop-off from selected Waikiki hotels included
Recent Photos of This Tour
USS Missouri, Arizona Memorial, Pearl Harbor and Punchbowl Day Tour
What You Can Expect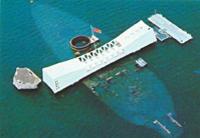 Discover the highlights of Pearl Harbor, along with skip-the-line admission to the USS Missouri and USS Arizona Memorial, plus a sightseeing tour of downtown Honolulu during this 7-hour trip. History buffs will especially appreciate this in-depth visit to the site of one of America's most famous military moments.

Start your trip with pickup from your Waikiki hotel at 6:30am. Your tour operator will provide the exact pickup schedule at the time of reconfirmation. Travel by air-conditioned coach to the Pearl Harbor Visitor Center, the starting point for your visit to the naval base and home to a variety of artifacts documenting the infamous attack that catapulted the United States into WWII.

Head next by Navy launch to the USS Arizona Memorial, where 1,777 of the boat's crew lost their lives on December 7, 1941. This national monument sits over the submerged remnants of the ship's mid-section.

Continue your Pearl Harbor visit with a stop at the USS Missouri, where you'll enjoy an in-depth guided tour of one of the most famous (and longest-serving) American battleships in history. The vessel first came into service in WWII, hosted the Japanese surrender to the Allied Forces and saw its last active duty during the 1990s Desert Storm operation.

Following your exploration of Pearl Harbor, continue back to downtown Honolulu for a chance to investigate some of the city's top sights. Among the stops on your Honolulu tour are Kawaiahao Church, the statue of King Kamehameaha, the Hawaii State Archives and State Public Library, the Hawaiian Mission Houses Historic Site and Archives (originally known as Mission Houses Museum) and Honolulu Hale.

Finish your day with a visit to the only royal palace found on American soil at the Iolani Palace and with a visit to the National Memorial Cemetery of the Pacific (Punchbowl Cemetery), followed by a drop-off back at your Waikiki hotel.
June 2016
June 2016
The tour was very good. It gave us everything we expected. We were especially fortunate to have Ernal as our tour guide. He was very entertaining and gave us a terrific tour. Thank you.
June 2016
This is a must see! Seeing/reading the history was amazing and to know that so many died but then going out to the memorial was surreal. I don't know about others but I could feel the presence of those men whom are entombed there, this place is amazing. Only draw back was the short time we spent at the memorial but in saying that if they didn't keep to a strict time slot then many wouldn't get to visit it.
June 2016

June 2016
June 2016
Very emotional trip So glad my husband and I was finally able to see this. Tour bus was on time but they need to put the name of the tour up in the front window. Bus driver was very funny and courteous It was fun on the bus A must to do when in Oahu.
June 2016
Wonderful tour and Ben was awesome. Funny and informative. Thanks cousin Ben

Amy G United States of ...
June 2016
When you come to Hawaii the first time you HAVE to go to Pearl Harbor. We were there the week of Memorial Weekend, and it was the 75th anniversary. I really thought that it would be more busy because of this, but I don't think it really was. It was busy, but not crazy. The Arizona Memorial was just as I expected, sad and amazing all at the same time. When you see the blips of oil come to the surface it's really surreal. You take a boat over to the memorial and you only have enough time until the next boat comes to drop of more people and then you load the boat to go back to the visitor center. The visitor center also had a submarine that you could tour. We didn't pay extra to do that. Unfortunately the day we were there it was HOT. Hot and Humid. UGH! Not the temperature you want when you are touring a big metal boat! But regardless of that, it was a great tour. Ed was our driver and he was awesome! He took very good care of us, and was very knowledgeable. I really learned a lot from Ed. Kind of a pain that you are not able to take anything into Pearl Harbor. No purses, no camera bags nothing. Be prepared for this ahead of time. Ed did tell us we could leave whatever we wanted on the bus while we toured but I don't think anyone did. You take a bus over to the Missouri from the visitor center. We took a guided tour on the boat and it was good but at times it was difficult to hear the guide because of other distractions. After our 30 minute guided tour we roamed the boat. Be prepared if you have to be back at your tour bus at a specific time that you get back to the departure area with plenty of time. There were a lot of people waiting for the bus to take you back to the visitor center. We barely made it on the bus had to stand and we were there with plenty of time, just a lot of people waiting to do the same thing. We really enjoyed this tour and you will too!

June 2016
I had felt such sadness when we toured the Memorial. I was truly touched by reliving this tragic history lesson. Nevertheless, I was so glad we choose this your. I will never forget how I felt at the Memorial...Rest-in-Peace and God Bless these men and the families.
June 2016
Great tour. Because of rain we didn't get to finish touring the Missouri but a great day nonetheless .
Advertisement
Advertisement