Snorkel and swim with spinner dolphins off the west shore of Oahu during this full-day excursion. Sail up the Waianae Coast, then hop in the water to commune with green sea turtles, schools of tropical fish and dolphins. From January to March, you may get an up-close look at the migrating humpback whales. All necessary snorkel gear, lunch after the cruise and round-trip hotel transportation from Waikiki hotels are provided.
Highlights
Waianae Coast snorkel cruise, dolphin swim and seasonal humpback whale-watching adventure
Snorkel along Leeward Coast and see spinner dolphins fly through the air!
Spot massive humpback whales during the winter months (January to March)
Lunch and use of snorkeling gear included
Complimentary Waikiki hotel pickup and drop-off
Why Our Insiders Chose This Tour
This all-inclusive tour makes it easy to get up close to friendly dolphins in their natural habitat. It's even more awesome in the winter when the humpback whales come through!
Recent Photos of This Tour
What You Can Expect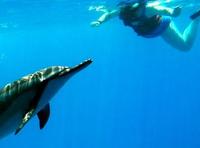 Following pickup from your Waikiki hotel, transfer to the Waianae Harbor to board your boat.
Find a spot in the sun or shade and enjoy the ride as you sail up the picturesque Waianae Coast. Watch for spinner dolphins playing and jumping in the waves, and in the winter months (January through March), keep an eye out for the migrating majestic humpback whales.
Your captain will stop at a calm, shallow spot for snorkeling. Don your mask and snorkel gear and jump in, asking your crew for any tips or instructions if you need them. Float in the tropical waters and watch as schools of tropical fish swim through the beautiful coral reefs.
After 3 hours on the boat, return to the Waianae Harbor for a filling lunch that includes sandwiches and hot dishes; vegetarian options are available, and all meals come with a choice of beverage.
At the end of the day, board a vehicle for drop-off at your Waikiki hotel.
April 2016
April 2016
Awesome!!! What an amazing day we had! Mandy and Jenna were great company, love what they do and love sharing their knowledge and passion with their guests. We were lucky enough to spot whales even though whale season had officially ended a couple of weeks before our tour - thankfully nobody told the whales that! Then it was time to swim with the Spinner Dolphins - what a special moment! Even one of the babies put on a show for us. Lunch was delicious and the entire day was really special. Would recommend taking a seasickness tablet though if you are prone to feeling a bit sick because there is a fair bit of sitting still in the boat and that's what always gets to me. Loved every minute of this trip! Thanks, girls!

March 2016
We saw everything we were supposed to, and even had a rare chance to be in the water with a whale! They made sure that I would see a turtle by nearly having me get out so close I could have ridden it! The dolphins were everywhere. A really cool adventure! The Tour people were really nice, knowledgable, and enthusiastic. I highly recommend it!
March 2016
Every single person from the driver, Alena, to the lady who helped with the equipment were fantastic! They were friendly and fun. The day was perfect. They made sure we saw dolphins and turtles. If you go consider getting the professional pictures by Nicky. Her pictures, especially underwater, are amazing. As more mature people, every member of the crew checked regularly to make sure that my friend and I were okay. They seemed aware of every person from kids to the oldest and their safety as well as the safety of the marine animals. This crew was very professional, yet friendly and fun. We laughed, we swam, we saw amazing animals, and I wish the tour had never ended!
March 2016
Staff was a lot of fun. It added a great deal to adventure. They were funny and a big help. Knowledgeable

March 2016
Best time and very knowledgeable crew. It is worth the money. They explained everything and insisted on safety and making sure we all had fun.
March 2016
It was the best part of our trip!
March 2016
I have reviewed many things on Tripadvisor and without question this was the best excursion EVER! Captain Jenna and her crew were incredible finding us dolphins, whales and even a hammer head shark. The entire experience was amazing even through my sea legs got the best of me and I admittingly couldn't hold it in, Jenna and the crew did a great job of helping me find my bearing again and returning me to land. We went on 28th of Feb and while never promised, we hit the snorkel jackpot, whales, dolphins and sharks. All the staff were friendly, knowledgeable and you could tell they loved what they do. The hamburger I had for lunch included with the tour was truly delicious and if I was to review it on its merits I would say one of the best I have reviewed period. My partners tuna was delicious. truly one of the best experiences of my life and best staff I have encountered on my travels. WORTH EVER PENNY!
February 2016
The team was friendly and knowledgable. All activities promised were found and totally enjoyed. The whales are seasonal and we were lucky enough to find several to be in awe of. The team knows the perfect spots for sea turtles and dolphin, one of the most amazing advendutes I have ever done.

February 2016
This is the most amazing tour! The crew was GREAT, from the pickup by Mandy to the knowledge and friendliness of our Captain, Jenna, and the skill of our photographer Nikki. I would highly recommend this tour and this crew! I will be back!
Advertisement
Advertisement