Treat your family to a thrilling day of wave pools and waterslides at Oahu's Wet 'n' Wild water park. Check out the children's area filled with water cannons and fountains, slip down the slides and relax in a winding lazy river. Enjoy a general admission pass, or upgrade to include hotel pickup and drop-off from Waikiki and a BBQ buffet lunch with unlimited soft drinks. This Oahu water park includes more than 25 rides and attractions for a family-friendly day out.
Highlights
1-day admission pass to Oahu's Wet 'n' Wild Hawaii water park
Enjoy a fun day with the whole family
Ride fun waterslides or float in the wave pool
Select your package option, which can include round-trip hotel transport and a BBQ lunch
Recent Photos of This Tour
What You Can Expect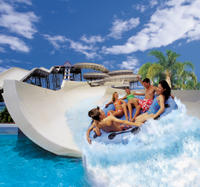 Located in the lush area of Oahu's Kapolei, Wet 'n' Wild Hawaii offer 29 acres (12 hectares) of water rides and attractions to be enjoyed by visitors of all ages. For a relaxing day out, try the Kapolei Kooler, a river that you can float at a leisurely pace. Then, dip in the giant wave pool before taking the little ones to Water World, a children's space complete with mini-slides, fountains and water cannons.

For those seeking a little more excitement, head over to the Tornado slide, which propels you through the raging waters of 130-foot (40-meter) tunnel, before projecting you out into a splash pool.

This ticket includes full-day entry into the park, with the option to upgrade to include hotel pickup and drop-off in Ko Olina and Waikiki. Choose the Deluxe Package to include a BQQ lunch and body-boarding activity with your ticket, too.

Anonymous
July 2015
Wet N Wild was really fun, the rides were awesome. During the day especially during the summer the lines are really long but we were able to go on slides more than once. My children had a blast and loved it.

July 2015
Wet N Wild is the place to be for any kind of family outing especially for the kids. My grandchildren had a blast. The staff was very friendly and accommodating, beside the beach Wet N Wild is the place to be.
August 2014
September 2015
Great day spent with my 9 year old niece to Wet'n'Wild! It's absolutely to do, we have a lot of fun and we laughed a lot. The negatives are: the price of admission 50, you have to pay for parking, hours are too short 10h00-15h30, 1 water slide was closed and others are open alternately, the food is not good required to feed on site.
November 2015
Good fun, easy slide access, not the biggest thrill seeking slides across the world but definitely worthwhile.
aapassey Canada
August 2015
Not bad... you really don't get enought time there since the bus leaves before the park closes. We got the full package and I have to say the buffet lunch was really quite good and the free soda all day is worth it. The body boarding leason was wonderful. Even my 65 year old parents tried it. I am glad we went and tried it however it won't be something we do again next time we come back to the islands.
September 2014
Upon booking I wasn't able to indicate which pick up location suited me best so we just waited at the closest pick up location, bus was about 20 minutes late so was left worrying if we had been forgotten about. Not all slides were open with some alternating in 30 minute intervals with the slide next to it, plus concrete in direct sunlight was extremely hot so feet were burning and need to stand in a shaded spot whilst waiting in line up, however line ups were quite short with no more than 10 minutes spent at any one time.

November 2013
Having been to Disney Water Parks, this hardly compares. Based upon a volcano theme it was more like a dry hill side. All bags were searched for food and any food found was removed so that we had no choice to buy their over-inflated food in the park. Rides were well maintained although there were no big thrill rides. Park was very compact and quiet so there was no queuing. We spent 4 and a half hours here which was more than enough.
July 2013
Made our own way to park as did not want to spend 1 1/2 hours on coach beforehand making pickups. Disappointed with the amount of rides. A much smaller park than anticipated. Closed very early at 4.00 pm. Cabana hire was expensive $100, we did not get out moneys worth due to park only opening at 10.30 am and not actually getting in to the park well after 11.00 am due to very, very slow moving admission queues.. Buffet lunch was okay (acceptable). The very tiny lockers were $14... Got back $5 when handing back key. (too expensive for size of locker). Body boarding lesson (included in voucher was enjoyable).
June 2013
The waterpark was fun and there were not too many people about because of the weather so it was good in that respect. However 4 of the main advertised rides were shut. There were signs up for one ride communicating that it was closed due to an upgrade, and we could see people working on it. But the other 4 were just closed. Once we'd been on 4 rides and in the wave pool we realised that we had pretty much completed the whole park. The wave pool was good, as was the hot tubs and the long river stretch, but i would recommend you find out if all of the rides are going to be open before you go.
Advertisement
Advertisement