Pyramids, tombs and mosaic murals — embark on an archaeological adventure with this guided full-day tour from Oaxaca featuring Mitla and Monte Alban. Travel by comfortable coach to the ancient religious center of Mitla, and see how the Zapotecs lived before the Spanish conquest in the 1500s. Then, from the mountaintop of Monte Alban, a UNESCO site, marvel at panoramas of the city and Oaxaca Valley. Walk about Monte Alban's vast complex as you hear about the excavations. Convenient hotel pickup and drop-off are included.
Highlights
Full-day combo tour of Mitla and Monte Alban from Oaxaca
Tour the archaeological ruins of Mitla, including the 16th-century Church of San Pablo
Discover the beauty of Mitla's elaborate mosaics and fretwork with an informative guide
See the marvelous tombs, temples and pyramids of

UNESCO World Heritage–listed Monte Alban

Enjoy spectacular views from Monte Alban's panoramic mountaintop
Learn about the Zapotecs who constructed these Mesoamerican cities
Hotel pickup and drop-off by air-conditioned coach included
Recent Photos of This Tour
What You Can Expect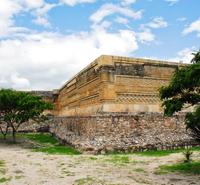 After morning hotel pickup in Oaxaca, travel with your informative guide by air-conditioned coach to the Zapotecan ruins of Mitla. This archaeological zone of a former religious site dates back to 850. Walk the grounds and gain insight into Mitla's elaborate fretwork and geometric patterns that adorn tombs, panels, friezes and walls.

Constructed with precisely cut and polished tone, the intricate mosaics make Mitla one of the most important Mesoamerican sites of the Oaxaca Valley. Mitla, governed by kings, remained mostly isolated until the Spanish arrived in the 1500s. Learn about this conquest as you gaze at the colonial Church of San Pablo.

After Mitla, continue to the pre-Columbian archaeological site of Monte Alban (White Mountain), a UNESCO World Heritage site. Situated on top of a mountain, you'll be amazed by the panoramas of the city and Oaxaca Valley. Your guide takes you around the vast complex's Grand Plaza, altars, temples and pyramids, and shares fascinating facts about Zapotecan history and culture.

Discover some of the site's 170 tombs, ceremonial platforms and an I-shaped ball court built in 100 BC. Make your way up to the South Platform (Plataforma Sur), which boasts a wide staircase and 360-degree views.

Enjoy free time to gaze at the impressive ruins on your own before your coach takes you back to Oaxaca. You'll arrive at your hotel in the evening.


January 2016
We never take tours while traveling we just do the research ourselves and wing it, but because Mitla and Monte Alban were over an hour from our hotel, we decided it would just be easier to let someone else do the driving. What we gained from the tour extended so far beyond the convenience factor--we had so much fun, took beautiful pictures, and loved the conversations with our tour guide. We look back at our trip and consider this tour a real cultural highlight. It was a truly great experience and I definitely recommend it for singles, couples, and groups.

ovidius United States of ...
October 2015
Great tour around Oaxaca. The guides included additional towns to the tour as Teotitlan del Valle and Santa Maria del Tule. Plus tour! Book with confidence and don't miss it if around Oaxaca.
March 2015
This tour was a highlight of our trip to Oaxaca. In the description they don't mention you also go to see the Tule (widest tree in the world) and a textile maker. Oaxaca is famous for its textiles, so it was truly a pleasure to stop and see what they are all about. We loved Monte Alban. The views are incredible. Our guide took us right up to the entrance gates after passing many people hiking up the hill toward the entrance. Mitla was also fantastic. Try the ice cream outside of the gates.
December 2014
Experienced guides, great sites.
March 2014
The tour was amazing!
Gabriel, the tour guide, was extremely patient and took his time to answer questions, allow picture taking and wait for people who were lagging a bit behind. Though I believe the afternoon portion of the trip took longer than he was scheduled to work, he never made us feel rushed or as though we should not satisfy our curiosity. Though I had been to the archaeological ruins before, it was still fascinating as well as a wonderful introductory experience for my companion.
The tour company in Oaxaca was amazing!

January 2014
If you are in Oaxaca you undoubtedly need to take this trip. My boyfriend and I went on this excursion and we were accompanied by two other parties and an English speaking tour guide who was knowledgable and friendly. I recommend you wearing lots of sun screen because the only shade is in the van! Have fun!
May 2016
Apolo was an excellent guide, we learned from and enjoyed the experience...

Hikerhamish Canada
March 2015
Tour schedule was upset by political activity in Oaxaca City, but the staff met the challenge and we had a wonderful day. The tour guide, Moses, was enthusiastic and knowledgeable. A very full day!
March 2016
I was unable to complete the tour but most of the tour was delivered in Spanish, not English. Because this is an all-day tour, I think it would be helpful if there were one guide to explain in Spanish while another guide speaks in English. It is too much for one individual. There was quite a bit I did not understand. It was a lot of riding in the shuttle and I felt the tour was very overpriced. I would not recommend seeing both of these amazing sites in one day. Still, the driver and guide were very congenial and helpful. Thank you.
November 2015
Our tour guide Antonio was good with loads of information in Spanish in English and happy to answer questions but be aware that you return to Oaxaca after the Mitla part to pick up people for the afternoon part of the tour. For us this meant we had a brief half hour to grab something to eat before heading off at 3pm to Monte Alban. It takes around 30 mins to get there and so by the time people in our group had bought tickets for those who didn't have them included in the price it was 3.45pm. Our guided tour lasted an hour and at 4.45pm the guards started blowing whistles and closing off areas to get people out of the site which shut at 5pm. We ran up to the top of the site to try and get some photos and were chased by security guards. It's a shame we couldn't have started half an hour earlier and been told to bring lunch so we would have had some time to wander, enjoy the setting and get some good photos as it's a beautiful place which deserves more than a quick hour to run around. We also didn't have time to even look in the museum.
Advertisement
Advertisement