Discover the pyramids of Oaxaca in Monte Alban, meaning 'White Mountain,' located on a vast mountaintop expanse with spectacular 360-degree views of Oaxaca Valley. Designated a UNESCO World Heritage Site, along with Oaxaca City, the pre-Columbian archaeological site is considered the most magnificent of the region's ancient ruins. On this 3-hour guided tour by coach from Oaxaca, explore the complex filled with pyramids, ceremonial rock carvings, a huge ball court and 170 excavated tombs. Hotel pickup and drop-off included.
Highlights
3-hour tour of Monte Alban from Oaxaca
Visit the ancient archaeological ruins of Monte Alban, part of a UNESCO World Heritage Site
Gaze at breathtaking panoramic views from a marvelous hilltop location
Discover magnificent temples, pyramids and tombs as you explore one of Oaxaca's most significant sites
Learn about the Zapotec culture from your professional guide
Hotel pickup and drop-off by air-conditioned coach included
Recent Photos of This Tour
Monte Alban Day Trip from Oaxaca
What You Can Expect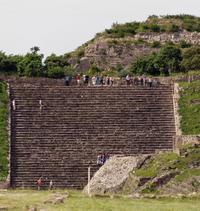 Enjoy midmorning pickup from your Oaxaca hotel and travel by comfy coach for about 20 minutes to Monte Alban, a UNESCO site located on a mountaintop boasting panoramas of the city and Oaxaca Valley.

Upon arrival at the archaeological site, explore with your guide the Grand Plaza, a large open area on the flattened plateau. Hear engaging facts about Zapotec history and culture as you gaze at ceremonial platforms, including a series of rock carvings called The Dancers (Los Danzantes). You'll see some of Monte Alban's 170 tombs, whose excavations revealed a range of paintings and stone carvings.

Visit pyramids, temples, altars and the I-shaped ball court constructed in 100 BC. Make your way up the South Platform (Plataforma Sur), a large area known for its wide staircase and great views.

Enjoy some free time wandering the well-preserved site on your own and capturing memorable photos. Your Oaxaca pyramids tour of Monte Alban ends with drop-off back at your hotel.
January 2016
This was a great trip. The site itself is just 20 minutes outside of Oaxaca so it's definitely worth your morning if you're in the city. The tour guide was knowledgeable and engaging and the ruins and surrounding landscape are absolutely incredible. It wasn't at all crowded and we were able to climb the steps of the pyramids. The 3-hour excursion offered just enough time to get informed and explore the site on our own. Highly recommend.
Dayle M Canada
December 2014
Our guide Antonio was fantastic! His knowledge of the history of Monte Alban was amazing and he was very personable. His English was clear and concise, we had absolutely no problems understanding him. He catered to the group and answered many questions. I would recommend this tour and would even take it myself again the next time we arrive in the beautiful city of Oaxaca
December 2014
Emil was an excellent guide, very knowledgeable and friendly. He answered all our questions big and small. Very happy we took this tour and feel lucky to have an excellent guide.
March 2014
I was delighted with this tour and with our guide - I am an Anthropology sudent and have studied some Meso - American cultures, but my partner is not so inclined. This trip was so well presented that both of us mainatained a high level of interest and enjoyment. We had been to the Santo Domingo Cultural Museum, the prior evening, which contains the treaures from the Monte Alban dig and this really rounded out the "Zapotec Experience" in Oaxaca. Sorry I didn't have time to do Mitla, but I'll be back for another tour. Five stars.
Anonymous
November 2013
Very much enjoyed this tour. I learnt so much about the archeological site of Monte Alban and it's worth every penny. Thanks!

Bandit USA
November 2013
Great tour from start to finish! The operation was flawless from start to finish. Our guide was knowledgeable about the history of the Zapotec civilization and Monte Alban itself. It's just a short drive away from Oaxaca, which makes it a perfect short tour!
December 2015
Amazing- breathtaking views
October 2015
My husband and I were very pleased with this tour. We were picked up at our hotel in a very clean, air-conditioned bus with a very friendly driver. Our tour to Monte Alban was with only 1 other couple. Moses, our guide, spoke very good English and was extremely friendly and attentive. At the site, we were the only 2 on the English-speaking tour so we got our own guide. Moses spent a lot of time explaining not only the archeological history but the use of plants and other resources as well. We found this quite interesting. We had the last hour to roam the site, visit the museum, or shop the gift shop. Perfect 1/2 day trip! Glad we read the other reviews that recommended hats, sunscreen and water too. Quite useful.
April 2015
Fantastic site, good guide who gave many details. Was the only English speaking person on this bilingual tour, still got most of the info the Spanish speaking tourists got

February 2016
too short a tour, tour guide left us with another company, too expensive versus local english tours. Overall not a good tour.
Advertisement
Advertisement