Prospect Plantation is an agricultural property established in the 18th Century. Take a tractor drawn Jitney and experience a working Jamaican plantation, where you will see bananas, cassava, sugar cane, coffee, various spices and many other crops! You will see the magnificent White River Gorge - a spectacular view. Jamaica's first hydro-electric power station was built here by Sir Harold Mitchell.
Highlights
Trip to Prospect Plantation and camel ride
Views of the White River Gorge
Sir Harold's Viewpoint
Up-close encounter with the animals
Butterfly aviary
Recent Photos of This Tour
What You Can Expect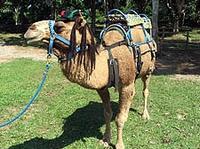 At Sir Harold's Viewpoint the Jitney stops for you to enjoy a cool refreshing drink. From this lookout, the island's north coast and the probable site of Columbus' first view of the island can be seen. On a clear day, Cuba, some 90 miles away to the north, is visible on the horizon. The channel between the two islands was known as the Spanish Main by buccaneers because it was the dominant path taken by ships en route to Spain from Central America.
You will also embark on a Camel Trek around the plantation. Marvel at the stunning scenery and enjoy the unusual experience of riding a camel! You will be amazed at just how high you are on top of a camel!
You will also be taken to other points of interest within Prospect Plantation, such as, the Great House and the surrounding gardens, as well as getting the chance to feed the ostriches, pet the camels and see Farmer Joe climb a 30 foot Coconut Tree!
Have an experience of a lifetime with the exclusive nominated "2007 World Travel Awards - Caribbean's Leading Nature Adventure Excursion Operator"
August 2011
Tour guide Jackson was great, both informative and funny. Learning about the flora and fauna, tasting the fresh coconut right off the tree, smelling the leaves of allspice and giant limes, sensational. And the camel ride, though quite brief, was delightful. Greta peope, great place, great time, great camels!
June 2010
The very best fun we have ever had.
June 2010
It was very informative and we had a great time. The pictures and the memories will last a lifetime.
June 2013
Very good tour overall- the information was great, and the tour guides were fun. The plantation home and grounds were fantastic. I would suggest giving guests more time to ride on the camels and actually giving them a destination, instead of riding around in circles. The camel ride was fun, but a bit disappointing.
September 2012
The camels were very cute and enjoyable. I would recommend this to travelers!
Advertisement
Advertisement