Explore Jamaica's coast on horseback during this 2.5-hour adventure from Ocho Rios. Follow your expert guide through the Jamaican countryside on the back of a friendly horse, then arrive at the beach to relax and head into the shallows. No experience necessary; this tour is suitable for riders of all levels. Round-trip transportation from Ocho Rios and Runaway Bay hotels is included.
Highlights
Horseback riding adventure in the Jamaican countryside
Complimentary hotel pickup and drop off from Ocho Rios and Runaway Bay hotels
Recent Photos of This Tour
Heritage Beach Horse Ride
What You Can Expect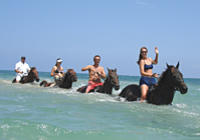 Following pickup at your hotel in Ocho Rios or Runaway Bay, board a vehicle for transportation to the stables.
Upon arrival, disembark to meet your expert horse guides. Listen to a short safety briefing and overview of the ride to come, then get fitted for a helmet. The guides will pick a horse for you based on your size and experience level. This adventure is suitable for guests of all levels; both expert and novice riders are welcome.
Climb onto your gentle, friendly horse and get started down the trail. Follow your guide through the Jamaican countryside, a landscape very different than the beaches of the tourist zone. Along the trail, see sugar plantations and castles that date back nearly five hundred years.
Arrive at the white sandy beach, where both you and the horses will be happy to cool off.
Keep an eye out for local wildlife like herons and other native water fowl fishing in the shallows. Dismount and relax on the shore, or ride your horse directly into the water for a little extra adventure.
Enjoy a provided refreshment at the conclusion of your 2.5-hour ride, then return to your hotel for drop-off.
February 2016
This trip was so much fun. There is a short ride from the coral to the ocean, then you get off the horse for a bit where you can do a little shopping. They had a small snack and water for everyone and you could purchase beer and soda. Then you get back on the horses and ride out into the ocean. We were deep enough that the water came up to above my knees on the horse. Then we ran the horse back and forth a few times. The horses were practically swimming, and tired pretty easy, so you could only run them that hard for a little bit. You will get wet on this ride, so dress accordingly. They did have someone there taking pictures for purchase. After we left the ocean, we got off the horses again to let them rest a bit, then after about 20 - 30 minutes, we took a little bit longer ride down the beach, back to the coral. Along the way, the guide pointed out ruins for the early England settlers. All in all, this was a very fun trip that I would definitely do again.
December 2015
Most amazing experience EVER! We had the beach to ourselevs, was able to purchase some drinks and hang out for however long we wanted to on the beach. The horse running through the water was the best part, although a little scary, it was an amazing experience, and I highly recommend this tour to anyone visiting.
October 2015
Great experience! A lot of fun...
July 2015
March 2015
I really enjoyed the horseback Ride! It was a lot of fun! I was so please at how health the horses are and well looked after. Our guide was very informative about the forest planets and plantation history. I would really recomment this tour!!!
March 2015
The horse ride was fantastic. The staff was very polite and helpful. The guides were knowledgeable and funny. The horses were perfect. My daughter never rode a horse and did the entire ride. The ride in the ocean is a once in a lifetime experience!
March 2015
December 2014
Both of us had never ridden horses before and we had the time of our lives. Don't let a lack of experience deter you from this awesome adventure.
September 2014
LOVED IT ALL - ESPECIALLY THE RIDE IN THE WATER !!!
I am partly disabled - and was very doubtful. that I could do this... But, they took such good care of me
My daughter is only 13, but an experienced rider. If you are anexperienced rider join the private tour - you will really enjoy it !! If like me take the slo-mo tour.
All the horses are "rescued" the staff are knowledgeable and helpful..
They exude all that is good about Jamaica.
August 2014
Loved every single minute of it !!! It was by far my favorite part of our trip. I'd do it again and again and again !!!! Loved the guides, the horses were so gentle !!! And the ride along the beach and in the water was incredible!!!! They even fed us yummy local produce and meat pies and lemonade. It was a wonderful experience. Love love loved it!!!
Advertisement
Advertisement