Sail through the Caribbean aboard a catamaran to the place where Dunn's River Falls empties into the sea. Stop to snorkel among schools of tropical fish and living coral. At Dunn's River Falls, climb the terraced pools to the top of the falls for spectacular views of the surrounding landscape. On the return catamaran voyage, enjoy rum punch and island music. Lunch, snorkel equipment and round-trip transportation from Ocho Rios or Montego Bay hotels are included.
Highlights
Half-day catamaran cruise to Dunn's River Falls from Ocho Rios or Montego Bay
Snorkel over a coral reef in the Caribbean in search of tropical fish
Climb to the summit of Dunn's River Falls with your expert guide
Swim in a picturesque lagoon and admire magnificent views
Enjoy complimentary lunch
Sip rum punch as you listen to Jamaican music on board
Complimentary hotel pickup and drop-off
Recent Photos of This Tour
Jamaica Catamaran Cruise to Dunn's River Falls from Ocho Rios or Montego Bay
What You Can Expect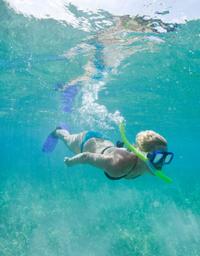 Following pickup from your hotel in Montego Bay or Ocho Rios, transfer to the marina to board your boat.
Climb aboard the 65-foot (20-meter) catamaran and find a comfortable place on the deck to enjoy the views. As you glide out of the harbor, watch the coast slip away and the turquoise blue Caribbean fill your view. Catch some rays on the open deck or relax in the shaded portion of the boat while the ship heads for Dunn's River Falls.
Your captain will choose a snorkeling location depending on the day's conditions. Slip on the provided mask, fins and snorkels and plunge into the warm water. Swim over reefs of living coral to see schools of colorful tropical fish. Feel free to ask your crew for any snorkeling guidance.
Back on the boat, continue to Dunn's River Falls, one of Jamaica's most famous landmarks. Disembark on the beach where the falls empty into the ocean, then follow your guide up the 600-foot (182-meter) trek that takes you to the top of the falls. Along the way, stop for quick swims in one of the many lagoons created by the terraced cascades. Enjoy the spectacular view of the surrounding landscape from the top.
After returning from your trek, climb back on to the catamaran for the return sail. Indulge in some rum punch and listen to some traditional island music.
Your day ends with transportation back to your Ocho Rios or Montego Bay hotel.
June 2016
Pick up was on time and transfer was easy. Staff at Chukka was outstanding. Snorkeling was just ok - reef was fair and not a lot of fish to see. Dunn's River Falls was as spectacular as I remember. Staff assisted us all along the way. Beautiful site to see. Lunch was jerk chicken and bread/fried. Catamaran back to Ocho Rios was the best. Lots of drinks and music. Not suitable for kids.
May 2016
Amazing and fun tour! Would do it again! Create and tour personnel were friendly and helpful. Snorkeling was nice. Water was beautiful and a bunch of small fish on the reef. Falls were beautiful and cool to climb. Party boat after was a ball. Drinks flowing and music bumpin.
February 2016
I had a great time on the boat and tour!!
February 2016
We had such a great time on the party boat before and after the climb. The climb was not hard and lots of fun. I recommend this climb for anyone with good balance, young or old. Wear your water shoes and come prepared to get wet. Lots of fun!

January 2016
This was a great tour. They pick up from most major hotels and resorts. We were actually not staying at a major resort but since we had a rental car it was no problem to drive down to the resort closest to us for pick up. This we a great way to end our trip.
December 2015
Best time ever! The people were all great. Our driver to Ochi named Garfield was full of facts, info, and jokes. We started with the snorkeling in the calm clear blue water, then off to Dunn's River Falls where we met our tour guide Willie Wilson and photographer Alex. The cruise to Margaritaville was one i will never forget. The DJ was playing awesome music and the rum punches and Red Stripe were flowing!! Lunch provided at Margaritaville was either a burger or taco salad. drinks not included. My hubby, niece, 18 sons,16 and 6 had the greatest time. This should be on everyone's to do list! Lots of fun to be had on this excursion, don't miss out!
December 2015
This was my first time to Jamaica, This was my first tour.
I had a great time on this tour. Fun Fun Fun. The guides where very informative. I felt like we were in good hands. never a dull moment. I can't wait to do it again.
November 2015
November 2015
Great time! Had so much fun with our guides and our group! Climbing the falls was an awesome experience.! Would recommend to everyone!
September 2015
Our tour guide was Dave 22 and he was awesome and fun! Catamaran left Jimmy Buffet's and went a short ways to a reef for some snorkeling. We then left and went to Dunn's River Falls. I am not in the greatest shape and thought it may be quite difficult for me but we all held hands going up and to my surprise I made it no problem! They take lots of photos and video. You must wear water shoes and swimsuit...you will get WET! We drank rum punch and beer on our way back and partied with the DJ...lots of fun. Ate when we got back to Jimmy Buffet's. I would recommend and definitely do this again!
Advertisement
Advertisement