Explore Kingston, the capital of Jamaica, on a day trip from Ocho Rios. Tour the island's largest city with a local guide, making stops at the African museum, the University of the West Indies and the museum dedicated to legendary reggae musician Bob Marley. Enjoy lunch at the grog shop (own expense) at Devon House, also home to craft shops and an ice cream parlor. Round-trip transportation from Ocho Rios is included.
Highlights
Day trip to Kingston and Bob Marley museum from Ocho Rios
Visit affluent Jamaican communities and the University of the West Indies
Discover the history and culture of Reggae music at the Bob Marley museum
Stop at the Devon House for shopping and souvenirs
Complimentary pickup and drop off from most Ocho Rios hotels
Recent Photos of This Tour
Kingston Day Trip from Ocho Rios with Bob Marley Museum
What You Can Expect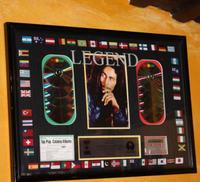 Following early morning pickup at your hotel in Ocho Rios, board a comfortable vehicle for the trip to Kingston.
Upon arrival in Jamaica's capital city, pass through the 'Beverly Hills of Jamaica', where many famous and affluent Jamaicans own homes. Make a stop at the University of the West Indies, Mona. This campus, established in 1948, is the first of 3 that were founded to provide educational opportunities to Caribbean residents.
Continue to the former home of Bob Marley, now the Bob Marley Museum. Learn about the life and work of this legendary reggae artist through educational displays and exhibits.
The tour's final stop is Devon House, formerly known as Millionaire's Corner. Sit down for lunch at the grog shop (own expense), followed by a treat at the ice cream parlor (own expense). Stroll through the historic mansion, visiting the the craft shops and the African Museum before boarding your vehicle for the return to your Ocho Rios hotel.

June 2016
Lady D made every feel as if we were all long time friends making it easy and fun to talk every second.Driver R Kelly was very caring and safe for passengers and others on the road.Out of all trips I have ever been on, I feel like I got educated!Lady D was very informative and Bob Marley tour was too.Respect!
December 2015
Great guide !
His name may have been Sicel or something similar sounding.
Highly recommend.
Jamaics is unbelievably lush with many different types of fruits I didn't even know existrd !
December 2015
Our tour guide was amazing, the trip was exactly what I had expected. Although there were no stops made in Kingston, the details provided as we drove around the city was enough for me. We also got the chance to stop over for some local patties and enjoy some shopping if you wanted to.

June 2015
Nancy our guide is the best. Very informative and knowlegable. This tour is a must for any Marley fan. The ride to Kingston from Ocho Rios is intense but other than that I highly recomend.
October 2014
My husband and I highly enjoyed our trip to Kingston and the Bob Marley Museum. Fluffy was our tour guide and Earl our driver. They both made the trip enjoyable - Fluffy is very funny!
My only drawback is that if you suffer from motion sickness - take extra medicine well before your trip starts so it has time to be effective. The ride is like being on a roller coaster! I felt ill pretty much the whole way to Kingston but took extra on the way back and felt much better. Also, I wouldn't advise sitting near the front of the van either! The drivers and roads in Jamaica can be a bit scary but Earl had us under control :).
The Bob Marley Museum was interesting. I am not a huge fan but my husband is and enjoyed himself. We are from Baltimore and my husband found a ticket stub from a DC concert event so that was interesting. I did learn a lot that I really had no clue about. The guide at the museum was very nice.
Lunch was ok - I was still not feeling too well from the road trip. We ended up eating at KFC but there were a lot of choices and you had time to shop if you wanted to.
Ice cream at the Devon House was yummy and you get a lot - I got a one scoop and it was more than I could handle.
All in all - wonderful day. Got to see a lot of Jamaica and had fun doing it.
Thanks for a good trip! We had heard a lot about going to Kingston but we were safe all day and nothing to worry about!
January 2014
It was an excellent tour. A day packed full and the tour guide was delightful :)
July 2013
Wonderful tour. Would like to have more time at the Bob Marley Museum and to have eaten lunch there

July 2013
Being a huge Bob Marley fan I was pleasantly surprised with the attention to details and facts along the way from Ocho Rios to Kingston. Loved Belinda our tour guide...very comfortable ride. So glad we decided to venture beyond the walls of our resort. I would definitely recommend this tour to all who travel to Jamaica.....Whether you're a huge Marley fan or just curious about his life....great tour and worth the money we spent!
May 2012
Fantastic tour, it's a shame so many people avoid Kingston when there is so much to see. On our trip we went to UWI, Devon House where we stopped for Ice Cream , a Church in Spanish Town, toured the ritzy neighbourhood of Beverly Hills, and watched the guards change at the National Heroes park and toured the Bob Marley Museum. This was a full day with lots of sight seeing I did not expect, and we were even able to tour downtown Kingston from the bus. The only thing I wish we were able to do more of is sight seeing the university outside of the bus, and other parts of Kingston but I do understand it can be a difficult place to see when appearing as an obvious tourist.
Our guide was Dionne with Jamaica Tours Limited based out of Ocho Rios and she was fantastic!! Dionne gave us every bit of possible information about the country and narrated life, and the positives and few negatives of life in Jamaica in addition to pointing out the ways of life and sights on the beautiful drive from Ochi to Kingston.
We were lucky enough to have Dionne again as our tour guide for the Negril beach tour a few days later, and she was equally as good on that tour. I was also glad that we got to make rest stops on the journey at local jamaican stops instead of your typical tourist location and sample some of the intriguing cuisine.
All in all, this is a wonderful tour- at least with the guide we had... we hope to return to Jamaica again soon, and hope to have Dionne as our guide again, and revisit the sights of Kingston!
January 2012
This was a very interesting trip. The Marley Museum was wonderful . The Kingston City Tour was not too inclusive. Overall, it was a great day.
Advertisement
Advertisement