Immerse yourself in Jamaican culture and the beauty of Ocho Rios aboard your own 4WD all-terrain vehicle (ATV). Escort your guide over forested hillsides and along jungly off-road trails en route to Richmond and Llandovery, two former 17th century sugar plantations. Take some time to explore their grounds and learn their history before continuing onto a private natural pool for a refreshing swim. Feeling adventurous? Take a free-flying leap 30 feet down into cool Caribbean waters.
Highlights
2-hour ATV adventure in Ocho Rios
Roar through the dense tropical Jamaican countryside and explore the grounds of historic sugar estates from the 1660s
Admire panoramic views of the Caribbean, and learn about colonial history and local plant life from an expert guide
Jump off a cliff for a swim in a picturesque cove after the ATV ride
Choose from a variety of morning and afternoon departures to suit your schedule

Safety briefing, water and round-trip transport from most Ocho Rios hotels included
Recent Photos of This Tour
What You Can Expect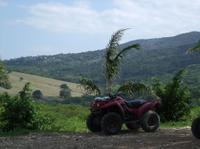 Discover the beauty of Ocho Rios on unconventional transport, the all-terrain vehicle (ATV). After hotel pickup you'll be provided with a safety briefing and outfitted with the equipment needed for your ATV adventure through Jamaica's backcountry.

Hop on your ATV and follow your knowledgeable guide through local communities and forests, enjoying unparalleled access to the hills and plains of the Caribbean island. Explore the estate grounds of Richmond and Llandovery, former sugar plantations dating back to the 1660s. Learn about their history and Llandovery's role as one of the last factories in St Ann to produce sugar.

Then take an easygoing ride along a pristine stretch of beach to a private cove, where you can wash off the dirt by taking a dip in a gorgeous natural pool. Ease yourself in for a swim — or feel an exhilarating rush you leap from a nearby cliff and free-fall 30 feet (9 meters) into the sparkling Caribbean below.

After this leisurely break, enjoy transport back to your hotel.
October 2015
This adventure was outstanding! The guides were personable and entertaining. The drive was exhilarating and we had just enough rain to knock down the dust, create a few mud puddles but not soak us to the skin. I highly recommend the tour company and their ATV Excursion!
June 2014
Very nice, but put on long pants, because the hot air coming out from the machine WILL burn your legs.
May 2014
Great tour! Enjoyed it a lot! Chukka cove was a great way to end off taking a swim in a beautiful bay! The guides were very helpful and informative!
July 2013
This was great! Everything about it was worth it. The scenery, the riding, the guides. Loved it.
June 2013
I had a great time on this tour. It rained right before we got to the site so the trail was nice and muddy, giving us a real ATV experience. The tour guides were very nice and took pictures of us going through the mud puddles. At the end we were able to rinse off by jumping off a safe cliff into the ocean, which i didn't do but others had fun doing. I would definitely recommend this tour.
January 2012
This was a fun day, and the staff was very patient and informative. I would definitely recommend this excursion. Although, I have to warn everyone to wear closed toe shoes, and older clothes, it was muddy!!
Lars Urban N USA
August 2008
Great fun, but you can skip the swim event. It sucks to be all wet for the trip back home.
Benjamin M USA
August 2008
The staff was professional. The ATV's were very well kept and maintained. The ride was awesome and we had a blast. The only issue was the wait to return to the hotel. Overall I would highly recommend the ATV trip!!
Afton M USA
November 2007
Your site saved us a lot of money. Great value. We will use your site again.
Mark K USA
September 2007
This was a total rush. It was lots of fun and a great way to see the island.
Advertisement
Advertisement