Special Offer
Save 24% on these popular attractions by booking them together in this combo package!
Discover Dunn's River Falls and the Green Grotto Caves, two of Northern Jamaica's most popular natural attractions, during this combined tour. On this 5.5-hour excursion from Ocho Rios, visit the Green Grotto Caves first to see a subterranean lake and impressive natural limestone rock formations. Head to Dunn's River Falls to climb, play and swim – or just relax on the sundeck. Enjoy round-trip transportation from your Ocho Rios hotel.
Highlights
Ocho Rios combo tour to Green Grotto Caves and Dunn's River Falls
Explore the limestone Green Grotto Caves, which served as a hiding place for rum during World War II

See natural cave features like stalagmites, stalactites and a subterranean lake
Go swimming in the pools formed by the terraced rocks of Dunn's River Falls
Climb to the top of the falls, if you wish
Hotel pickup and drop-off included
What You Can Expect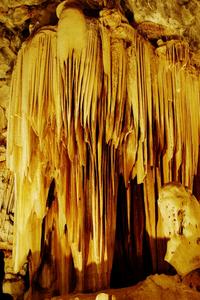 Green Grotto Caves:
Following pickup from your Ocho Rios hotel, travel along Jamaica's coast to the Green Grotto Caves.

Upon arrival, note the green algae covering the walls, giving the cave its name. Walk past many different types of limestone rock formations, including an impressive number of stalagmites and stalactites. View a pristine, crystal-clear underground lake located deep within the cave.

Durning your hour-long stop here, learn about the caves' interesting history as an escape route for the Jamaican people during the 17th century. Look for native cave life forms like bats and barnacles, and free to ask your guide any questions before climbing back into your vehicle and heading for Dunn's River Falls.

Dunn's River Falls:
Travel about 25 minutes back towards Ocho Rios to Dunn's River Falls, one of Jamaica's most famous natural wonders. The falls were also featured in both the James Bond movie Dr. No and Cocktail starring Tom Cruise.

Relax on the waterfalls' adjacent sundeck, swim in the lagoon at the bottom or head for the nearby sandy beach. If you're feeling adventurous, follow your guide on the climb to the top of the 600-foot (180-meter) falls. Put on some non-slip water shoes (available for rental at the welcome center) and start up the terraced falls, the rocks naturally forming 'steps' for you to climb. Along the way, stop in one of the many pools to relax and cool off. Reach the top for panoramic views of the surrounding rainforest.

After about an hour at Dunn's River Falls, return to your hotel in Ocho Rios for drop-off.

June 2015
This tour was a lot of fun. We could not have climbed the falls without the help of our two guides Harris and Moses. Everyone we told that we were going to Jamaica said not to miss the falls and I am glad we didn't.
May 2015
April 2015
With transportation and entrance fees included, this package was a steal. Our driver was courteous and the transportation was all ours since we were the only ones on the van. The sites were amazing!
March 2015
This was a great tour! We learned so much about the history of Jamaica and info about the caves and the creatures that inhabit them.
The Falls is just a lot of fun with a bit of a challenge to it. A nice way to stay cool on a hot sunny Jamaican day!!!

March 2015
We loved it and our Tour Guide Johnson from TourWise was very knowledgeable and personable.
January 2015
This trip rocked! (No pun intended). The guide at the caves was informative and funny -- not rushed. The falls which were amazing! You can get water shoes there for $10. You don't need a guide there; we had more fun scaling the falls by ourselves. We even stopped for sweet sap by the roadside. ☺️
August 2014
Absolutely awesome! The tour through the caves was a bit short and rushed, but the guide was friendly and full of information. Dunn's River Falls was packed to the gills being it was during their Independence week of celebration for Jamaica. That aside, we took the non guided tour and had a blast! Will definitely go again.
July 2014
This was our very first trip to Jamaica and our first time visiting Dunn's River Falls and the Grotto Caves. The caves were interesting, very hot and muggy during some parts, but very interesting to see. Our tour guide was very energetic and also really funny. He kept us laughing and engaged throughout the 45 minute tour. The earlier you can schedule your tour the better. We went on a Wednesday around 10:00 a.m. and it was only my husband and I and another couple with their two children. Once we finished our tour, the place was packed. Dunn's River Falls was so much fun. Longer than I expected but well worth the trip. There were tons of people waiting in line to get a tour guide to go through the falls, however, you don't have to have a guide to get you through. My husband and I decided to do it alone and walked right past the long lines of people and started the climb together. Once you start you follow along others in a single file line so there is no need to wait in the long line if its just a few of you taking the climb. Some parts are slippery so be sure to wear swim shoes or sneakers.
Special Offer
$79.00 Save $19.01
Advertisement
Advertisement