Special Offer
Save 24% on these popular attractions by booking them together in this combo package!
Discover Dunn's River Falls and the Green Grotto Caves, two of Northern Jamaica's most popular natural attractions, during this combined tour. On this 5.5-hour excursion from Ocho Rios, visit the Green Grotto Caves first to see a subterranean lake and impressive natural limestone rock formations. Head to Dunn's River Falls to climb, play and swim – or just relax on the sundeck. Enjoy round-trip transportation from your Ocho Rios hotel.
Highlights
Ocho Rios combo tour to Green Grotto Caves and Dunn's River Falls
Explore the limestone Green Grotto Caves, which served as a hiding place for rum during World War II

See natural cave features like stalagmites, stalactites and a subterranean lake
Go swimming in the pools formed by the terraced rocks of Dunn's River Falls
Climb to the top of the falls, if you wish
Hotel pickup and drop-off included
What You Can Expect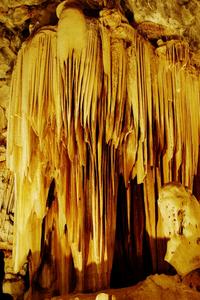 Green Grotto Caves:
Following pickup from your Ocho Rios hotel, travel along Jamaica's coast to the Green Grotto Caves.

Upon arrival, note the green algae covering the walls, giving the cave its name. Walk past many different types of limestone rock formations, including an impressive number of stalagmites and stalactites. View a pristine, crystal-clear underground lake located deep within the cave.

Durning your hour-long stop here, learn about the caves' interesting history as an escape route for the Jamaican people during the 17th century. Look for native cave life forms like bats and barnacles, and free to ask your guide any questions before climbing back into your vehicle and heading for Dunn's River Falls.

Dunn's River Falls:
Travel about 25 minutes back towards Ocho Rios to Dunn's River Falls, one of Jamaica's most famous natural wonders. The falls were also featured in both the James Bond movie Dr. No and Cocktail starring Tom Cruise.

Relax on the waterfalls' adjacent sundeck, swim in the lagoon at the bottom or head for the nearby sandy beach. If you're feeling adventurous, follow your guide on the climb to the top of the 600-foot (180-meter) falls. Put on some non-slip water shoes (available for rental at the welcome center) and start up the terraced falls, the rocks naturally forming 'steps' for you to climb. Along the way, stop in one of the many pools to relax and cool off. Reach the top for panoramic views of the surrounding rainforest.

After about an hour at Dunn's River Falls, return to your hotel in Ocho Rios for drop-off.

June 2016
Our guide Adrian and videographer Leon were awesome and made it loads of fun!!
June 2016
Had a blast, awesome crew of guides! Beautiful falls, a must see!
June 2016
the whole day was absolutely fantastic. The falls were such a rush of adrenalin in awesome surroundings. I wouldn't advice it for the elderly or those that cannot manage a lot of steps either in the caves or the falls. Yeh man!!!!
March 2016
Teresa our guide and Mr. Luis our driver were both excellent, very informative and fun! They made us feel welcome immediately. The passenger van/bus we were on had the best AC and was an extremely comfortable ride. They were also able to drop us off at Scotchies at the end of our tour to get a bite to eat, since they had to drop off passengers at a different hotel and would be swinging back that way anyway to be able to pick us up again. Really enjoyed everything about the Falls and the Caves. Definitely bring comfortable walking/hiking sandals closed toe and heel or strap or water shoes with good grips, the rocks can be a bit slippery in the falls, if you aren't careful...avoid anything with black or green, it's extra slippery. In the caves, be prepared to climb a few stairs and crawl through one limbo hole, not recommended for anyone with knee or back issues. Also, don't bother doing your hair as you need to wear a hairnet and a helmet when going into the caves. All in all it was a great trip and worth every dollar!
February 2016
This was my first time booking with viator.com and the experience couldn't have been easier.
The package for both of these was a way better deal than booking from the resort. Between these 2 parks, there is a lot of climbing, so if you are not in the best of shape, this may not be the tour for you. The caves were interesting and the tour guide was very knowledgeable and funny. The caves were a little muggy, but not too bad. There was one time when he turned off the lights just to show how dark it is in the caves, so be prepared for that.
The falls were a blast. They try to keep everyone in the group together when you go up, and you hold hands and form a human chain.
Note: You will get wet. I thought for the most part, just my feet would get wet as we climbed up the falls, but nope. There are places where you are wading through pools about waist deep. They also have you slide down a rock into a small pool, and do the nestle plunge into another pool if you so choose. All of the guides are very helpful, giving you a hand when you need it and they video your entire climb, so you can purchase that at the end if you'd like.
June 2015
This tour was a lot of fun. We could not have climbed the falls without the help of our two guides Harris and Moses. Everyone we told that we were going to Jamaica said not to miss the falls and I am glad we didn't.
May 2015
April 2015
With transportation and entrance fees included, this package was a steal. Our driver was courteous and the transportation was all ours since we were the only ones on the van. The sites were amazing!
March 2015
This was a great tour! We learned so much about the history of Jamaica and info about the caves and the creatures that inhabit them.
The Falls is just a lot of fun with a bit of a challenge to it. A nice way to stay cool on a hot sunny Jamaican day!!!

March 2015
We loved it and our Tour Guide Johnson from TourWise was very knowledgeable and personable.
Special Offer
$79.00 Save $19.01
Advertisement
Advertisement