Special Offer
Book and travel by September 30, 2016 and save 10% off our previously offered price!
Ride the 'Zion Bus' to Nine Mile, Bob Marley's birthplace, during this 5-hour cultural tour. Meet fellow reggae fans and listen as your local guide and driver shares stories and anecdotes about the life and music of Bob Marley. Enjoy the drive through the scenic St Ann parish and arrive at Nine Mile to see birthplace and final resting place of the King or Reggae. A traditional Jamaican jerk lunch with peas and rice as well as round-trip transportation from Ocho Rios hotels are included.
Highlights
Zion bus tour from Ocho Rios
Scenic tour of rural St. Ann
Led by an experienced driver/guide
Complimentary hotel pickup and drop-off
World Travel Award's 2010 winner for Leading Nature Adventure Excursion Operator in the Caribbean!
Recent Photos of This Tour
What You Can Expect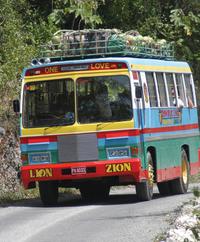 Board the Zion Bus at your hotel in Ocho Rios. Climb on board to meet other reggae fans and your guide and driver, a local music enthusiast.
Watch the scenery change as the bus leaves the beach town of Ocho Rios and passes into the islands interior; what most locals call the 'real' Jamaica. Drive through rural St Ann parish and rock out to some of Marley's most famous music while your driver regales you with tales of his life and music. Bump along mountain roads, rum punch in hand, on the approach to the tiny village of Nine Mile.
Tour the now-famous village on foot, including visiting Marley's childhood home, the rock where he meditated and wrote songs and his final resting place. Learn about the Rastafarian community that lives there and the important tenets of their religion.
Before returning to Ocho Rios, stop at a local Jerk Center for a delicious traditional lunch including jerk meat, peas and rice. At the end of your 5-hour music and culture tour, return to your hotel in Ocho Rios and disembark with reggae beats running through your head.
March 2015
January 2014
The highlight of our trip. The bus driver was the man navigating the narrow mountain road and our tour guide was so informative it was hard to retain all the info, this is a must see if your in the area highly recommended YA MON.
December 2013
Awesome tour! We had a quick snack and lunch was provided as well.
July 2013
Great way to see the countryside. The driver and tour guide were excellent hosts. The tour guide at Bob Marley's resting place was a riot. Refreshments, a snack and lunch were served. I would do it again.
April 2012
Great time. Nice to see so much of Jamaica.
Christopher D USA
January 2010
The tour guide and bus ride were awesome. You get to learn a lot about Jamaica and Bob Marley on this trip as well as take in the beautiful scenery of the St. Ann Mountains along the way.
Scott N USA
September 2009
The tour was well organized and entertaining, and we had an excellent tour guide. It was fun to travel alongside fellow Bob Marley enthusiasts who appreciate his music as much as we do!
May 2011
Just do it! Brilliant. Only wish we had a rasta driver. x
September 2009
Worth doing.
September 2011
No air-conditioning! We had to peel off the vinyl seats (3hrs in total). We read other reviews and it said they were funny and knowledgeable about Bob Marley and reggae in general. NO! They threw on a couple of DVD's and blandly talked about Bob. We owned those DVD's and we could of ran the tour better. Then we get to Marley's foundation and we get a tour guide that says nothing but screams out incoherent jokes about the other tourists. Everyone has there hands out for tips. I mean everyone! Since we are true fans of Bob Marley we really wanted to pay respect to his mausoleum and say a prayer but we were rushed out so we can hear the guide continue on with his foolishness. If we ever go back to Jamaica we will hire a private air-conditioned taxi and go there on our own (which would have been a lot cheaper). So that we can enjoy the bars and take our time without being hassled. It is a nice place to hang out and if you are a Rastafarian at heart you can legally buy and smoke if you choose to do so.
Special Offer
$103.99 Save $10.39
Advertisement
Advertisement