Feed, touch and swim with sharks during this excursion to Treasure Reef in Ocho Rios. Participate in the shark program, then explore the park to see other animals such as reptiles, birds and fish. Visit Dolphin Cove to see the dolphins at play and interact with stingrays. Stroll through Little Port Royal, a replica of Jamaica's most famous pirate haunt, then peruse one of the largest gift shops in Jamaica. All activities at Treasure Reef are included with this admission ticket, and it is suggested to give yourself at least 3 hours there.
Highlights
Shark program in Ocho Rios
Swim with, hold and feed sharks
Dolphin Cove
Wide variety of animals including reptiles, birds and fish
Wide range of souvenirs
Recent Photos of This Tour
The Swim, Hold and Feed the Sharks Program
What You Can Expect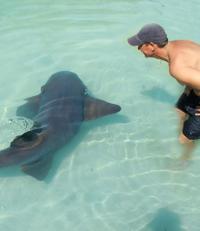 Make your way to Dolphin Cove at Treasure Reef for a day of adventure with the Caribbean's most fascinating wildlife.
Watch the shark show, starring the entertaining Pirates of the shark's cove. Take the rare opportunity to wade into the water and swim, touch and feed the sea's most fearsome creatures. Guided by highly-trained shark encounter facilitators, learn the secrets of these animals and enjoy getting to know them.
Visit Little Port Royal, a replica of Jamaica's most famous pirate hangout. Look for gold coins littering the sidewalk, interact with the local pirates, then browse the large selection at the gift shop.
Head over to Dolphin Cove to see the dolphins at play. Interact with stingrays, then go kayaking or just relax and explore the jungle nature trails. See exotic birds, snakes and reptiles before hitting up the Star Buccaneer's Coffee shop for some legendary Blue Mountain Coffee.
You could spend the whole day at Treasure Reef, and the admission ticket includes access to all the shows and exhibits, but the suggested minimum time there is 3 hours.
Marco D Canada
February 2010
It was great. Great birthday present for my wife. We were the show and the pictures and video all turned out great. The staff were awesome. Feeding, swimming and handling the sharks was a once in a lifetime experience. Had a great time and would do it again!
Dwayne D Canada
August 2008
Couldn't have been better, loved it.
Brian W USA
August 2008
Loved it...would do again. Great deal when you order here.
February 2015
This trip was really fun, despite the rain. We did the shark encounter, awesome. Lots to do with general admission, feed tropical birds from your hand, hold iguanas and snakes, touch a sting ray. You can also snorkel in the reef or kayak at the beach. This trip is a must in Jamaica.

November 2012
went to dolphin cove in october 2012,was great fun and im a not a strong swimmer! felt like i was in a jaws movie x
Advertisement
Advertisement