21 Reviews
Location:

Ocho Rios, Jamaica

Duration:

Varies
This Ocho Rios package brings you in close contact with the dolphins where you experience a one-to-one encounter as you swim and frolic with two friendly dolphins. You'll also see exciting birds, tropical fish, reptiles and amazing Jamaican plants as you take a gentle nature walk through lush, unspoiled tropical rainforest!
Highlights
Ultimate swim dolphin program in Ocho Rios
Presentation and narration about dolphins
Swim and play with the dolphins
Tropical forest with reptiles, birds and fish
Recent Photos of This Tour
What You Can Expect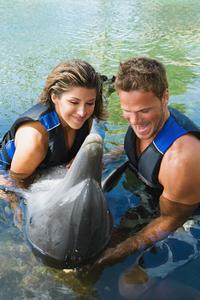 An interesting and informative presentation on the dolphins is first, before your personal trainer takes you for an unforgettable 30-minute swim with two playful,friendly dolphins, where you enter the home of these magnificent gentle mammals. Stroke their smooth skin, get kissed and even get a foot push or a dorsal pull by the dolphins around the cove.

The Dolphin Cove Jungle trails meander through dense tropical foliage interspersed with animals and birds in their natural habitat. Iguanas, snakes and other reptiles are fed as intriguing stories are narrated by your guide. Birds of the Caribbean and South America - macaws and parrots, entertain you and allow you to touch and be photographed with them. Stingrays, eels, fish and turtles are but a few of the fascinating sea creatures you will see as the trail passes the seaside lagoon. Hear the beat of the Jungle Drums as they syncopate Caribbean rhythms.

Please Note:
Participants MUST be able to swim
Children 8-10 years must be accompanied by a paying adult in the same swim session who will be required to sign liability waiver
Children 10-17 years must have an adult sign the waiver in order for them to participate
For their safety, children under 8 years of age are not allowed to participate in this program
For safety reasons, pregnant women are not allowed to participate in this program
Please allow a minimum of 3 hours at Dolphin Cove at Treasure Reef in order to enjoy the park and facilities.
June 2014
This was really neat, I wish we could have had a little more one on one time with the dolphins for the price we paid. But realistically they had many "tourists" to accommodate and it offered a lot for the number of people that they were trying to move through. The dolphins are so smart and well trained, I figure the money was well spent to take care of them and enlighten the general public. I plan to do this again and take my kids!
December 2013
swimming with the dolphins was so much fun!!!!!!!!!!!definitely go for this tour even though is more expensive than the others!!!!! its an amazing experience and you spend time with this beautiful animals kissing you, hold you up with their noses and taking you a small ride holding their fines!!!!!!just awesome and worth any penny!!!!! a little advise: the photos are overpriced 108 dollars including all photos of the group and videos!!!! bring a lap top with you or share email with the persons in the group, buy together the dvd, split the money, share the photos!!!!!!!!!!!!!!!!!!!!!!
October 2013
This was a great time and the grounds are absolutely beautiful! Highly recommend this activity but be give yourself most of the day to spend here because there is so much to do and a lot is included in this package. Be prepared to buy pictures because cameras are not allowed in the dolphin pools and your definitely going to want these pictures!
September 2013
We had a great time. The dolphins were well trained. My 10 and 12 years old kids love it. We did snorkeling, Dunn's River tour, jetski, horseback riding, ... but swimming with dolphins is our favorite. I was so lucky that I found a great discount on Viator. I had no problem using the voucher.
August 2013
This was an amazing trip and something that you MUST do. What was most amazing is that most of the people in my group paid full price of $250 for each person and we paid the Viator price. This is a must, however, be prepared for a 2.5 hour bus ride each way if your staying in Montego Bay. Buy the package for $99 which includes a movie of your group and a DVD with all of the pictures. Do not pay individually for pictures as you can take the DVD to Walgreens or CVS and get pictures made. That was a suggestion from our very nice tour guide Anita. Make sure to budget the $99 for the DVD as it is a must have. There were also a group of people who swam with the sharks, yikes! They have give aways if you answer the right questions (adult dolphins have 97 teeth and babies have 76) and an awesome gift shop. A lot of people tried to do both Treasure Island and Dunns River the same day but to me that was too much, plus while we were there Dunns River was closed due to a tree falling.
August 2013
This was a family excursion with my Son and my husband. We loved this excursion. We booked this excursion and the travel independent of one another.
The Dolphin experience itself was amazing and very well organized. It began on time and was everything that was promised. A truly memorable experience with Dolphins.
July 2012
Really fun experience. The pics are priceless! Would do this again!!!
January 2012
we had a wonderful time on this tour, I was so happy with the dolphin encounter. Had a blast! A must do if you visit Jamaica.
May 2011
This was really worth the money!
The kids loved interacting with the dolphins. The cost is the same as at the site but it was worth paying in advance to get the guarantee.
January 2010
This was my second time swimming with the dolphins and my fiance's first. My first time was in Cozumel however I liked the scene here in Jamaica better and our guide was hilarious! I would definitely recommend this to others. Even though it is a little pricey it is an experience you will never forget. Definitely do this one because it is much more interactive with the dolphins.
Advertisement
Advertisement