Get an intimate look at what it's like to be an astronaut at the Kennedy Space Center's Astronaut Training Experience (ATX), a half-day adventure that includes training exercises, simulator rides and a mock Space Shuttle mission. Listen to a veteran astronaut brief you on the realities of space travel. Practice for your mission by riding in a multi-axis trainer simulator that spins you in random directions. Then, work with your group to execute a mock Space Shuttle flight and International Space Station repair mission in a true-to-life mission control simulator!
Highlights
Train like an astronaut at the Kennedy Space Center's Astronaut Training Experience

Learn about what space travel is like from a veteran astronaut

Try the same simulator exercises actual astronauts use to train

Participate in a mock Space Shuttle mission with your group!

Take home a souvenir mission shirt and hat

Why Our Insiders Chose This Tour
Make your visit to Kennedy Space Center truly unforgettable by training like a real-life astronaut. This amazing experience lets you see if you really do have 'the right stuff'!
What You Can Expect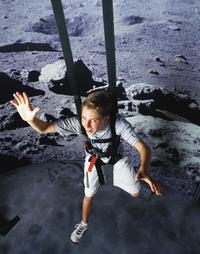 Meet at Kennedy Space Center to begin your thrilling Astronaut Training Experience. Developed with input from veteran NASA astronauts, the hands-on ATX program kicks off with an orientation and mission briefing by a member of the US astronaut corps. Feel free to ask anything you ever wanted to know about space travel.

After your briefing, engage in the same kinds of exercises real astronauts do to prepare for the rigors of space flight. To understand what it feels like to hurl through space, take a ride in the multi-axis trainer simulator, a centrifuge-like device that randomly moves its occupant in multiple directions and through 360-degree revolutions.

Your tour culminates with a simulated Space Shuttle mission in which you work with your group to execute a high-earth orbit to dock at the International Space Station to perform critical repairs. You'll be assigned a specific role by your trainers and perform specific tasks in a realistically outfitted mission control room to ensure the success of your mission!

Throughout your training, keep your energy up with complimentary bottled water and snacks. Conclude your 4- to 5-hour astronaut training experience with a souvenir shirt and hat and plenty of amazing memories!

New Space Shuttle Atlantis Exhibit
Don't miss the brand-new Space Shuttle Atlantis exhibit, showcasing the legendary spacecraft, Atlantis. More than 60 interactive experiences highlight the people, passion and patriotism behind NASA's Space Shuttle program, which launched the Hubble Space Telescope and built the International Space Station. Plus, you can see what it's like to float in space; explore a replica of the International Space Station; and experience the sights, sounds and sensations of a shuttle launch!
March 2015
Very well organised. The staff at the ATX are very professional.
May 2014
Awesome!!! a must do on your wishlist:-)
February 2014
I was given this as a gift and the experience was awesome! Great people, great program! If you want to visit the Kennedy Space Center plan on doing it on a different day because with this program finishing at 1, the park is only open until 5 on most days, which is not enough time to see everything.
July 2010
This was a really fun trip. I recommend this package over any other, because you never really understand the true meaning of being an astronaut until you get to feel it yourself. Magnificent!
Advertisement
Advertisement