Tick an item of your bucket list with the unparalleled Astronaut Training Experience (ATX) at the Kennedy Space Center! This exciting half‐day experience includes a mission briefing and conversation with a veteran astronaut, authentic training exercises, and stamina tests in challenging simulators such as the Multi‐Axis Trainer. Afterwards, assume your position for the grand finale – a team simulated shuttle mission to repair the International Space Station!
Highlights
Train like an astronaut at the Kennedy Space Center's Astronaut Training Experience

Learn about what space travel is like from a veteran astronaut

Try the same simulator exercises actual astronauts use to train

Participate in a mock Space Shuttle mission with your group!

Take home a souvenir mission shirt and hat

Why Our Insiders Chose This Tour
Make your visit to Kennedy Space Center truly unforgettable by training like a real-life astronaut. This amazing experience lets you see if you really do have 'the right stuff'!
What You Can Expect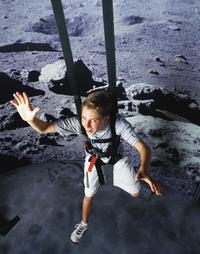 Your true‐to‐life Astronaut Training Experience begins bright and early at the Kennedy Space Center. Make your way to the center and check in up to one hour before start time. Make sure to eat breakfast beforehand because you'll pass the next four to five hours completely immersed in the simulated reality of space mission training and execution, specially developed by veteran astronauts.

Your experience begins with a briefing and candid question‐and‐answer session with a veteran member of the US astronaut corps. Ask all your burning questions about space exploration! Next, brace yourself for some exercises in strength and stamina. Space travel is a physical endeavor, which you'll sample through drills in multiple simulation machines such as the 1/6th Gravity Chair, which replicates walking on the moon, and the Multi‐Axis Trainer, a centrifuge‐like device that makes fast‐paced 360o revolutions.

After your independent exercises, join up with your team of fellow trainees for an exciting simulated Space Shuttle mission! Your trainers will assign you a precise role within the team, and you'll all head to the replica mission control room to undertake a high‐orbit repair mission on the International Space Station. Experience the sensation of making high‐stakes critical repairs in an environment unlike any you've ever known!
Your high‐energy experience includes complimentary snacks and water, as well as a souvenir ATX hat and shirt.
March 2015
Very well organised. The staff at the ATX are very professional.
Sonia Australia
May 2014
Awesome!!! a must do on your wishlist:-)
February 2014
I was given this as a gift and the experience was awesome! Great people, great program! If you want to visit the Kennedy Space Center plan on doing it on a different day because with this program finishing at 1, the park is only open until 5 on most days, which is not enough time to see everything.
Jill M USA
July 2010
This was a really fun trip. I recommend this package over any other, because you never really understand the true meaning of being an astronaut until you get to feel it yourself. Magnificent!
April 2016
First of all, the staff are amazing and very knowledgable. However, the actual astronaut training is quite Disappointing. Day starts off with meeting a real astronaut which was pretty cool/interesting. Then you do a couple activities of training which were pretty lame. Followed by punching some keys into a computer and landing a shuttle using a joystick. The mission you do at the end is pretty cheesy and you don't even get to choose what job task you would like to do. It's basically reading through a script in an out dated ship/ control office. I much preferred the Kennedy Space Center to ATX.
I have booked through viator many times and this was the first time I was disappointed by an activity.
Advertisement
Advertisement