Swap Orlando for the white sand of Clearwater Beach and enjoy a 1-hour dolphin encounter cruise while you're there. The idyllic stretch of west Florida coast is home to pods of bottleneck dolphins, so it's a great opportunity to hop aboard a sightseeing boat and see them in the water. The rest of the time, how you enjoy yourself is up to you. Sunbathe, swim, and make use of a meal voucher for a lazy seaside lunch before your return to Orlando.
Highlights
Day trip from Orlando to Clearwater Beach

Enjoy a 1-hour dolphin cruise

Watch adorable bottlenose dolphins swimming through the turquoise waters of the Gulf of Mexico

Spend free time on Clearwater's soft white sand and enjoy lunch on the beach

Round-trip transportation from select locations in Orlando included

Why Our Insiders Chose This Tour
It's a laid-back day at a beautiful beach where you can relax in the soft sand and enjoy the sea breeze. Add the chance to see dolphins playing in the water, and you've got the makings of a perfect day on the coast
What You Can Expect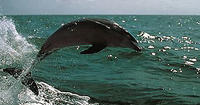 Leave your Orlando hotel and head west toward the sun-soaked Gulf of Mexico coast. Relax as you travel and listen to your driver talk about the region. A movie may also be played.
After 1.5 hours on the road, hop off your coach at Clearwater Beach, where white sand and clear seas await. Make the most of two hours of free time to soak it all up.
Then, head to the marina from where your hour-long dolphin cruise starts. Hop aboard the boat and cruise our on the calm waters around Caladesi Island and Clearwater to see pods of bottlenose dolphins leaping alongside the boat. If you wish, buy a wristband for unlimited onboard drinks.
When you return to the shore, enjoy 3-4 hours of more free time to bask on the beach, swim or do some watersports. Equipment, as well as beach chairs and sunshades are available to rent. Feeling hungry? Use your included meal voucher for a beachside lunch.
Later, return to your coach and travel back to Orlando. Your day trip finishes with a hotel drop-off.
June 2015
April 2015
June 2014
Absolutely wonderful!! The beach was beautiful. The cruise was great. All of the staff were awesome. Would do this again in a heartbeat.
April 2014
The trip to Clearwater was amazing, the weather brightened up in the afternoon for the dolphin tour, and we saw many dolphins in their natural habitat. It was a shame we had little time to explore Clearwater, but I would go back again anytime. The driver and Lorrie were great and have us information where to meet etc. and it was a great day. Thank you
April 2015
My family and I really had fun on this trip. It was definitely the highlight of our trip to Orlando. The sights were beautiful, the captain was entertaining and the music kept everything upbeat. We didn't get to see any dolphin's up close on our trip but we did see several jump out of the water. My 8 year old daughter was thrilled. Loved it! Would highly recommend.
April 2013
My 8 year old son and I went on this tour and it was AWESOME. Clearwater was beautiful. There were alot of things to do on the beach. We did parasailing right before taking our dolphin cruise. While on the dolphin cruise sure enough we saw dolphins and there were alot of them. It would help if you have a high speed camera so that you can capture great photos of them jumping out the water. I am really happy that I booked this for us to do. The only reason why they didnt get 5 stars is because the bus was very cold.

June 2015
The boat trip was excellent. Saw dolphins a shark and turtle. Clearwater beach is beautiful - white sand for miles with plenty of restaurants. The coach trip was dreadful. A clueless guide who caused delays, had limited knowledge and gave out conflicting, unclear info. 6 hours on a bus - not good.

June 2013
Tour would have been ok but for the weather. Had freak rainstorm the entire day which resulted in our dolphin cruise being cancelled. Nothing much to do in Clearwater other than the beach, which was a 'no-no' on the day we visited due to torrential rain. So we visited Marine Aquarium instead, fab!
August 2015
the pre paid lunch is collectable in probably the worst restaurant in Clearwater, all food is just the cheapest frozen food possible re heated, there are far better near by, you are dropped of at 10.30am, told to be at the boat by 11.30 and then left waiting in scorching heat with no shade for over half an hour, you are dropped at one end of Clearwater at 10.30am so they can show you where the restaurant is!!!! to walk back to the other end of Clearwater for the boat trip, to walk back to the other end for lunch, to walk back to the other end for pick up for journey home. As far as we could tell you are picked up far to early just so they can drop off at the aquarium on the way. If we went back we would do it ourselves, there is loads of parking, plenty of restaurants to choose from and you can arrive on the day and pick from umpteen boat trips.
July 2015
Awful awful awful. Rude staff, expensive waste of time! Would not recommend this to anyone~~ save your money!
Advertisement
Advertisement