Get away from the hustle of Orlando's busy theme parks and escape to the wilderness for this guided, 2-hour safari at Forever Florida, a 4,700-acre wildlife conservation area. Travel on board an open-air coach that's five feet high for a new view of Florida's wildlife in nine different ecosystems. Witness a variety of natural flora and fauna, including alligators, white-tailed deer, black bears, nearly 200 species of birds and the elusive Florida panther. Also, visit a real Florida ranch to see Spanish Colonial cattle and the unique Florida Cracker Horse.
Highlights
2-hour eco-adventure in an elevated, open-air, safari coach
Visit a real Florida ranch to see Spanish colonial cattle and the unique Florida Cracker Horse
Explore Forever Florida, a 4,700-acre eco-ranch and wildlife conservation area
See native wildlife and cypress trees up to 500 years old
Learn about and contribute to wilderness conservation

What You Can Expect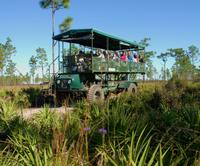 This 2-hour eco-safari begins with a meet and greet with the expert naturalist guide, then board the tall, open-air coach vehicle to begin the journey.
Start by making a trip through the Crescent J, a scenic Florida ranch that serves as a living museum of Spanish Colonial cattle and Florida's unique Cracker Horses — the direct descendants of those animals brought over by Ponce de Leon and other Spanish settlers in the 1500s. Learn about the Florida wilderness and wildlife — alligators, turtles, wild turkey, white-tail deer and the always-elusive Florida panther.
Next, visit a floodplain forest and walk along a boardwalk with an up-close view of Bull Creek, a "blackwater" stream of clear, tea-colored water that's clean enough to drink. The water and plant life here help to clean the air, so take a deep breath — this is the freshest air in all of Florida.
June 2016
Learned about local wildlife from knowledgeable locals--alligators, tortoises, panthers, original Spanish cattle, etc. Good vehicles, good people, and enjoyable day.
Well worth it!
Cathryn W United Kingdom
May 2015
We were spoilt as there were only 6 of us for this tour but we enjoyed every minute of it. I particularly loved the fact that we were all encouraged to watch out for wildlife and our guide was informative as well as amusing. This is a very peaceful place and a taste of something very different to the theme parks
June 2014
Very nice tour and the guide was very informative. We saw a lot of animals and had perfect weather.

Lesley O United Kingdom
January 2013
lovely experience, caoch ride fascinating and well enjoyed by our 4 year old.will visit again
August 2015
The trip was OK, the guide was great. But we were not lucky to see a lot of animals.
September 2014
it was not exactly what I was expecting.
April 2011
The people that work at Eco-Safari were very nice and full of information. The grounds are nice and we learned a great deal about field burning. We only saw a few animals in the wild but it was a very cold day. The tape at the beginning was very long and made us quite sad!
May 2012
We enjoyed the tour but were expecting to see more of the animals as promoted in the brochure, the tour guide has never seen the puma and rarely the bobcat so false advertising is wrong
Advertisement
Advertisement