Escape to the Central Florida Everglades for this 1-hour, nighttime airboat adventure at Boggy Creek Airboat Rides. This exciting trip is a great way to experience the subtropical ecosystem of the Everglades in a unique nighttime setting. Skim across the trails of grassy water while looking for nature's nocturnal hunters — specifically alligators — but never quite sure of what's lurking around the next bend. The captain/guide will wear a miner's cap to lead the way.
Highlights
Florida Airboat Adventure at Night
This tour is your best chance of seeing the most alligators within the ride
Search for the red eyes of the Alligators gliding into the dark swamp
Perfect for those in search of adventure and thrills
What You Can Expect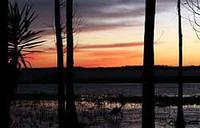 Approximately a 1-hour drive from downtown Orlando is Boggy Creek Airboat Rides in Kissimmee, in the heart of the Central Florida Everglades.
This 1-hour Everglades nighttime airboat tour is an experience that can't be found anywhere else. Skim along the trails of grassy water while listening to fun facts and learning about the area's subtropical ecosystem from the experienced captain, who will be wearing a miner's cap to lead the way. There's no telling what will be around the next bend, but be on the lookout for the red eyes of the local alligators and listen for the sounds of the Everglades' nocturnal creatures as they come to life in the dark of night.

June 2015
October 2010
excellent airboat trip better than the day time as as you see more, our booking said 9.30pm, lucky we did the daytime airboat the week before and found out the time was 7.30 not 9.30 otherwise we would have missed it. The times change after 15th sept as its now there winter. We never received any notice from viator to say about this, vouchers were printed at time of booking so if times are changed I think a email should be sent so your aware.
Eduardo P Spain
November 2008
Good trip.

Mehdi K United Kingdom
November 2008
This is the second time I've done the Airboat ride once at night and once in the daytime and I wouldn't really recommend it if you want to see crocodiles in their natural habitat. I only saw three baby crocs each time I went. It's worth it just for the novelty factor but if you're expecting to see crocs up close, I wouldn't bother!
April 2015
When we called to confirm trip, we were told it was an hour and 45 minutes to 2 hours to get there from Orlando, although it was advertised as an Orlando trip, so we didn't go...it was too far. However, upon researching, we found it is not that distance, we were just given bad information at the Florida Airboat Adventure at Night office. We had saved for months we are two nuns to go on this trip and were so disappointed. I would surely not recommend people visiting Orlando arrange to go on this tour. I can't begin to tell you how disappointed we are and sad to lose so much money!
Sincerely,
Sister M. Gannon
Advertisement
Advertisement