35 Reviews
Location:

Orlando, Florida

Duration:

Flexible
See the "real" Florida with thousands of alligators, animals and birds. Enjoy exciting one-of-a-kind reptilian shows, and splish n' splash at Gator Gully Splash Park where kids of all ages can cool off on those hot summer days. It's all included in a day of fun at Gatorland, Orlando's best half day attraction!
Highlights
Gatorland Admission Ticket
Enjoy exciting one-of-a-kind reptilian shows
Splish n' splash at Gator Gully Splash Park

Gatorland is a 110-acre theme park and wildlife preserve
Zipline over an alligator breeding group (if option selected)!
Upgrade and add on a trainer for a day program

Recent Photos of This Tour
Gatorland General Admission Ticket
What You Can Expect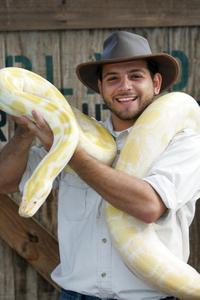 Gatorland Orlando is a 110-acre theme park and wildlife preserve, combining old Florida charm with exciting, new exhibits and entertainment. The park opened as a roadside attraction in 1949. Known internationally as the "Alligator Capital of the World", Gatorland Orlando today provides affordable priced family fun with thousands of alligators and crocodiles, a breeding marsh with boardwalk and observation tower, one-of-a-kind reptilian shows, miniature water-park, aviary, petting zoo, educational programs and much, much more.

See "Itinerary" below for list of attractions at Gatorland.

Upgrade your General Admission to include on of the following:

Trainer for a Day Program:
In addition to admission to the park you'll also get a glimpse into what it takes to be able to work with and around dangerous animals. The day starts with an introductory course that includes safety procedures, handling exercises and basic behavioral animal training.

Now it's time for a hands-on training session with one of the reptile experts. This up-close interaction includes a chance to learn all about crocodilians and an opportunity to test your skills at croc wrangling! Experience may range from moving large alligators and crocodiles to assisting a reptile trainer in daily activities.

Screamin' Gator Zip Line:
Glide along 1,200 feet (365 meters), seven stories in the air and over the Gatorland alligator and crocodile marsh! Not only will you have a birds-eye view of breeding alligators and crocodiles, but you'll have a scenic view above the treetops as you fly through the air. The highlight of your zipline experience will be flying over the alligator breeding marsh, where 130 alligators will watch you fly above them!
Itinerary
Park Attractions:

Birds of Florida - Thousands of herons, egrets and ibis call Gatorland home. Wild and free, they come and go as they please. With no nets to prevent their flight, they nest within arm's reach for you to see and photograph right up close.

Leapin' Gators - Watch the feeding frenzy up close, as some of the biggest alligators and crocodiles in the park explode out of the water and grab for their lunch. How high can a 13-foot long alligator jump for a meal? Find out at the Gator Jumparoo Show!

Snakes of Florida - From the huge canebrake rattlesnake of northern Florida to the tiny but dangerous pygmy rattler of central and southern Florida, your herpetological tour will teach you some astonishing facts about these animals, and how to stay "Snake Safe" while you're traveling

Animals, Animals Everywhere - Not even the toughest Gator Tracker can resist the adorable features of baby animals. These cuddly creatures love to be fed and petted! Visit the Barnyard to meet Dolly the Llama and the other friendly residents of the petting zoo.

Alligator Breeding Marsh - In the Florida swamp, the alligator is king! Hundreds of gators swirl among the lily pads, where you can observe natural behaviors in their season. At some times of the year, you might hear a big bull gator's mating call, or see some baby alligators on the nest. Just a few feet from the sheltered walkway, thousands of native birds from nine different species are nesting their young.

Gators, Gators Everywhere - Everywhere you look at Gatorland, you're bound to see an alligator! Alligators bellowing, alligators basking, alligators wrestling and alligators leaping for their lunch.

Famous Gator Westlin' - The alligator is the star of the show at this featured Gatorland attraction. Watch as one of the daredevil Florida Crackers drags a six to eight foot alligator onto the sand and wrestles it with his bare hands, while a dozen more gators wait in the waters of the moat surrounding the wrestling arena. If you're brave enough, you might get a chance to wrestle a real live Florida gator too, and get your picture taken on the alligator's back.

Jungle Crocs of the World - Follow Owen Godwin in his travels around the world. From the salt waters of Australia to the sandy banks of the Nile, learn about Owen's adventures and see their living proof. During the Jungle Crocs show-times, watch and hold your breath as handlers actually enter the pens of these giant prehistoric beasts and feed them by hand.
Gator Gully - Over a quarter-acre and ready to soak, Gator Gully Splash Park is the perfect place to cool off! You'll find giant egrets spilling water from their beaks; dueling gators; an ol' jalopy, a bucket tree and Grandma's Wet Shack where kids of all ages can enjoy truckloads of cool H2O.
June 2015
The kids and I had a blast! The zip lining was amazing!
April 2015
Had a great time with my two grandson's. The staff was friendly and interactive with the kids!
March 2015
Took our 6 and 9 year-old boys and they had a wonderful experience!! They said they want to live and work here! Highly recommend to spend the whole day and soak in everything. Wrestle with the gators!!!
October 2014
June 2014
Really liked it. The park was bigger then I thought, the shows were good. All employees were very nice and informative. My grandson loved it. Donna from md.
April 2014
This was a great way of spending a day while in Orlando. My daughter and granddaughter had a good experience zip lining for the 1st time. Lots of things to do and see to keep you busy for the entire day.
January 2014
Great day! Really easy to obtain tickets through viator and we had a blast!
December 2013
It was a great time even if I was on a scooter! All of us enjoyed it immensely. I'd rate it 5 stars.
December 2013
My whole family had a great time.
December 2013
Wanted to do something different in FL rather then do the same Disney parks. Found Gatorland online and thought it would be something different. We had a blast! We did all the shows which were fun to see and then did the Zip lining over the alligators. The staff were very friendly and I would recommend Gatorland to everyone.
Advertisement
Advertisement